2020 was a year that we will always remember for a number of reasons. It has brought significant changes to how we interact with each other, and technology has played a crucial role in this. Businesses have had to embrace collaboration tools to keep projects moving and transition to remote working as seamlessly as possible. 
Slack 是在向远程工作转变的过程中起到关键作用的众多工具之一。它于 2013 年推出,现在已经有大量的用户和公司采用这种工具。目前它拥有超过 1200 万用户,并将继续增长!
For those of you less familiar with Slack, it is a recent addition to the wealth of collaboration tools available for teams, businesses and communities. The company created a great video to explain its position in the marketplace but in a nutshell its goal is to replace siloed communication through email.
Now we are making our way back into a 'more ordinary' world, more people are working in a variety of different environments, whether that is from home or back within an office space. In a mission to continue to break down barriers when it comes to collaborative working, we are introducing confluence slack integration, a space where each team member has visibility on all projects, with access to information to do their best work.
But E-mail works, right?
We've all heard the saying 'if it ain't broke, don't fix it' – however, when there is space for vast improvements, it's hard not to. For instance, have you been a victim of the never ending "reply all" email chain? Or been missed off an email when you really shouldn't have? Even worse than that, you might have been part of a meeting that could have just been an email (you know the ones…). I can tell you are nodding your head! Well, this is where Slack comes to the rescue.
Through using Slack, teams can keep up to date on projects, share files and interact in real-time. There are numerous websites, blogs and articles explaining why people love Slack and the reasons they embrace it. We've narrowed down the core benefits to:
按频道组织 – 能够将所有内容放入专门的公共或私有频道是一项真正的优势。这些频道可以是基于主题的、项目相关的,或者只是一个团队群聊。
轻松找到所需内容 – 利用搜索功能,花更少的时间,快速找到你需要的一切,而不是浏览整个电子邮件文件夹,以期能偶然发现你正在寻找的内容
保持对话流畅 – 它可用于让内部和外部的人员参与进来,为协作带来新的动力
From our perspective, it's great to see another tool that's available for businesses to choose from. There's no-one-size-fits-all solution but that's the beauty of the world we live in and the technology we have available. Hence the reason for the additional adaptation of confluence integrations with slack, it's just an additional string to your businesses bow.
Slack 集成的重要性
Slack is an extremely useful tool by itself, however, its true value can be sought using the wealth of integrations available. There are over 1,500 integrations available with Slack, including Google Drive, Zoom, ZenDesk and Salesforce to name just a few.  
These integrations make it easier for companies to place Slack at the heart of their communication flow. Being able to use a tool that complements their existing setup makes life that little bit easier for everyone and can really drive productivity and collaboration.
但这和 Atlassian 产品有什么关系?
作为 Atlassian 合作伙伴和应用程序开发人员,我们一直渴望看到哪些应用程序将与 Jira、Confluence 或 Trello 集成,正如你猜测的那样……它们都可与 Slack 集成!
In the world of collaboration, it makes sense to remove as many barriers as possible to get the tools you use working together. Slack makes it easy for Atlassian users to collaborate and iterate quickly using the tools in harmony with each other, and Confluence is no different. 
Slack Confluence integration can bring real benefits and allows users to receive notifications and keep on top of changes across workspaces, pages and blogs. Teams can reply to comments or like a page without leaving Slack, and they can even see previews of pages when shared within channels. By centralising your work inside of Slack, it maintains a constant visibility of tasks to be completed. As an example, instead of losing your Confluence page approval requests in your email inbox (which happens), they'll be kept in your channels, reminding you through useful push notifications so you and your team can keep progressing with the key projects.
将你在 Confluence 和 Slack 上的协作提升到一个新的水平……

If your team uses both Slack and Confluence to collaborate on projects and documentation, then we could have the perfect App for you.  
今年我们推出了 Workflows for Confluence,顾名思义,它能让团队在 Confluence 中创建自定义工作流程。你可能需要设置一个简单的审批流程,预先设置一些页面过期时间,或创建一个更加定制的工作流程来满足你的业务需求或监管要求。我们的内置编辑器可以让你创建你的团队或业务需要的工作流程。
Our App integrates with Slack using the Slack Apps feature. As a Slack Administrator you're able to add Apps to your Workspace which can be configured to interact with the Workflows for Confluence App. We've put together a short video tutorial to help you get Slack notifications set up from your Confluence workflows. It's super easy and you can get started in minutes!
For more detailed guides on all of our webhooks with our App, please view our documentation. Workflows for Confluence builds upon the existing Slack and Confluence integration, providing you with even more functionality that can enhance productivity and collaboration. You can find some quick examples below…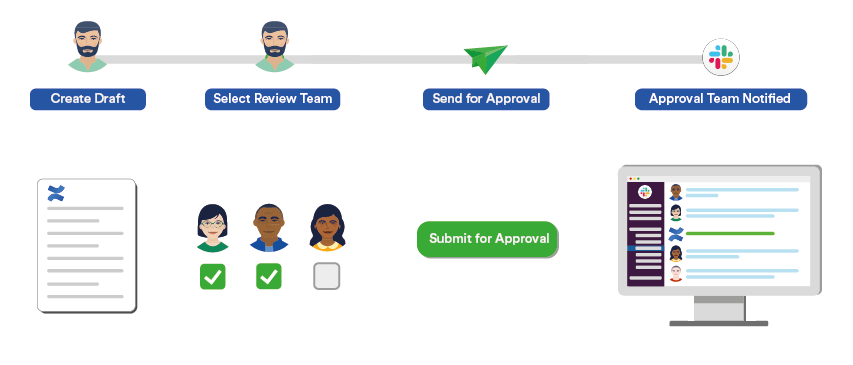 营销经理撰写了一些案例研究,以便发布在公司网站上。使用 Workflows for Confluence,他们可以在 Confluence 上设置一个包含案例研究详细信息的页面,并运用一个简单的审批工作流程。营销经理需要选择他们需要的个人或审核人员组来审核文档。
This document will then be sent to specific reviewers for their comments and feedback. The Marketing Manager can set up email notifications for the review team but if Slack is their main communication hub, then using the Workflows for Confluence webhooks will automatically trigger a notification to the Slack channel that the review team are using. The Confluence Slack integration function means that they can then let them know that there is a document waiting for their review and they can action it at the earliest opportunity.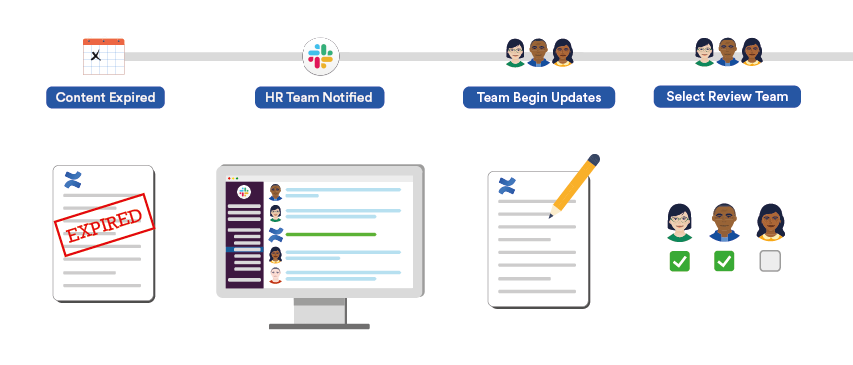 如果没有定义的流程,版本控制虽然不是几乎不可能,但也会很困难!
人力资源团队有许多需要每年进行更新的政策。他们使用 Workflows for Confluence 设置存储在 Confluence 中的这些文档的页面过期时间。
如果使用 Slack 网络钩子,那么在页面过期时,将直接向人力资源 Slack 频道发送一个通知,通知他们需要注意的文档。然后,人力资源团队开始使用简单的审批工作流程更新文档,并将其发送到 Confluence 中进行重新审批。第一个用例中描述的 Slack 通知也可以应用在这里,作为通知审核团队的一种方式。
获得批准后,人力资源团队可以重新发布信息,确保他们的公司始终可以访问最新的文档。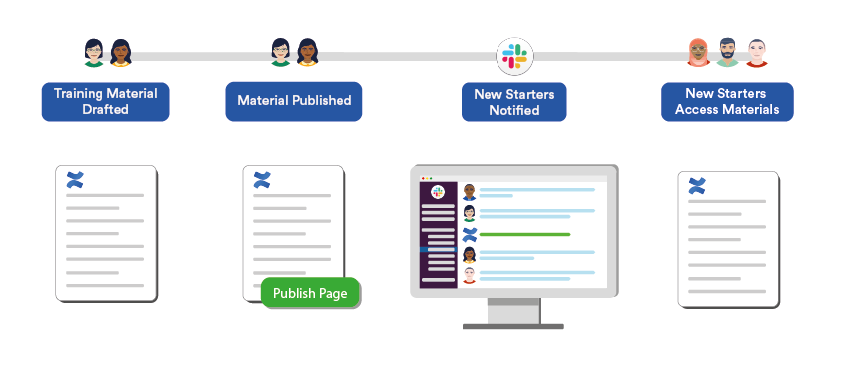 The Confluence Slack integration is beneficial within HR too. For instance, there are a number of new starters joining the business and once the training programme is complete the learning and development team want to store the resources on Confluence for the new employees to access. This will allow them to have easy access to the training documents they need in one. The new employees will also be added to a Slack channel where they can ask questions and get support as part of their onboarding.
The learning and development team add the documentation to Confluence and apply a page permissions workflow using Workflows for Confluence. Once the training course has been completed, the page permissions are changed so that the new employees will have access to the Confluence page. 
使用 Slack 网络钩子,将向新员工的 Slack 频道发送一个通知,告诉他们文档已准备就绪,可供他们参考。新员工可以感受到支持,这是一种无缝的入职体验。
如果你尚未使用 Workflows for Confluence,可以立即免费试用。
We'd love to hear your experience with Slack integrations, get in touch today!
---