2020 was a year that we will always remember for a number of reasons. It has brought significant changes to how we interact with each other, and technology has played a crucial role in this. Businesses have had to embrace collaboration tools to keep projects moving and transition to remote working as seamlessly as possible. 
Slack is one of the many tools that's been pivotal in this change to remote working. It was launched back in 2013 and has seen tremendous growth in users and companies adopting the tool. Today, it boasts over 12 million users and is set to continue growing!
For those of you less familiar with Slack, it is a recent addition to the wealth of collaboration tools available for teams, businesses and communities. The company created a great video to explain its position in the marketplace but in a nutshell its goal is to replace siloed communication through email.
Now we are making our way back into a 'more ordinary' world, more people are working in a variety of different environments, whether that is from home or back within an office space. In a mission to continue to break down barriers when it comes to collaborative working, we are introducing confluence slack integration, a space where each team member has visibility on all projects, with access to information to do their best work.
But E-mail works, right?
We've all heard the saying 'if it ain't broke, don't fix it' – however, when there is space for vast improvements, it's hard not to. For instance, have you been a victim of the never ending "reply all" email chain? Or been missed off an email when you really shouldn't have? Even worse than that, you might have been part of a meeting that could have just been an email (you know the ones…). I can tell you are nodding your head! Well, this is where Slack comes to the rescue.
Through using Slack, teams can keep up to date on projects, share files and interact in real-time. There are numerous websites, blogs and articles explaining why people love Slack and the reasons they embrace it. We've narrowed down the core benefits to:
Organising by channel – the ability to place everything into dedicated public or private channels is a real plus. These channels could be topic based, project related or just a team group chat.
Easily find what you need – Spend less time hunting through email folders, hoping to stumble across what you're looking for. Instead make use of the search functionality and find everything you need quickly
Keep conversations flowing – it can be used to engage people internally and externally bringing a new dynamic to collaboration
From our perspective, it's great to see another tool that's available for businesses to choose from. There's no-one-size-fits-all solution but that's the beauty of the world we live in and the technology we have available. Hence the reason for the additional adaptation of confluence integrations with slack, it's just an additional string to your businesses bow.
The Importance of Slack Integrations
Slack is an extremely useful tool by itself, however, its true value can be sought using the wealth of integrations available. There are over 1,500 integrations available with Slack, including Google Drive, Zoom, ZenDesk and Salesforce to name just a few.  
These integrations make it easier for companies to place Slack at the heart of their communication flow. Being able to use a tool that complements their existing setup makes life that little bit easier for everyone and can really drive productivity and collaboration.
But what does this have to do with Atlassian products?
As an Atlassian Partner and App developers we're always eager to see which Apps will integrate with Jira, Confluence or Trello and as you guessed… they all integrate with Slack!
In the world of collaboration, it makes sense to remove as many barriers as possible to get the tools you use working together. Slack makes it easy for Atlassian users to collaborate and iterate quickly using the tools in harmony with each other, and Confluence is no different. 
Slack Confluence integration can bring real benefits and allows users to receive notifications and keep on top of changes across workspaces, pages and blogs. Teams can reply to comments or like a page without leaving Slack, and they can even see previews of pages when shared within channels. By centralising your work inside of Slack, it maintains a constant visibility of tasks to be completed. As an example, instead of losing your Confluence page approval requests in your email inbox (which happens), they'll be kept in your channels, reminding you through useful push notifications so you and your team can keep progressing with the key projects.
Take your collaboration on Confluence and Slack to the next level…

If your team uses both Slack and Confluence to collaborate on projects and documentation, then we could have the perfect App for you.  
This year we launched Workflows for Confluence and, as the name suggests, it gives teams the ability to create custom workflows within Confluence. You might need to set up a simple approval process, pre-set some page expirations, or create a more bespoke workflow to meet the needs of your business or regulatory requirements. Our in-built editor allows you to create the workflows that your team or business is in need of. 
Our App integrates with Slack using the Slack Apps feature. As a Slack Administrator you're able to add Apps to your Workspace which can be configured to interact with the Workflows for Confluence App. We've put together a short video tutorial to help you get Slack notifications set up from your Confluence workflows. It's super easy and you can get started in minutes!
For more detailed guides on all of our webhooks with our App, please view our documentation. Workflows for Confluence builds upon the existing Slack and Confluence integration, providing you with even more functionality that can enhance productivity and collaboration. You can find some quick examples below…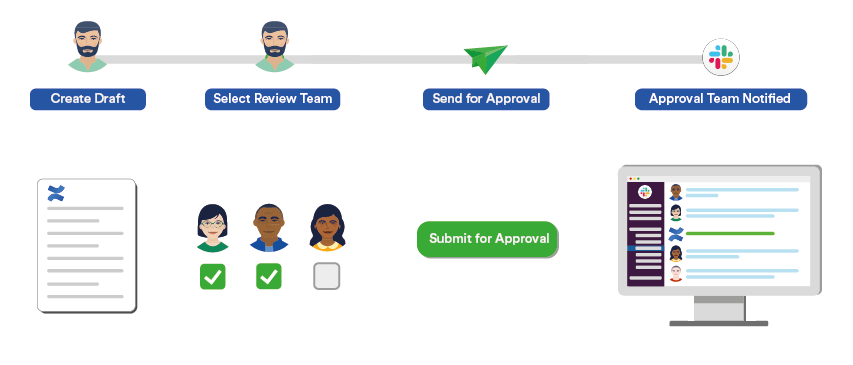 The Marketing Manager has developed some case studies for publishing on the company website. Using Workflows for Confluence, they can set up a page on Confluence that includes the details of the case study and apply a simple approval workflow. The Marketing Manager will need to select the individuals or groups of reviewers they need to review the document.
This document will then be sent to specific reviewers for their comments and feedback. The Marketing Manager can set up email notifications for the review team but if Slack is their main communication hub, then using the Workflows for Confluence webhooks will automatically trigger a notification to the Slack channel that the review team are using. The Confluence Slack integration function means that they can then let them know that there is a document waiting for their review and they can action it at the earliest opportunity.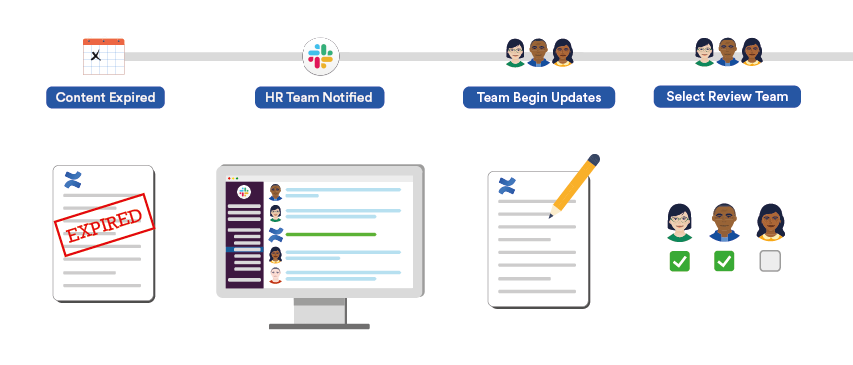 Without a defined process, version control can be difficult if not almost impossible!
The Human Resources team have a number of policies which require updating on an annual cycle. They use Workflows for Confluence to set up page expirations on these documents stored in Confluence. 
Using the Slack webhooks, when the pages expire a notification will be sent directly to the HR Slack channel informing them the documents need their attention. The HR team then begin the process of updating the documents and sending them for re-approval in Confluence using a simple approval workflow. The Slack notifications described in the first use case could also be applied here as a way to inform the review team. 
Once approved, the HR team can re-publish the information ensuring their company always has access to the most up to date documentation.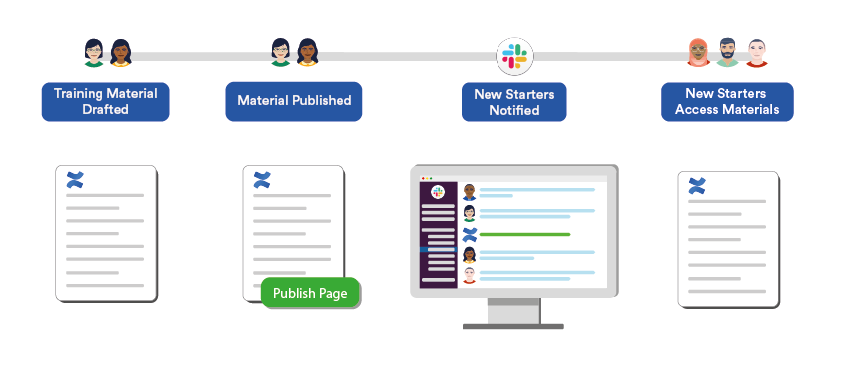 The Confluence Slack integration is beneficial within HR too. For instance, there are a number of new starters joining the business and once the training programme is complete the learning and development team want to store the resources on Confluence for the new employees to access. This will allow them to have easy access to the training documents they need in one. The new employees will also be added to a Slack channel where they can ask questions and get support as part of their onboarding.
The learning and development team add the documentation to Confluence and apply a page permissions workflow using Workflows for Confluence. Once the training course has been completed, the page permissions are changed so that the new employees will have access to the Confluence page. 
Using a Slack webhook, a notification is sent to the new starters' Slack channel letting them know the documents are ready and there for them to refer to. The new starters feel support and it's a seamless onboarding experience. 
If you haven't used Workflows for Confluence yet, you can try it for free today.
We'd love to hear your experience with Slack integrations, get in touch today!
---