We were proud to co-host Agile at Scale 2019 with Atlassian last week and if we do say so ourselves, what a day it was!
The afternoon was packed full of thought-provoking, educational and inspiring topics, talks and guest speakers. So, whether you made it to the kick-off speech by our founder Jeff Cunliffe, arrived a little late or couldn't quite escape the office in time, this blog is for you – welcome to Agile at Scale the recap.
As you may imagine the weeks leading up to the event flew by, but the event came together perfectly on Wednesday 4th December. From the venue (The Salters' Company, London) to the discussions held and the company of our attendees, we just want to say thank you for making it a successful and memorable afternoon.
---
Part One: Scaling Agile with Jira
One of our very own consultants, Peter Evans, took to the stage as our first guest speaker of the day with a practical approach to Scaling Agile with Jira. To set the scene he began with a brief overview of the essential principles of Agile at Scale and some key concepts as they relate to Atlassian tools, before diving into how Jira can be configured to support a flow of work through the Scaled Agile Framework (SAFe®).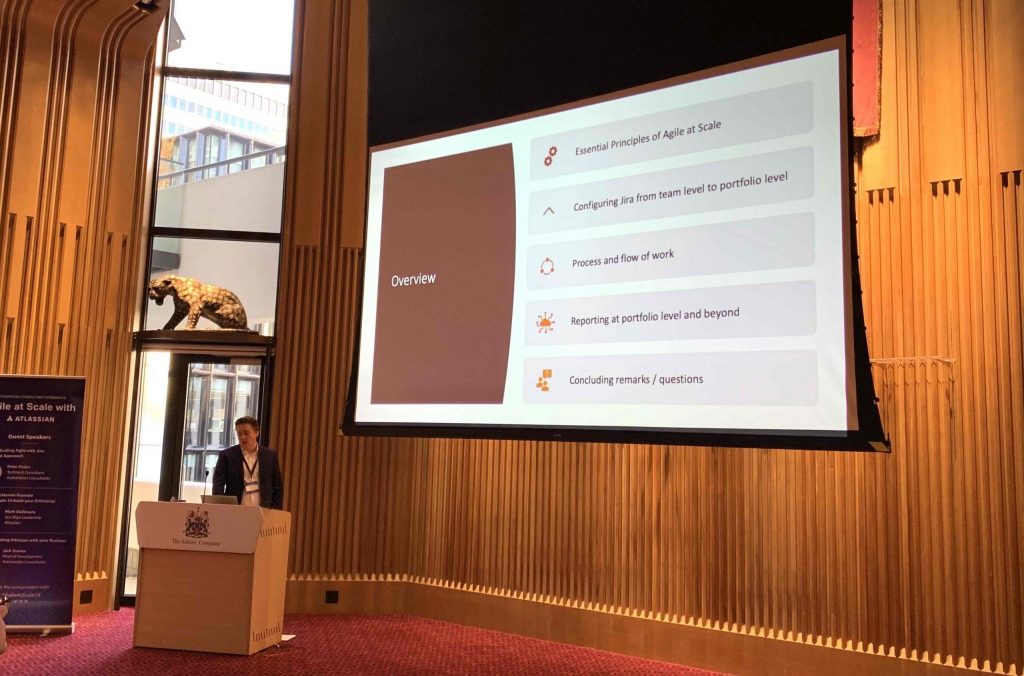 Peter continued to exemplify how you would configure a hierarchy of work from business outcomes to execution at the team level using Portfolio for Jira. He also discussed a multitude of other Apps from the Atlassian Marketplace which can supplement Jira in supporting Agile methodologies at scale.
While we may be at the end of our first talk it most certainly isn't the end of this topic so if we've whetted your appetite for more, then not to worry as all our presentations will be available for download in the coming days. Plus, Peter will be hosting a webinar in January 2020 to deep dive further into Scaling Agile with SAFe®, so save your seat.
---
Part Two: The Keynote
Our second presentation of the day kicked off around 3:30pm and was headlined by our partner and event sponsor Atlassian. Mark Dallimore, Jira Align Leadership, took centre stage for Agile @ Scale: Unleash your Enterprise.

"Achieving enterprise agility has become an imperative for every large organisation."

Mark Dallimore

Mark outlined the stark challenge nearly all large companies face in today's dynamic digital economy: successfully implementing Agile to gain a competitive advantage, not just to survive in a fast-moving world but to thrive in it. Atlassian's Jira Align bridges the complexity gap between the promise of agile and connected, lean enterprise agility by providing a single source of truth for progress, value delivery, and alignment on scope, roadmaps and dependencies – not only across teams but across entire portfolios.
Here's a snapshot of what Jira Align + SAFe can do for companies like AT&T: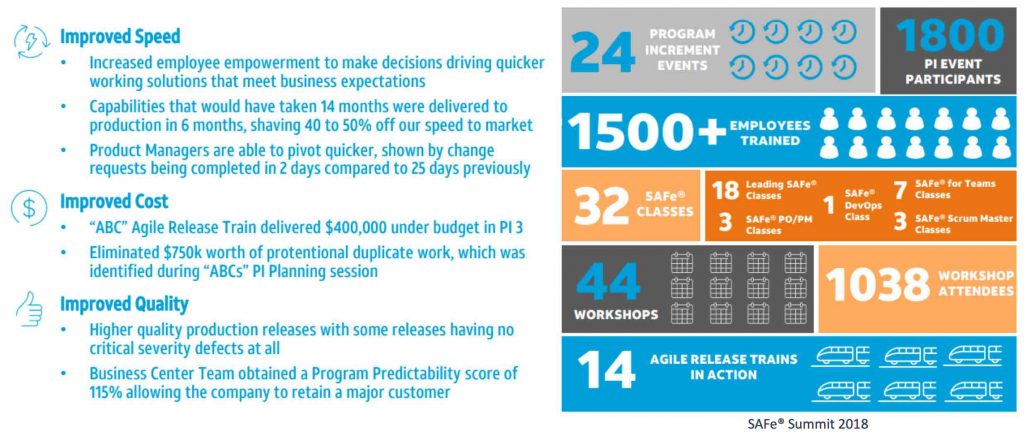 Ready for a coffee? With a few talks under our belt we'd be directing you towards the refreshments right about now but unfortunately WordPress don't currently offer those types of add-ons, so we'll dive straight back into our next talk with Automation Consultants' Head of Development, Jack Graves.
---
Part Three: Scaling Atlassian with your Business
While we've covered scaling your usage of Agile in Jira and how Jira Align can help you further in the agile process, do you actually know how to support your users at scale in the underlying systems for Jira Align?
"Standardisation, Optimisation and Automation empower Communication"

Jack Graves

Planning for scale is as much about preparing your people and tooling as it is about Agile practices and methodology. And the best tools in the world (hello, Atlassian) won't work in unready hands. The foundation of scaling for true enterprise agility, as Jack Graves explains, is communication. This is the keystone that both underpins – and is enabled by – the iterative processes of standardisation, optimisation and, finally, automation. But how does that look in practice? Jack continued to emphasise the points above with a case study that drew on the practical examples of these tenets which will enable your users to communicate effectively and unleash the potential of your teams.
The five key points Jack set for all to take away from this talk was to:
Start preparation as soon as possible
Make it easy for users to find what's available to them
Set the users expectations
Standardise processes and automate wherever possible
And finally remember to continually optimise the systems, structures and processes
---
The Finale: Live Panel Discussion
Last but not least (after a quick coffee recess) our panellists took to their seats for the final session of Agile at Scale with Atlassian with all eyes on them. If the panel wasn't exciting enough with representatives from Atlassian, Vodafone, HSBC, TCS and ECT Limited we were lucky enough to seat ourselves another member from the Atlassian group, Peter Keane – who you'll spot also gave some words of wisdom in the Atlassian Keynote earlier in the day.
Though the sun had most definitely set by this point our event was still going strong and the Q&A even stronger with questions both from our judicator Francis Miers and our guests. What were some of these questions you may ask? Well, they went something along the lines of:
How do you strike the balance between allowing different teams to have their own reporting styles and customisations and ensuring that different teams' reports are comparable?
What is the best way to keep to budgets and deadlines in an agile at scale effort?
Which is your favourite methodology out of SAFe, DAD and LeSS?
What is the best way to integrate team members, and teams, from different vendors into an effective agile at scale effort?
When operating at scale, what is the best way to move from command and control to empowering teams and creating the "motivated individuals" in the Agile principles?
But for the answers, you'll just have to watch and listen for yourself. The panel recording is available for download here.

---
A little less action, a little more conversation baby
(The well-known Elvis alternative)
We all know what that means, no not more coffee or biscuits or sessions, but a great combination of nibbles, drinks and conversation or like Jack's talk puts it, communication. We must say there's nothing better than at the end of days like this to be able to catch up with old faces, new faces and generally relax as delicious assortments of food keep circling around the room and on to our plates.
We hope you all enjoyed the event both in person and as a write up. But the journey towards agile doesn't end here… While the event answered some of your most frequent and fundamental questions around Agile at Scale, we only scratched the surface. That's why our Agile series is continuing into the new year, starting with the first of three Agile at Scale orientated webinars, find out more here and save your seat!
Plus, be first in line for an exclusive Full Conference Pass discount code for you and your team, and get ready to pack your bags to the 2020 Atlassian Summit in Las Vegas.
Have a fantastic New Year and we look forward to seeing you all at our next event.