As you may have already seen, Atlassian has recently made some exciting announcements about the future of its products. The headline is that over the next few years, they are going to be retiring the existing Server deployments of their applications in order to shift their focus to maximising the quality of the user experience when using their increasingly popular products on the Atlassian Cloud. In this post I'm going to walk you through exactly what these changes will look like and how they are likely to impact users of the Atlassian suite.
The present and future of software is cloud
The world is changing. Workforces are larger, more diverse and more distributed than ever before, and tools like those provided by Atlassian help us stay connected despite the geographical gaps between us – and when these apps are hosted in the Cloud, access from anywhere in the world becomes a breeze. The choice then, to have one's applications hosted in the cloud seems obvious, but it goes deeper than that.
The Atlassian cloud is a fully managed, Software as a Service (SaaS) solution, meaning that you can get instant access to their products without having to worry about hosting, scaling, maintenance, security and so on and so forth. You are presented with an industry-leading bit of software out of the box, that automatically scales to meet your needs, updates without you noticing to stay ahead of the curve and keeps your business operations safe from unexpected glitches and malicious attacks.
It is no wonder then, that more customers are making the switch to the Atlassian Cloud every day, and in fact Atlassian now report that 90% of customers start their journey directly on the cloud!
So, what's happening to Server?
In order to ensure a world-class offering in the cloud, and a guarantee that their customers are getting the absolute best tooling they can, Atlassian have decided to focus their efforts on becoming a truly cloud-first company and ensuring that the Atlassian Cloud is the go-to choice for everyone. At present, Atlassian are splitting their time and resources maintaining three versions of most of their apps (Cloud, Server and Data Center) but unfortunately this distribution of effort means that they are not able to move forward with the pace that us as customers want (and need). To this end, they have made the decision to begin the end of life process for the server versions of their applications.
Over the next three and a half years, Atlassian will be ending support for their server applications and shifting their focus entirely to their Cloud and Data Center offerings. This will mean big changes for many customers, so we want to give you a bit of information about what is changing (and when) and help you figure out your next steps.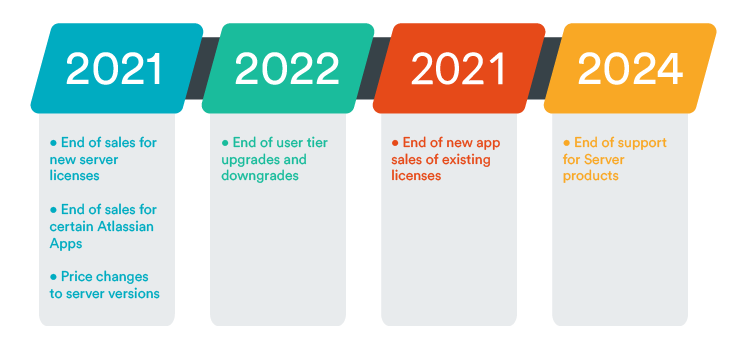 Further detail is available on the Atlassian Website
Pricing changes are on the horizon
In order to ensure the security and performance of the server platform over the final years of its life, there will be some changes to the pricing of the various products. An outline of these changes is provided below, but as ever, further information is available directly from Atlassian. We are also only going to focus on Server products here. There are some incoming changes to Data Center prices, but we are intending to cover those off in another blog, so watch this space!
Jira Software, Jira Core and Confluence

If you initially purchased or were quoted for a new server license before the 3rd of October 2019, then you are currently on an advantaged price plan lower than Atlassian list prices. As such, there will be a price increase to bring these prices in line as of February 2021
If you purchased on or after the 3rd of October, you will not see any price changes for these products at this time.

Bitbucket, Bamboo, Crowd, Jira Service Desk, Advanced Roadmaps, Team Calendars and Questions for Confluence

You will see an increase in prices on these applications as of February 2021.
Full information on these price increases is available on Atlassian's pricing tables.
But what about you, the customer?
We understand that this change, while exciting, can seem scary and offers a lot of potential challenges, but there is no need to worry. The server applications will continue to be supported for the next three and a half years, giving you plenty of time to figure out what to do next – but of course the sooner you start planning, the sooner you can begin your new life in the Cloud!
The first thing to do is decide whether it is right for your company to move straight to the Cloud (Atlassian's recommended pathway for most people) or if a Data Center option might be more suitable. Atlassian offer a Cloud or Data Center Quiz to help you get a feeling for what might be a better fit although for now we are only going to focus on the Cloud (don't worry though, we'll be putting out more information about Data Center soon!).
If you feel that you are ready to move to the Atlassian Cloud, but are overwhelmed at the scale of the problem then Atlassian have thought of you too! The Atlassian Migration Program is full of useful resources, tools and support to help you on your journey including their handy Migration Assistants for both Jira and Confluence and Atlassian are even offering the opportunity to trial the cloud platforms and get your migration complete for up to 12 months free of charge with their Free Cloud Migration Trials.
How can AC help…
Okay, I'll admit it, it's a big change and a lot to take in. The future grows nearer every day, and that's great, but it also means change and change is scary. But that's totally okay, and you don't have to do it alone. As an Atlassian Platinum Solutions Partner, we here at Automation Consultants are ready and waiting to help you out in any way we can, from full migrations to the cloud to simply helping you figure out those pesky pricing tables. So if you have any questions at all (or have absolutely no idea where to start!) then don't hesitate to reach out to us today, we'd love to join you on your journey to the Atlassian Cloud, and the boundless future beyond.