One of the main challenges with managing large scale Jira instances is striking a balance between high performance and good reporting, while ensuring that teams have enough freedom to customise how they work within Jira (e.g through use of different configurations and Atlassian Marketplace apps).
In order to manage this, it's best to utilise different settings for two main types of users: admins and non admins.
Non-admins should have all global permissions except admin and system admin permissions, and arguably bulk change permissions.
At the moment, non-admins can't change project permissions, which is inconvenient – it would be useful for project managers to be able to change more permissions within their projects. This issue can be mitigated as follows:
Manage project creation (which requires admin permission) through a helpdesk. This enables users to create different types of default project controlled by you, rather than the default Jira projects.
Update the default permission scheme. All projects start with the scheme you choose.
For simplicity's sake, boards, dashboards and shared filters should be shared globally, except where restriction is essential.
Case study: Finding a solution to reporting issues
A large organisation with 12+ cross-functional teams and platform teams were struggling with adequate reporting in Jira.
They had no structure to align funding and requirements with work delivered, no structure to report the milestones and achievements to the wider business, and there was no accountability for teams to deliver on their start-of-year commitments.
There were also conflicting reporting requirements, with senior managers making various requests for custom reports and metrics, all of which required a lot of time and administrative overhead to complete.
In order to tackle this, they did the following:
Established the following portfolio structure in Jira as standard: Initiatives, Epics, Releases.
Standardised the reporting of risks and issues across all teams, using custom workflow transitions.
Used Advanced Roadmaps for Jira to plan and track Initiative delivery, which enabled the team to map dependencies and give appropriate dashboards to the right stakeholders.
Held regular workshops on best practices, trained a number of power users, and created documentation on the standard ways of working.
These measures helped control what would be standardised and what would be configurable by users. Over time, as users became used to them, the company saw a cultural change, with a reduced demand for custom reports and, ultimately, time saved.
The standardisation of Initiatives and Releases created a better interface between project teams and other stakeholders (e.g. management) while allowing people to customise at the project level. It also helped to make a clear link between the funding provided and the value delivered, allowing teams to promptly communicate issues to stakeholders, providing earlier warning of problems and coming up with solutions in good time.
This process took a lot of time and it's not always easy. Luckily, there are a bunch of Atlassian Marketplace apps that can make the process easier for you and your organisation.
Atlassian Marketplace Apps for Enterprise
There are also some tools and methodologies designed to help you manage a large scale Jira instance, including:
Advanced Jira Administration:
Optimizer for Jira helps to find, analyse and remove elements that you're not using in order to clean up your system.
Custom Reporting and Dashboarding in Jira:
Custom Charts for Jira makes reporting easy in Jira. It's designed to help non-technical teams make the most out of their Jira data and create the reports needed to report on progress and move work forward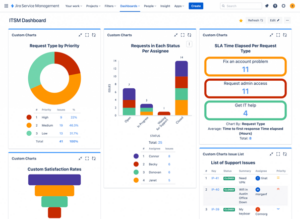 eazyBI Reports and Charts for Jira is a reporting and charting app that has a drag and drop-based dashboard and enables the creation of advanced and highly customised reports
Project Portfolio Management (PPM):
Structure for Jira helps with collaboration on projects by visualising work across teams and projects with aggregated views of progress and timelines.
BigPicture helps manage multiple projects at once with cross-Program dependencies and Gantt charts.
Moving to Data Center to avoid downtime
What about Jira for enterprises?
If you have 2,000 Jira users or more and are still running the Server edition of Jira, you might want to consider migrating to Data Center.
Jira Data Center allows multiple (clustered) application servers. The benefits include zero downtime upgrades, which reduces the need for planned outages for upgrades, high availability and performance at scale. Licensing for Jira Software Data Center is more expensive but should be assessed relative to the cost of a potential outage.
Work with an Enterprise Platinum Solution Partner
Automation Consultants is an Atlassian Enterprise Platinum Solution Partner. We can help you manage your large scale Jira instances with expert consultancy and dedicated support tailored to your specific requirements.
Our consultants can advise you on how to deploy and mage your Jira instances, fix problems before they occur, and ensure your systems are kept running when you need them most.
To further discuss Jira Software Data Center or any of your other Atlassian Data Center needs, contact us today.