If one stage wasn't enough for you… our event had two! If you've not caught up on all the events from our Main Stage, head over to catch the highlights here. But if you're ready for even more interesting sessions, insightful discussions and fantastic guest speakers then you've come to the right place.
We present to you the breakout sessions… the shows not over yet folks!
Preparing Jira for a Seamless Migration to Cloud
Up first on the breakout session stage we had AppFox's, Head of Development, Jack Graves in his talk about how to prepare Jira for a seamless migration to the Cloud. As many users of on-premise Jira may already know, systems can become specialised, customised and are often difficult to untangle. While this can seem daunting at first, as Jack explained in his talk, it often doesn't need to be.
Throughout the presentation Jack discussed the common challenges that users face during migrations and showed how leveraging tools, such as Optimizer for Jira, can make the migration much easier. Optimizer for Jira is an all-in-one administration tool, that 'makes administrations at scale intuitive and easy, and it enables you to prepare your system for a migration before-hand and understand what you're migrating.'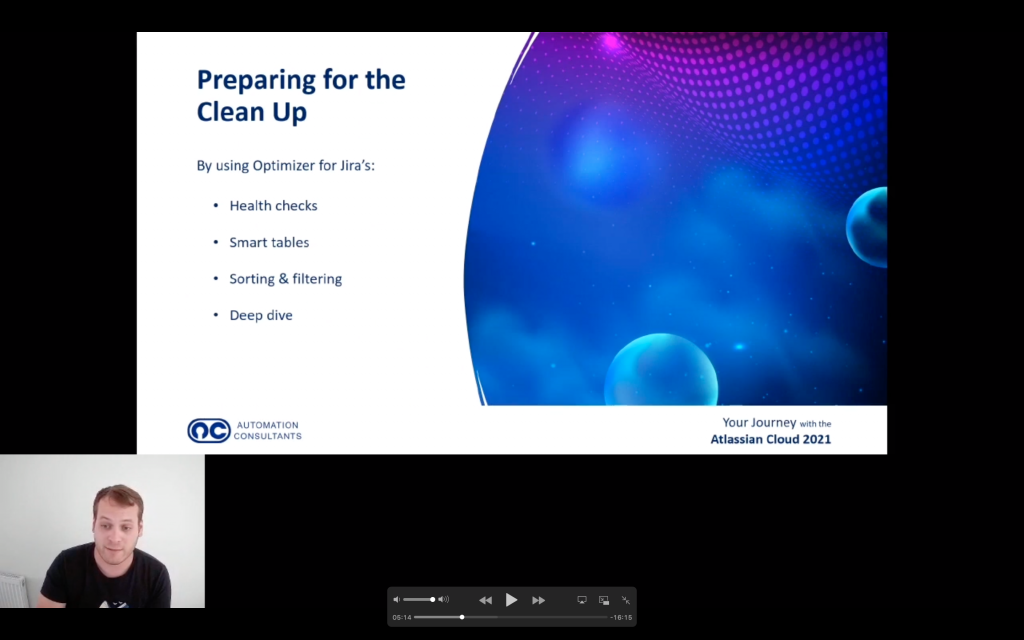 Jack went on to outline the many fantastic benefits of Optimizer and demo some of the amazing features. Some of the app's key features include:
Health check functionality which allows you to get a 10,000 ft view of your system and any sort of common problems that might be affected it.
Advanced reports such as detailed insights which lets you understand how your systems growing over time.
GraphQL Explorer
Custom Field Optimization
Log viewer
Task Manager
Bulk Actions
User Management Capabilities
Jack concluded his presentation by discussing how important it is to plan before your migration, and that increased planning will lead to a seamless migration and how Optimizer for Jira can help you with this.
Agile Management: What you should know about Management 3.0
Up next was had Carolina Salazar, Founder of Design Thinking Sweden in her talk about Agile Management and how one of the most notable changes to the way that companies operate is the way that they lead. It is leadership that can often be the differentiating factor between those who strive and those who fail – and this often has something to do with Agile implementation within a company. As Carolina pointed out, it is often a necessity to develop leaders who are capable of organising teams, allocating resources, and inspiring collaborators in transformation first. It is also necessary to maintain of those processes and skills, and to constantly build and sustain a relevant culture.
During her talk, she went over the core components of Agile Methodology, and discussed why this is vital in management. She then went on to discuss what is meant by Modern Agile, and why this is important to the team at Design Thinking Sweden. As Carolina points out, Agile is not only about software and culture, it is about people and Modern Agile is made up of four vital parts:
Make people awesome
Deliver values continuously.
Make safety a prerequisite.
Experiment and learn rapidly.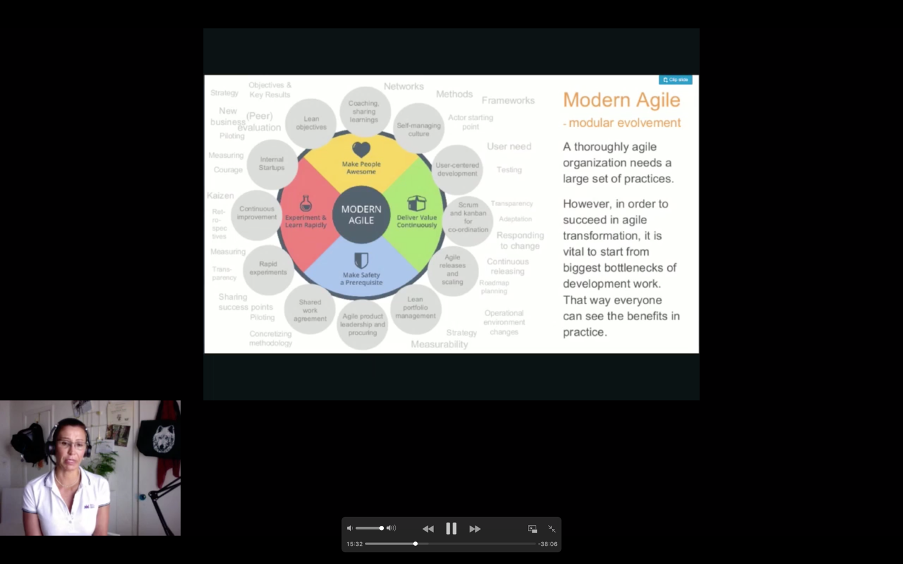 Throughout the presentation, Carolina really showed us the key things that managers in an Agile environment need to be considering and how teams can ensure that they thrive in their business processes. 
Building a Tailored Document Management Process in Confluence
Ready for some more? Craig Wilson, Product Marketing Executive at AppFox took to the virtual stage next, showcasing how you can turn Confluence Cloud into a tailored document management process using one of AppFox's very own tools.
During his talk, Craig addressed how you can bring control and flexibility to managing documents in Confluence without hindering collaboration. The answer?
Workflows for Confluence
. This product is just over a year old and has had over 240 installs to date.
How does it work you ask? Well, it allows you to use your document management process as a blank Canvas and you can define exactly how you want your document management process to work in Confluence. You can do that using your existing processes, procedures or policies, or specific ideas as a team about how you want to improve upon that process even further and you can bring this into Confluence through Workflows. 'Workflows is essentially the paintbrush; it gives you the tools you need to define that process based on what your company requires of your team.'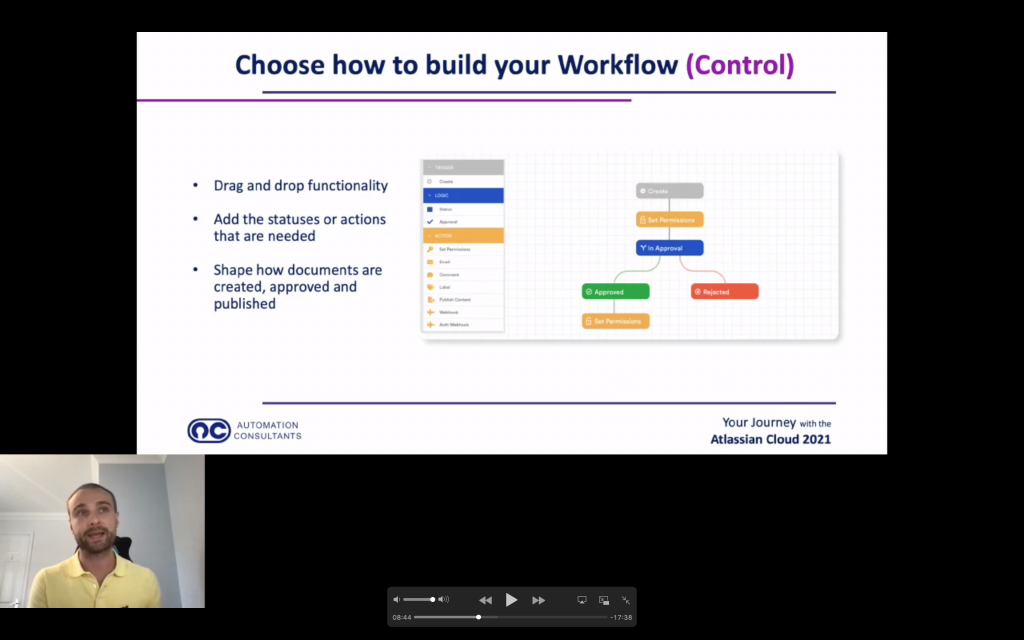 It gets better yet… Craig gave us a fantastic demo of the app in action in Confluence! Before he finished his talk, Craig gave a final overview of some of the other fantastic features that Workflows has, such as an Audit log of transitions, Slack notifications, a Webhooks feature, and searching and filtering.
Switch to the cloud in days? Why model-based integration can make this so easy
Up next we had Tasktop's Sales Manager, Andy Farmer in his talk about how using a model-based integration can make switching to the Cloud almost seamless. Throughout the session we learned why integration can be used to speed up your journey to the Cloud, what model-based integration is, and why it is often the perfect way to transfer over to the Cloud.
As Andy explained, 'Integration allows you to keep your cloud-based Jira artefacts synchronised with your old Jira artefacts automatically and in real-time'. With model integration (the type of integration which Tasktop specialises in) there is the simplicity of management, things can often get done faster, it is often cost-efficient and Task top handles all the complexities of integrations making for a streamlined process. As Andy explained 'we act like a universal translator in the middle so that you can integrate anything with anything'. With this particular type of integration, it becomes very easy to do any type of adds, moves or changes for any tool, team or ways of working.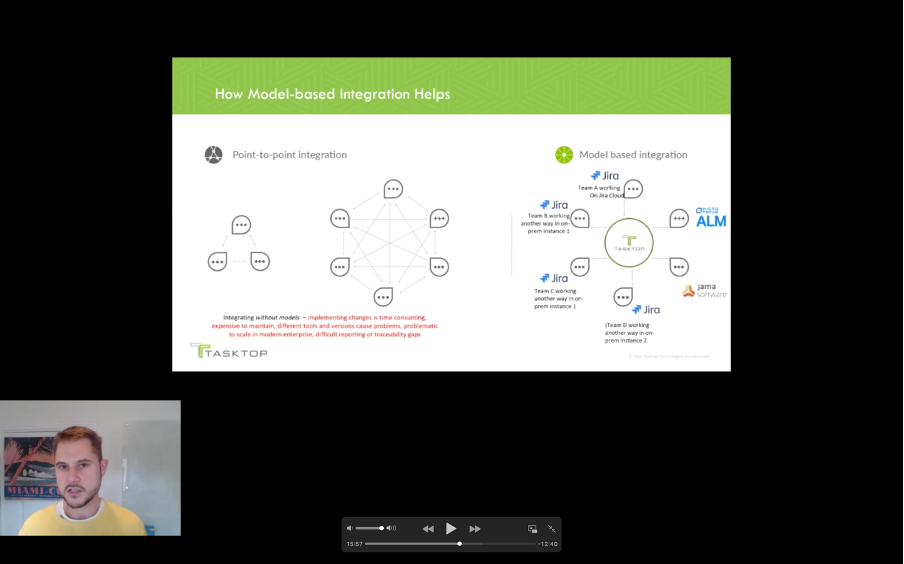 Andy then went on the share some of the primary reasons why the demand for integration is growing…
'One tool to rule them all' can be cost beneficial.
In high performing tech organisations – 'best of breed' tooling is the norm.
Teams can work globally in a range of different configs.
Sharing information across multiple teams.
Sharing manually via copy paste, email, or excel, or loading into data lakes for reporting and normalising.
If you have any questions for Andy, please drop us a line on social@teamac.io
Jira Dashboard & Reporting Best Practices
Fancy hearing some more from our speakers? Following on we had Old Street Solutions' Chris Cooke, CEO and Morgan Folsom, Product Manager as they discussed 'Jira Dashboards & Reporting Best Practices'. As many of you may already know, Jira Dashboards are a fantastic way to visualise data, but it can often be something of a challenge to put all that data together. In her presentation, Morgan outlined how you can build powerful dashboards that you actually want to use!
She outlined the four most important things that every Jira dashboard should aim to achieve, and showed us how we can achieve these things in our own Jira dashboards. In case you missed them, every Jira dashboard should be…
Informative.
Easy to understand.
Easy to maintain.
Easy to find.
Throughout the talk, we were given a live demonstration, as Morgan used different dashboard gadgets to show us some of the potential problems that we may be having while using Jira Dashboards, and outlined what we can do to solve them. Not only that, she also walked us through some of the different gadgets that can be used in Jira Dashboards, such as the native pie chart gadget and showed us how we can re-build this garget to make it easier to understand across our dashboards. She showed us how to re-build a RAG code and to make it correspond intuitively to red, amber, green and how to add descriptions for each colour to help track project status – the little details go a long way.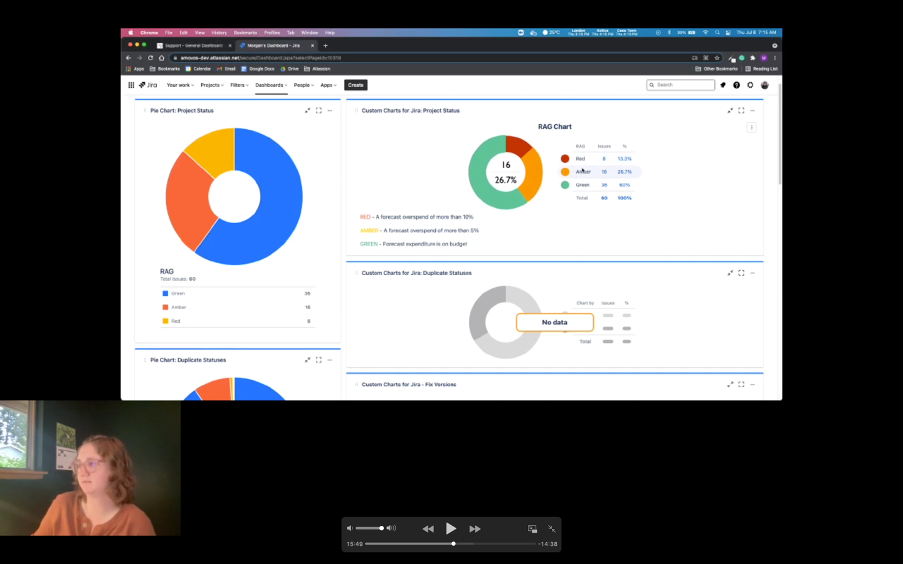 Morgan concluded her talk by reinforcing the important four building blocks for making Jira Dashboards and answering our all important questions from the Q&A section.
How to Prioritize Your Backlog More Efficiently in Jira Cloud
It's not over yet!  Our next breakout session was led by Biro Florin, Founder of Jexo, in his talk about how to prioritise your backlog more efficiently in Jira Cloud. As many Jira users may already know, prioritising work in Jira can get messy, however Biro outlined different frameworks that you can use to make prioritisation much easier, increasing transparency and inclusivity within your organisation.
To begin with, Biro outlined why backlog management matters. Most of the time backlogs are 'messy, confusing, or hard to maintain and this is usually because of the lack of proper prioritisation process.' However, when backlogs are properly managed, it can lead to more efficient and focused teams, with more predictable outcomes for your backlog.
So what is the answer, how do we effectively manage our backlog in Jira?… 'By using backlog Prioritisation Templates of course.'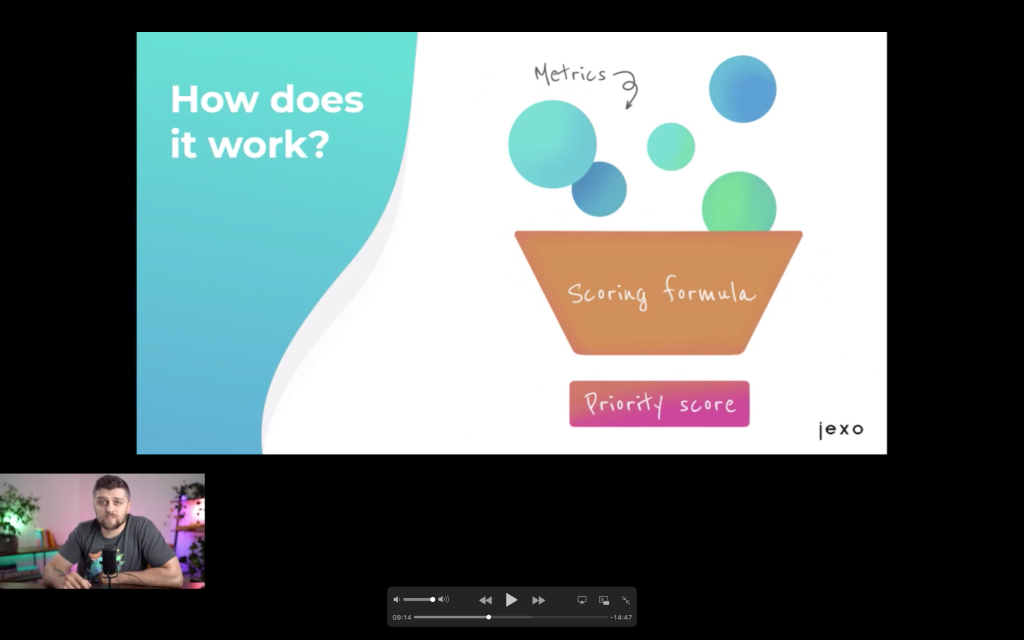 As Biro explained, based on your project's needs there are frameworks that involve a variety of factors which help you manage your prioritisation – these include ICE, RICE, WSJF and Value V Effort. These frameworks will often take a variety of factors (or metrics) which need to be considered for a task,  and for each task you will establish the value of team metric. Metrics will then be used in a scoring formula which helps to develop the final prioritisation score.
During the talk, we received a wonderful demonstration of both the Value V Effort Framework and ICE, and we even got to hear about Jexo's very own App, Foxly. As Biro discussed, '100's of teams around the globe use Foxly to prioritise anything from software enhancement to Jira Service Management requests and even marketing activities.
Biro then went on to address the different features that Foxly has and outlined the primary benefits of using this app when prioritising your backlog. Here are the highlights…
It comes with predefined templates such as ICE, RICE, WSJF and Value V Effort.
You can customise the existing template metrics to make them more personalised.
Quick and easy table view.
Flexible backlog filters and sorting.
Prioritisation in issue view.
Automation ready data.
Enterprise Automation with Workato
Up next we have Workato's Senior Solutions Consultant – Amarnath Munkur, in his talk 'Enterprise Automation with Workato'. Amarnath began his talk by discussing how over the last few years, there has been a drastic increase in the market for Software-as-a-Service (SaaS) apps, as many businesses move towards the Cloud. However, the shift to the Cloud has introduced a new obstacle for businesses: data silos. At the moment, the challenge with existing automation and Integration technologies is that most of the tools are standalone and focus on either IT or business side like iPaaS, and not to mention that some of these tools are costly and take a huge amount of time to build the necessary integrations and automations.
Workato offers an operating system for today's fast-paced businesses, and it has been recognised by both Gartner and Forrester as an industry leader, which offers the only AI-based integration and automation platform that enables both business and IT teams to integrate their apps and automate complex business workflows with security and governance. He explained to us how different Integration and Automation platforms have evolved over time, and outlined where Workato stands in this evolution. As Amarnath suggests, Workato's platform is the 'industry's only Cloud native serverless platform that providers both technology and process automation capabilities including automation using work bots.' 
He also addressed how Workato enables automation at scale, by using: 
Simplified experience for delivery teams.
Unified experience for business stakeholders.
Faster time to market.
More business outcomes achieved.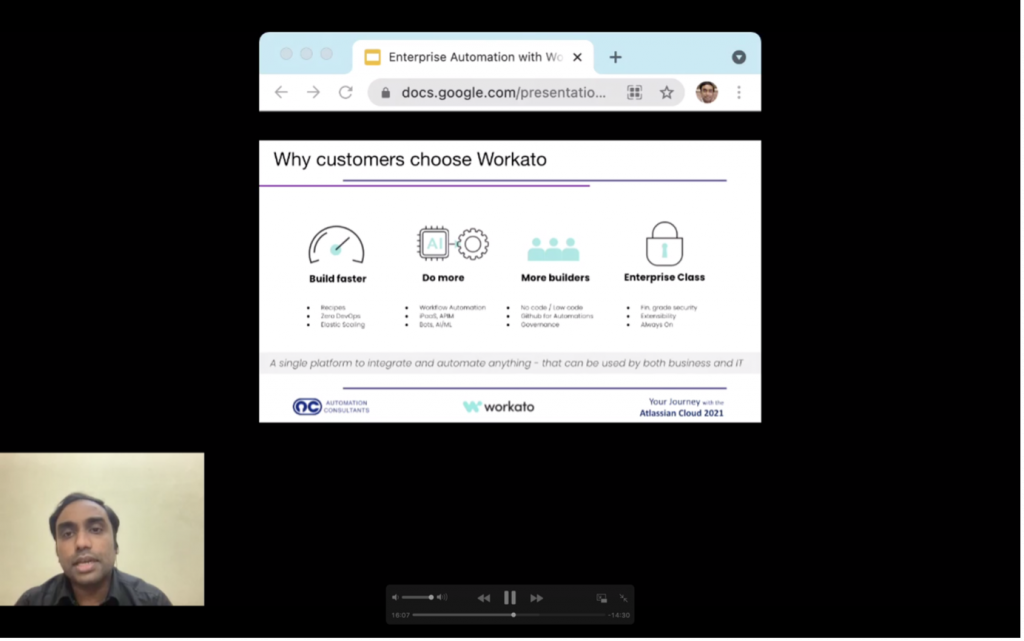 During the session, we received a Live demo from Amarnath and heard about some interesting customer use cases. What an insightful talk!
How Leading Brands Use Exalate to Collaborate Seamlessly without Leaving their Jira
Last but certainly not least, we had Exalate's pre-sales Engineer Jose Lobo, in his talk about collaboration within Jira. As many Jira users may already know, collaborating with companies who use different work management software can present a number of challenges and it might seem like all parties need to adopt the same system. However, as Jose explained, this doesn't need to be the case. Exalate offers the leading cross-company integration solution which enables you to connect and synchronise a variety of issue tracking systems like Jira, ServiceNow and Azure DevOps, and makes for enabling seamless collaboration.
As Jose went on to explain, Exalate, is an 'integration solution which allows you to connect different softwares at the issue or ticket entity, bi-directionally or uni-directionally, and specialises in cross company integrations'.
One of the fantastic features of Exalate, is that each company has absolute autonomy over the data that they send from their end. There is no centralised UI where one of the sites controls the entire collaboration, making Exalate unique for cross company integrations.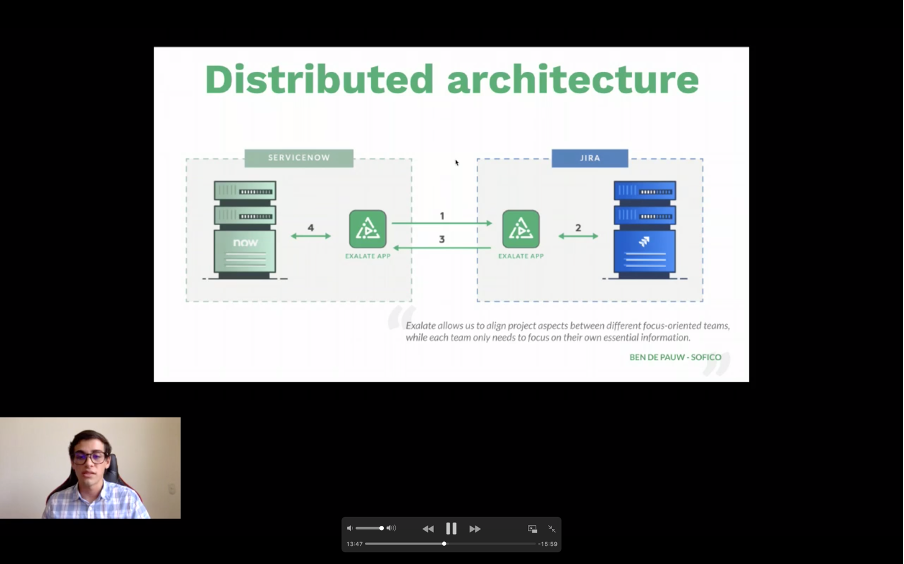 To illustrate this, Jose showed us how this looks when two companies use Exalate to collaborate and share data – who knew it could be so simple! He concluded his talk by discussing a case study, and shared with us some fantastic statistics surrounding Exalate's success.
Fancy learning more? To book a demo with Exalate, click here.
And that's a wrap! Our biggest event yet has sadly come to an end but that just means there's another one just around the corner. Plus, don't forget to relive our Main Stage highlights here!
From everyone here at Automation Consultants we'd like to say a huge thank you to everyone who attended our latest event, to all our speakers and to our wonderful sponsors Atlassian and AppFox.