🥁 Atlassian Announces Cloud Enterprise 🥁
Today in the Atlassian Remote Summit Keynote talk, Atlassian announced the release of Atlassian Cloud Enterprise!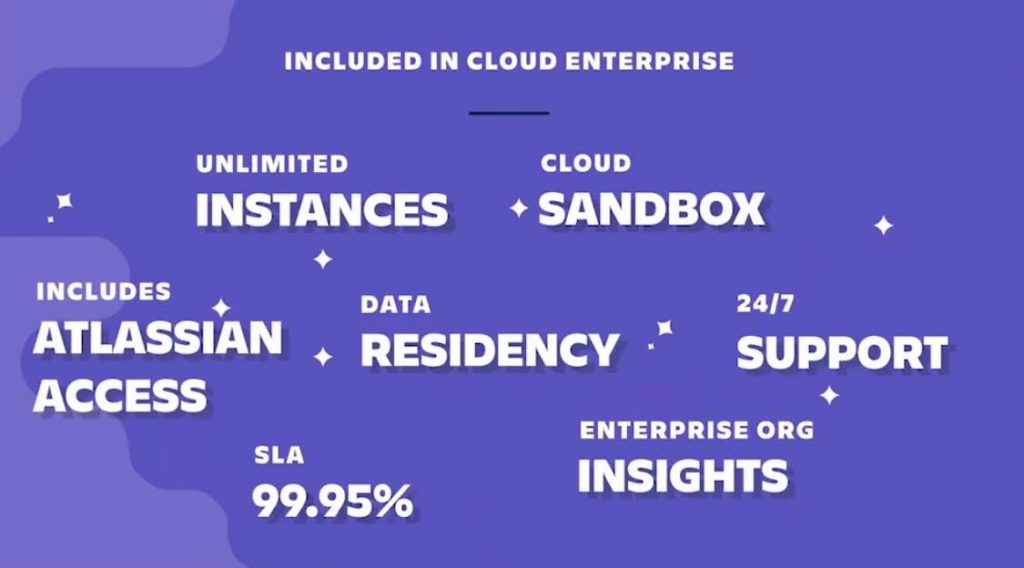 Atlassian Cloud Enterprise will finally allow customers from Enterprise-level organisations to utilise Atlassian Cloud in very much the same way as a self-hosted solution, with many enterprise features such as sandboxing and data residency. Where there is currently an upper limit of 5,000 users on Cloud, Atlassian Cloud Enterprise is looking to blow that out of the water with eventual limitless user numbers planned for the future. It also promises financially backed uptime levels of 99.95% to absolutely guarantee the best level of service.
Atlassian Cloud Enterprise will be released for the flagship Atlassian Cloud products of Jira Software, Confluence and Jira Service Desk and will include the following features when released for General Availability:
Centralized user billing
Unlimited horizontal scale
Enterprise Sandbox
Release Tracks
Data Residency
99.95% financially backed SLA
Highest level of dedicated support
Atlassian Access included
More information on Atlassian Cloud Enterprise will be released in the coming days and weeks right here 👈
The Early Access Programme
For now, Atlassian Cloud Enterprise will be released on an Early Access Programme (EAP) for a select group of customers, where these lucky few will be able to experience the new features before anyone else. The EAP customers will act as design partners to the new Cloud plan by providing first-hand feedback that will help shape the eventual wider release of Cloud Enterprise. The following features will be made available on release of the EAP:
Jira Software Confluence
10K users per instance
Data residency
Sandbox
Release Tracks
All in all, this is a huge announcement for the future of the Atlassian Cloud. If you are interested in becoming one of the first customers to experience the Cloud Enterprise EAP, or require further information about Cloud Enterprise, please go to atlassian.com/enterprise-cloud or otherwise contact us directly.