Day Two – Business Transformation
Today was the turn of Atlassian Co-founder Mike Cannon-Brookes to present a keynote to those across the globe from his home in Sydney, Australia. Like many of us, Mike has had to find a way to swiftly adapt to a new remote way of working and, like his Partner and co-founderScott, was quick to commend the efforts of the Atlassian team to switch the Summit to an online event. Mike spoke of how Software as a Service (SaaS) has been growing exponentially over the last few years and how mobile computing has changed the world, even before the current crisis.
Mike then introduced Sasan Goodarzi, CEO of Intuit – the makers of software tools such as TurboTax and QuickBooks. Together with Sarah Peterson, Director of Corporate Communications from Intuit, he discussed the transformation of business processes they had experienced internally, and a theme that could not be more apt in these current times, as well as the role of cloud in accelerating this. Sasan spoke of how cloud has turned Intuit from a predominantly North American-based solution provider into a truly global platform organisation, encouraging organisations of all sizes to embrace cloud.
Sasan then handed over to Anu Bharadwaj, Atlassian's Head of Server, Data Center & Cloud Platform, for a talk on the future developments of Atlassian Cloud for Enterprise-level teams.

Atlassian Enterprise Cloud: Scaling the future of cloud
The second talk of the keynote was focused on Atlassian Cloud and the changes coming into effect to allow teams of all sizes to utilise cloud. Anu made several announcements that are coming in as part of Atlassian's plans to scale the Atlassian Cloud to even the largest enterprises.
The first set of announcements were for Atlassian Cloud Standard, with search options soon to be available across all Cloud products and predictive collaboration tools which will automatically suggest likely teammates for projects. Smart notifications have been introduced for Jira, which will allow all notifications to be placed into a single push, promising 30% fewer emails. Anu spoke of the new Atlassian Marketplace security programme and the previously announced Atlassian Forge, which will enable third-party Cloud Apps to be hosted on Atlassian's own infrastructure for maximum security and accessibility.
For Atlassian Cloud Premium, Anu announced a whole nest of new features and releases which will soon be available:
Jira Service Desk as a Premium product
IP Allow Listing for all premium products, which will restrict access to only trusted IPs
Advanced Roadmaps for Jira – as announced by Sean on day one of Summit
Project archiving within Jira
Jira Automation – out of the box, no code required rule builders.
However, the key announcement of the day was of the upcoming release of Atlassian Cloud Enterprise, which will finally bring many enterprise features such as sandboxing and data residency to the Atlassian Cloud. Atlassian Cloud Enterprise will be released for the flagship Atlassian Cloud products of Jira Software, Confluence and Jira Service Desk and will include the following capabilities when released for General Availability: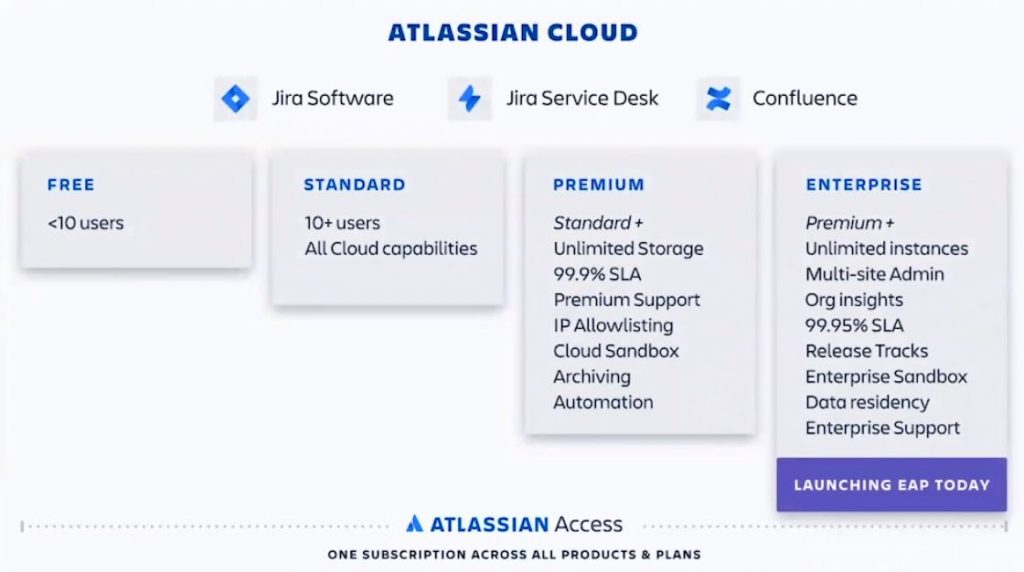 Centralized user billing
Unlimited horizontal scale (unlimited instances)
Enterprise Sandbox
Release Tracks
Data Residency
99.95% financially-backed SLA
Highest level of dedicated support
Atlassian Access included
Data Loss Prevention (with McAfee)
More information on Atlassian Cloud Enterprise will be released on https://www.atlassian.com/enterprise-cloud in the coming days and weeks.
For now, Atlassian Cloud Enterprise will be released on an Early Access Programme (EAP) for a select group of customers, where these lucky few will be able to experience the new features before anyone else. The EAP customers will act as design partners to the new Cloud plan by providing first-hand feedback that will help shape the eventual wider release of Cloud Enterprise. The following features will be made available on release of the EAP, for Jira Software and Confluence:
10,000 users per instance
Data Residency
Enterprise Sandbox
Release Tracks.
If you are interested in becoming one of the first customers to experience the Cloud Enterprise EAP, or require further information about Cloud Enterprise, please go to atlassian.com/enterprise-cloud or otherwise contact us at Automation Consultants directly.
Atlassian Data Center: Building for change and scale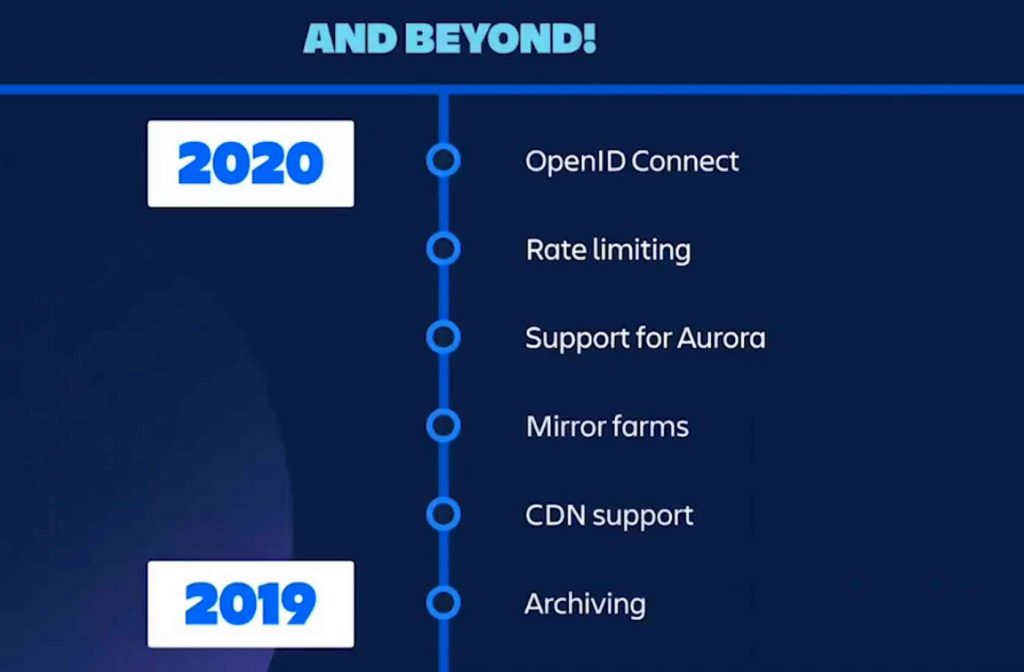 The final talk of the keynote was run by the team of Alison Huselid (Head of Product for Server and Data Center) and Junie Dinda (Head of Marketing for Server, Data Center and Jira Align) for a talk about the future of all things Server, Data Center and Jira Align.
It was the focus of this talk where Atlassian demonstrated that although they still have a cloud-first strategy, they are by no means going to leave self-hosted solutions by the wayside.
Alison outlined all the ways in which Atlassian has improved performance across Data Center products over the last year with Jira dashboards loading 34% faster, Confluence seeing latency reduction by 50%, Jira Service Desk seeing 24% faster page loads, Bitbucket up to 5x faster repository cloning/fetching and Crowd user searches working up to 254x faster. Alison also mentioned the huge successes of the Data Center App scheme, with now 820+ Data Center approved Apps now on the marketplace, including AC's own Optimizer for Jira.
On to the announcements, and there were indeed a bucketload. Alison announced the following:
OAuth 2.0 will soon be supported for Data Center authorisation
OpenID Connect will be supported
User login will soon be configurable for multiple Identity Providers (IdP)
User provisioning will be streamlined with the inclusion of Just-in-Time (JIT) provisioning
Atlassian is releasing Advanced Auditing, which will provide insights into what is really happening across an entire instance down to users and their activity
Audit delegation, which will allow admins to delegate audit responsibility to key users
File Externalization, which allows for audit logs to be uploaded to popular 3rd party tools for analysis
New Confluence advanced permissions features
Personal accessibility settings are incoming for Jira 8.8.
On top of this, as a huge announcement, Atlassian will be bringing in Data Center features without the need for Data Center infrastructure, by simply applying a Data Center license to existing Server instances. Customers new to Data Center will be able to access SAML, and archiving features without a clustered environment.
If you thought that was a lot, that is before going into the product specific updates…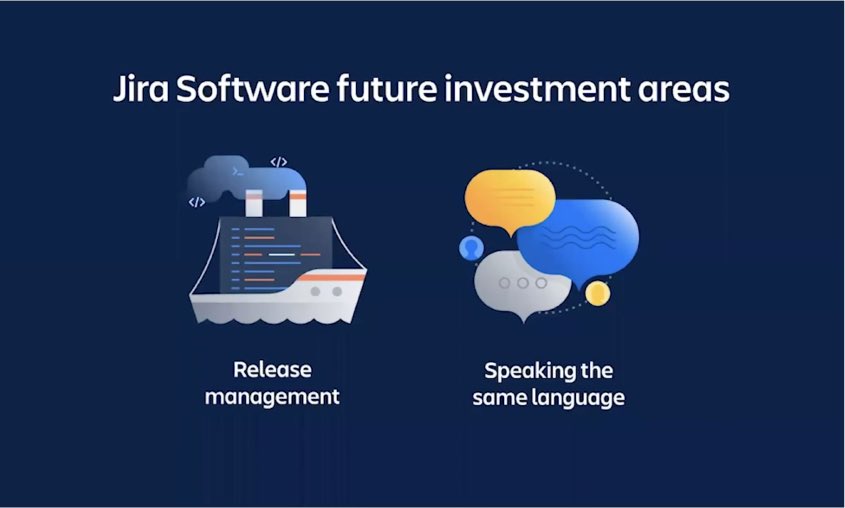 Coming soon to Jira Software is improved sprint management through additional permissions, and a Jira Align connector to make the two tools integrate seamlessly.
For Portfolio for Jira, Atlassian is introducing Capacity Management Snapshots and an integration with Confluence, which will allow users to embed Portfolio plans in Confluence using a macro, which updates in real-time.
Already announced for Jira Align is the Trello Connector which will allow users to track Trello from Align and vice versa. Jira Align is also soon to get out-of-the-box OKRs, and AI to discover points of interest to be automatically displayed.
Confluence will see new permission features with advanced permissions to search by group, space and individual users.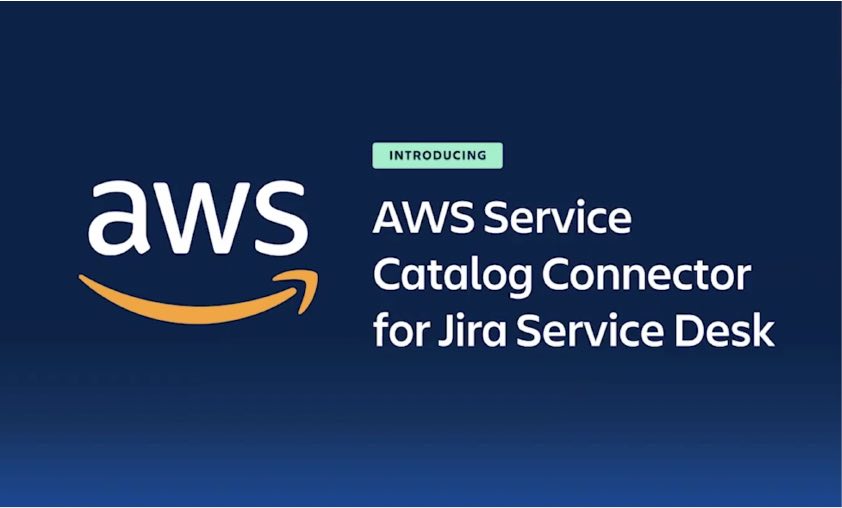 Jira Service Desk will soon introduce improved Agents queues with better sorting, bulk issue edits and quick access queues. Jira Service Desk will integrate innately with Opsgenie to allow Agents to create Opsgenie incidents within Jira. In addition, multi-lingual customer portals are coming, as well as an AWS service catalogue integration.
Bitbucket will see support for integrated CI/CD, which will provide contextual feedback at every stage and Bamboo will see improved branch configurations in the coming months.
I warned you there was a lot, so if you have any questions about any of today's announcements please just get in touch. We would be more than happy to talk through them with you.
There's no denying the Summit is a whirlwind of information, product launches and just general fun, so in case you missed anything along the way we've been taking notes for you. Take a trip back to Day One's kick-off keynote here!