Does your organisation have a dedicated IT team responsible for the smooth running of your processes and services? If not, we'd imagine it's time to read about the benefits of IT Service Management (ITSM). We've chosen 10 key benefits to focus on today for you.
If you're leading a large (and in some cases, even a small or midsize) business, it's virtually impossible to do so without employing an internal IT service and support desks. Why? Well, there's simply such a broad scope of work. Websites need continual upkeep, apps have to be developed, data is stored and managed in the Cloud, devices need to be monitored and maintained, security and compliance procedures must be managed… the list goes on.
So, for larger businesses, it makes sense to have an in-house IT team to manage issues that might arise. However, an in-house IT team requires project management just like any other department. And, to be most effective, it needs a well engineered IT service management framework.
Let's take a step back for a moment. Information Technology Service Management, or ITSM, is the process of managing, delivering, implementing, and supporting IT services. Since it manages the IT pipeline, ITSM is also used for designing and improving IT processes within an organisation. 
Since IT is a broad umbrella term for a variety of activities, ITSM helps consolidate them all in one central hub. 
Looking at that description, you'd be forgiven for assuming that it's all about tech support. However, it's more than that. 
We might also describe ITSM as the process of streamlining your IT services to meet the needs of your business.  
And, if you find the right ITSM software, you get the added benefit of built-in automation. 
What are the ITSM processes?
ITSM processes can be divided into the following categories: 
This is the planning stage, where the framework of the service is built and where the services are defined. It consists of:   
Strategy management

 

Service portfolio management

 

Financial management

 

Demand and capacity management

 

Business relationship management

 
Once the services have been defined, they need to be designed. If you have existing services, you might want to improve upon them at this stage. IT service design consists of: 
Design coordination

 

Service catalogue management

 

Risk management

 

Service level management

 

Capacity management

 

Availability management

 

IT service continuity management

 

Information security

 

Compliance

 

Architecture management

 

Supplier management

 
As you may know from past (and, we imagine, bitter!) experiences, moving from one system of working to another is not as simple as turning on a switch. Even when you have your service design ready, it needs to be tested to ensure that processes flow smoothly and there is no disruption to existing services. This involves: 
Change management and evaluation

 

Project management

 

Knowledge management

 

Service asset and configuration management

 

Release and deployment management

 
Once the new system has been deployed, it needs to be monitored closely. The processes in this stage are: 
Incident and request fulfilment management

 

Problem management

 

Technical management

 
Continual service improvement
No matter how well you've planned your processes, there will always be room for improvement. Even in the case of a perfect plan, your business and its IT needs will change over time.  
That's why you require continual service improvement (CSI), which involves: 
IT service review

 

Process evaluation

 

CSI initiatives management

 
Benefits of IT Service Management
1. Increase Operational Efficiency
You want to get the most out of your IT resources (who doesn't, we ask!). One of the benefits of ITSM is that it helps make your IT operations more efficient. ITSM tools help team leads to identify bottlenecks in business processes using various reporting charts. Normally these charts are part of the ITSM software that help team leads identify what factor in their operations is causing such bottlenecks. Whether through optimised process pathways or Robotic Process Automation (RPA), each aspect of your IT services is streamlined.  
Because of that, your teams function more cohesively and tasks are completed faster. 
Plus, if you're serious about continual improvement, your processes too can be made increasingly more efficient. This in turn means your business runs effortlessly and smoothly. 
2. Save Money Across IT Operations 
According to Gartner, businesses spend up to 60% of their total IT spending on infrastructure and operations (I&O). Your requirements will grow as your business grows, which means your spending will also increase.
A strong ITSM framework can support you in managing your growth and scaling up your business without an equivalent cost attached. In part, this is because ITSM can provide opportunities to automate tasks, which may previously have required new team members to be hired. As we'll touch on later, automation also frees up your people to work on more higher value work.
Download The Total Economic Impact of Atlassian JSM
This guide highlights how businesses can achieve a 277% ROI over three years, how IT operations teams saved 155 hours per month, and how improved end-user productivity resulted in a savings of $408,000.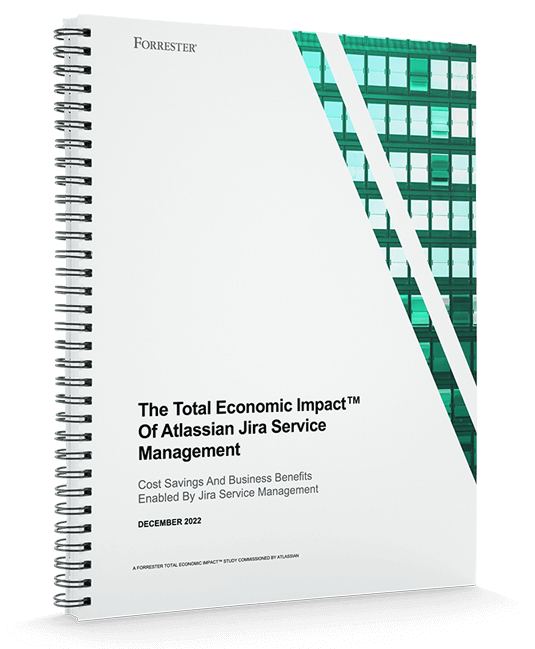 3. Minimise Risks of IT Changes
Change is inevitable. And, with the rate at which technology is progressing, IT change is more inevitable than anything else. It's an exciting time to be working in this space.
But, of course, with any change comes a degree of risk.  
When you transition from one system to another, you may face service interruptions. These, in turn, can affect your business's reputation. And if the migration is not planned well, you risk more than your reputation. 
ITSM, however, has change management built into its processes. This can ease the challenges of transitions and minimise the risks associated with changes to your IT infrastructure or processes.
4. Improve Employee Productivity
Leading a team and managing multiple projects is like juggling. If you don't have the technique perfected, things will collapse around you. You can't be wholly efficient when you're putting all your time and effort into keeping pace with an ever-increasing workload. 
The right ITSM framework will refine your processes. With the relevant tools, you can automate low value tasks, allocate responsibilities to the right people, and access systems for reporting and managing incidents. 
This, in turn, helps reduce your average response time to incidents and your mean time to recover if an incident affects your services. 
To better oversee this dynamic, team leads can also harness features such as dashboards, gadgets, and boards to manage multiple projects and monitor employee productivity more efficiently.
5. Improve Asset Management
IT assets, hardware and software tend to require regular maintenance. And over time, even with regular checks and updates, these assets will need to be replaced.  
Moreover, IT assets need to be monitored constantly. The quicker you can spot any issues, the faster you can act and potentially prevent the incident from becoming serious. 
A significant ITSM benefit is that it gives you better visibility of your IT assets. You can track their use and manage performance. 
For instance, take Assets in Jira Service Management. This tool empowers businesses to automatically detect and map out assets across the enterprise network, providing a clearer understanding of interdependencies. With automated notifications for infrastructure changes and the ability to track various asset attributes, such as CPU, RAM, and software versions, the holistic management and oversight of IT assets become significantly more streamlined.
The thing about ITSM is that it's more than just buying the right tool and using it in your business. It involves careful planning and strategy so that each process is optimised for efficiency. 
Your team accomplishes more when each aspect of your IT service is streamlined. This increase in productivity should correlate with greater earnings for your organisation. Whatever you spend on your ITSM software, you should see a strong return on investment.
7. Resolve Problems Faster
ITSM has a strong focus on reducing downtime, because every minute your service is down, you're losing money. That's why it's designed to prevent service outages.  
Any anticipated break in the service – from installing a software patch to implementing major software changes across the business – is dealt with as quickly as possible. If there is an outage, you should have confidence that it will be as brief as possible. 
To ensure continuous service, integrating monitoring tools like AWS CloudWatch with your ITSM tools can be incredibly beneficial. These tools provide extensive monitoring metrics. When combined with an incident management tool such as Opsgenie, real-time identification of issues becomes possible, thereby preventing prolonged downtime.
8. Improve Customer Satisfaction
Whether your customers are users within the organisation or consumers that use your services, ITSM should benefit all stakeholders.  
Customers can enjoy faster incident responses with first-call resolutions, while your team can experience improved communication, collaboration, and visibility. And, with reduced downtime, it's an overall better experience for everyone. (And that's what we like to see!)
We've seen how comprehensively ITSM can streamline processes and improve performance. As a result, your business needs to spend less money in order to maintain services and improve infrastructure.  
And, as we mentioned before, you should also see increased productivity across your teams.
10. Improve Service Quality
We've made it to number 10. And it's quite simple. With a strong ITSM framework in place, your business enjoys lower downtime, with a quicker response to incidents. The processes are smoother and much more efficient.  
Combined, these factors will have a positive impact on your service quality. 
Get all the benefits of ITSM for your business
Are you looking to enhance the performance of your business and improve service for your customers with the right ITSM solution for your business? We'd strongly recommend that you explore Jira Service Management.  
This solution is backed by the long history of excellence from its creator, Atlassian. You may recognise other leading products within the Atlassian ecosystem, such as Jira Align and Jira Software. 
Jira Service Management is an end-to-end ITSM, offering powerful and effective features to optimise your operations. 
Moreover, our Managed Services team specialises in Atlassian products, Cloud services like AWS and Azure, and utilises tools such as AWS CloudWatch and Azure Monitor for robust monitoring. We incorporate Opsgenie for timely incident alerts and offer a responsive ITIL compliant service desk, well-versed in best practices and troubleshooting for these platforms. For those seeking to optimize an ITIL-compliant desk, our expertise is at your service.
So, whether you're diving into the capabilities of Jira Service Management or seeking comprehensive ITSM support, we're here to guide and assist. Reach out to us below and let's enhance your IT journey together👇
Ready to level up your ITSM game? 🚀
If you would like to learn more about Jira Service Management, get in touch with one of our experts today.