Jira Product Discovery (JPD) is the latest addition to Atlassian's suite of work management tools. It has been designed to fulfil the needs of Product teams by aligning creative innovation with technical delivery.
So what does this look like in practical terms? Now that the product has been officially released from open beta, following Atlassian's Team 23 convention in April this year, we can guide you through a few key features:
Why use Jira Product Discovery?
We'll just take a moment to note how the tool can benefit you and your teams:
Uniquely designed to focus on product processes such as designing, scoping and planning

Acts as a centralised platform for tracking work within the Atlassian ecosystem

Enables stronger integration between your Product and Development teams

Provides tools to link analysis and research to potential features

Seamlessly converts concepts into actionable delivery items for your development teams to work on
In all our years working with Atlassian, this is the first tool specifically built for Product teams in the discovery phase – so it's worth getting excited about.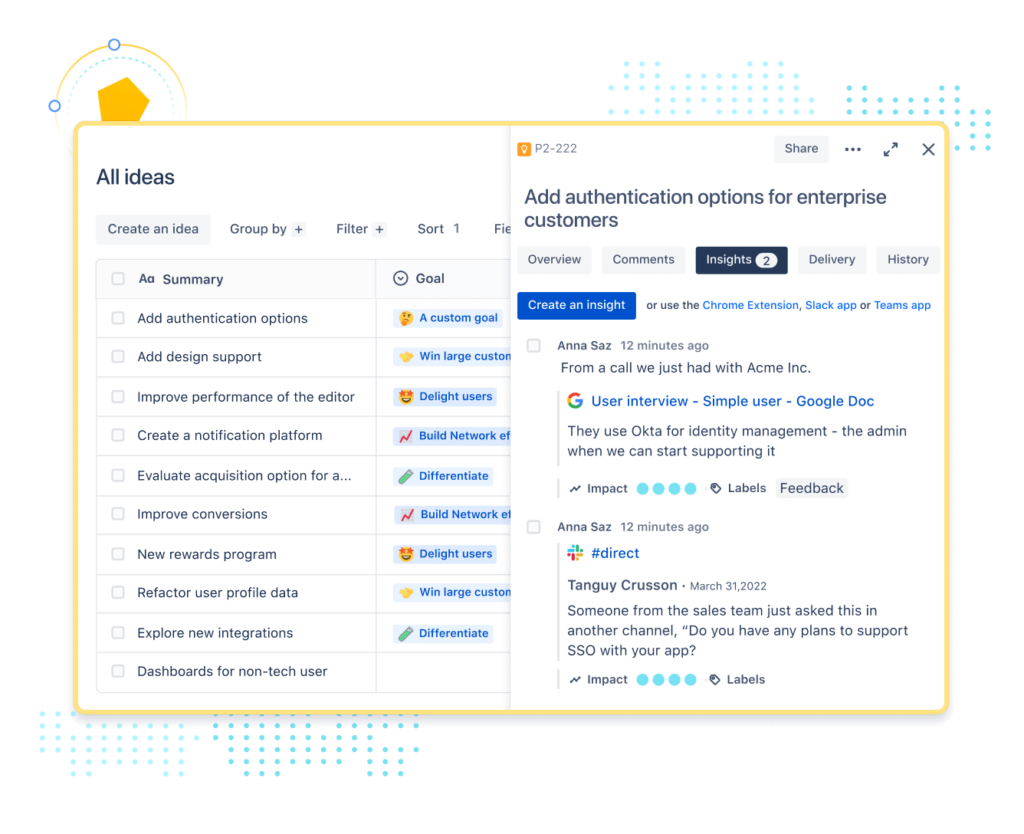 Jira Product Discovery introduces a new project type: The 'Product Discovery' project.
These projects are currently 'team-managed' – so configuration is not shared globally across multiple projects, but instead is unique to each one. This enables teams to begin working in JPD quickly, and to tailor it to their particular use case, without the need to rely heavily on administrators' support.
Within the Discovery project, you can create issues called 'ideas'. Each idea operates similarly to a regular Jira issue, with a summary, description, custom fields and comments. However, Jira Product Discovery has also introduced the following unique fields:
Ratings

Reactions

Votes

Formulas
These new fields provide product teams with a greater ability to analyse and compare the need, ease of implementation, and benefit gained from potential features. There are 30 fields available out of the box, and we'd estimate that they fulfil 90% of use cases.
Now, within an idea, we have five important areas:
The overview

Comments

Insights

Delivery

History
You will likely be familiar with the majority of these areas, as they're common across Jira. For now, let's touch on the 'insights' and 'delivery' functions more closely.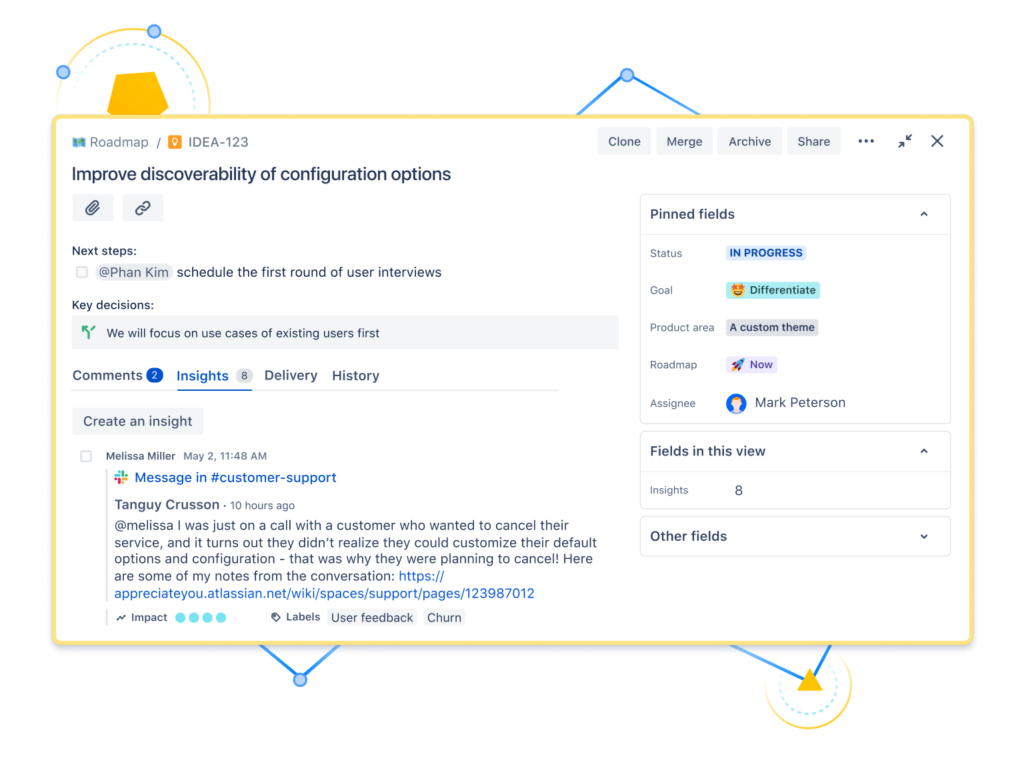 Insights are unique to Jira Product Discovery, and enable all users to provide additional context related to the idea. This could include market research, documentation, support tickets and more.
There are several ways you can add insights to an idea in JPD:
Directly within the idea itself through the insights panel (this is similar to the method used to add an attachment to a Jira Software issue).

From a messaging app, e.g. Slack or Teams. Conversation messages can be highlighted and instantly upload to an idea as a new insight. (Note, this is achieved using an integration.)

Using the Jira Product Discovery Chrome extension. This is a really neat tool and well-worth using if you can. The extension enables you to link ideas directly to web pages or apps, which provides instant context. Some web apps even provide enhanced UI outputs, such as the ability to visualise a Zendesk ticket directly within Jira Product Discovery, or view Salesforce object data. Clever stuff.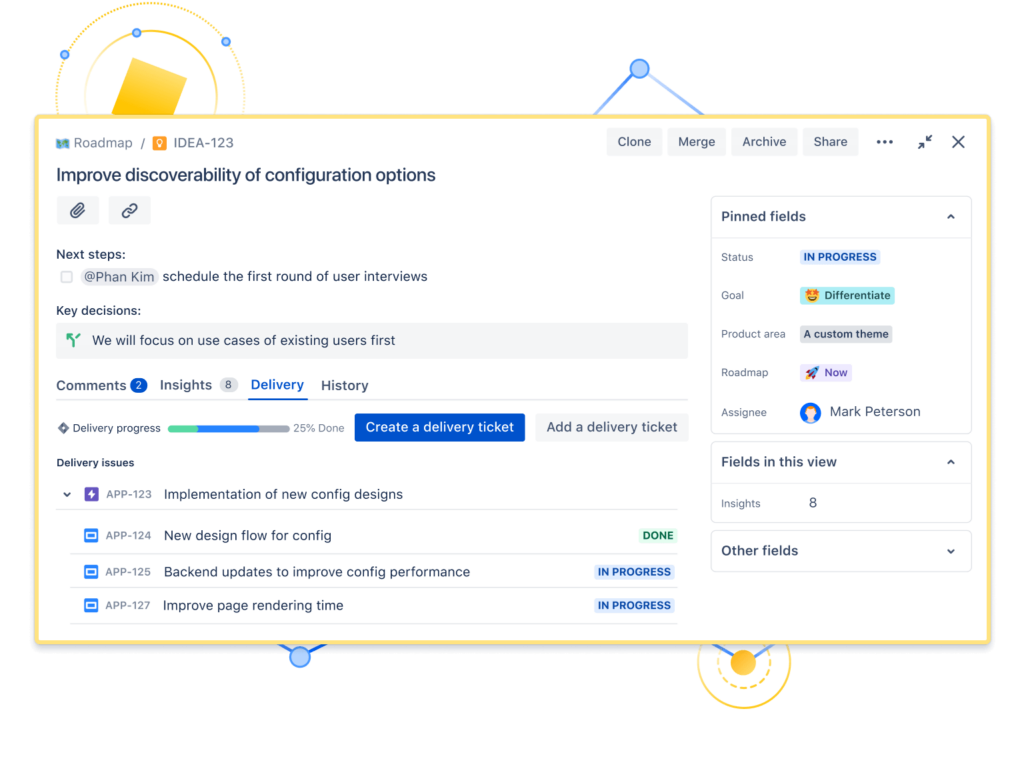 Next we'll turn our attention to the delivery tab.
This is where product owners can connect ideas to epics, tasks and stories in other projects, easily connecting design with technical implementation. If you're familiar with standard Jira, then this probably sounds similar to issue links (and it is).
You can even directly convert an idea into a Jira epic as soon as it reaches maturity.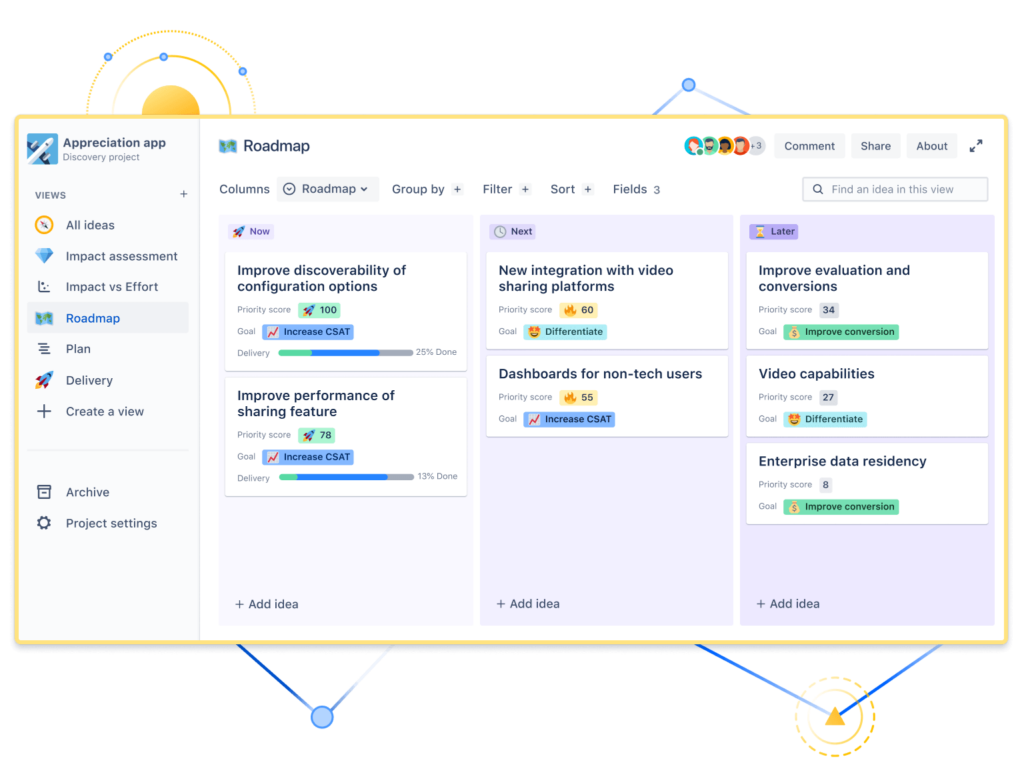 When you first open a Jira Product Discovery project, you'll be greeted with the 'All Ideas' list view, as well as examples of other available view types in the left navigation bar:
Views within Jira Product Discovery are highly customisable, and have been designed to fulfil their own unique use cases.
With the matrix view, for example, you can cross-compare idea metrics, like impact and effort, in order to view the most beneficial features to implement with the least cost. The timeline view, meanwhile, enables you to develop a product-centric delivery roadmap to show upcoming features and targets. You can easily re-organise this as priorities shift.
You can create and configure multiple custom views, and then group these into sections for easy access. These views can then be embedded into Confluence pages, exported as images or spreadsheets, or shared with any logged-in or public users via a dedicated link. There is real value in this, as you can present direct analysis and visualisations to stakeholders in a format that best suits them (and without the need for them have access to the project in full).
Jira Product Discovery has a pricing structure unique to the tool, but still operates within the monthly subscription model you'll be familiar with in Atlassian's toolset.
There are two core user types within JPD: Creator and Contributor.
Creators, as the name suggests, are the main power users of Jira Product Discovery. These users can create and edit ideas, configure and administer discovery projects, and would generally be employees within an organisation's product team.
The Creator user type is the only paid-for type of user, and costs up to $10 per user (for the first 25 users; the more you have, the lower the cost per user) on the standard plan. On this note, we should remind you that Jira Product Discovery has a free plan for up to three total Creators, with virtually no loss in functionality compared to Jira Product Discovery standard.
A Contributor is a read-only and collaborative user. Contributors are able to create new ideas and add insights, comments, and other supplementary information to existing ideas, but do not have the higher-level abilities of a creator, namely editing ideas, creating project configuration, and performing project administration.
If you're moving from beta to a Jira Product Discovery plan, there's some useful information here.
As we mentioned above, we're excited about this new addition to the Atlassian ecosystem, and are eager to help organisations to start getting the most out of it.
So, if you'd like to find out about how we could help you in configuring a powerful, optimised solution for your Product teams using Jira Product Discovery within your business, or learn about any of our other consultancy service offerings, please get in touch with one of our experts to talk through your requirements.
Ready to level up your Atlassian game? 🚀
If you would like to learn more about Jira Product Discovery, get in touch with one of our experts today.