Interested in Jira Service Management (JSM) but looking to gain a deeper understanding of how it will benefit you and your team?
With over 20 years' experience working with Jira, we've chosen 3 compelling use cases to focus on today. These will demonstrate how the tool can enable you to:
Seamlessly handle service requests, enhance user/agent collaboration and encourage self-service

Centrally manage and track the lifecycle of all assets and processes

Implement a fully integrated incident management framework
A bit of background on JSM
As you'll no doubt be aware, in recent years Atlassian's suite of work productivity tools – primarily Jira – have become the industry standard within software development. With deep configuration, robust cloud and server-based infrastructure options and a bustling 3rd party marketplace, it's no wonder Atlassian tools have an excellent reputation (and it's why we're proud to be an Platinum Solution Partner).
What's slightly less well understood, however, is that when people refer to 'Jira', they're usually talking about its software development workstream (Jira Software). Jira itself is actually an umbrella for multiple separate products.
Jira Software is designed to fulfil the role of the Agile Work OS, whilst Jira Service Management (which we're discussing today) is Atlassian's ITSM-focused offering. As such, it provides a whole host of unique features to enable various business support applications.
Who is Jira Service Management for?
If you spend your time in the following areas…
Managing a customer service desk or self-service portal

Managing the lifecycle of your IT equipment, employees, and software to facilitate smooth onboardings and upgrade paths

Ensuring your products and facilities are always live, running and sufficiently monitored
…then JSM could significantly enhance your processes, communication and results.
Self Service and Request Management
'Projects' lie at the core of Jira Service Management and act as a tool for customer/agent collaboration. Each project has its own service portal for raising requests and searching created documentation. Multiple projects/portals can then be combined in a 'Help Center': a central location for submitting any service request in an organisation.
Each type of request has its own bespoke, highly customisable submission form, allowing all the necessary information to be gathered at the point of inception.
Requests can also be categorised into groups, which simplifies the user interface for your customers or users, and ensures they can access the information they need quickly.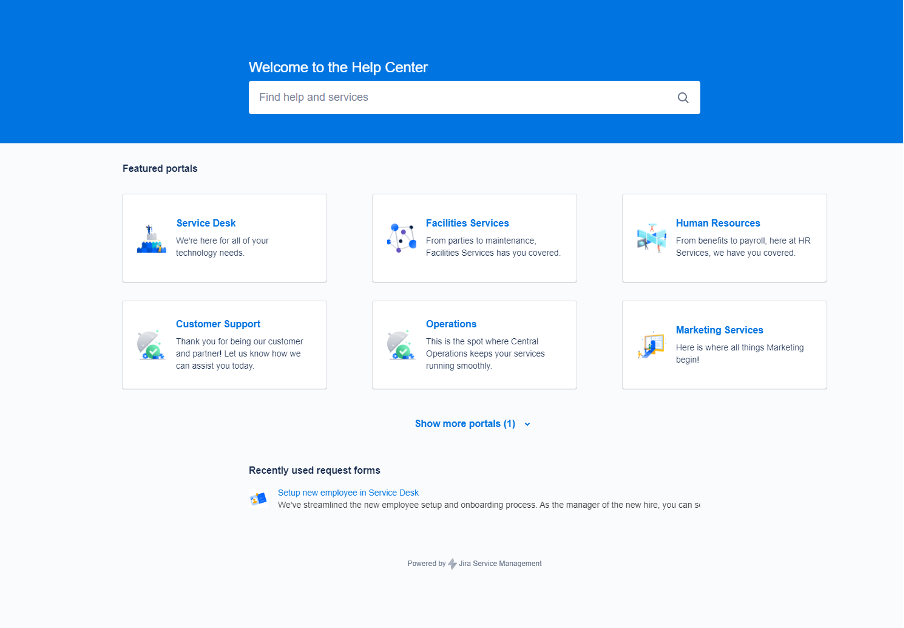 Individual service desks can be integrated with Confluence, meaning users are empowered to resolve their own issues from a library of knowledge articles detailing common problems. These articles can then be maintained and expanded upon by your service desk agents, saving time that can be diverted to larger, high priority requests.
The JSM Help Center search function is powered by AI and machine learning to provide accurate and helpful article suggestions via keywords, labels, and categorisation. This function is also impacted by a customer's previous usage, meaning no two experiences are the same.
Asset Management in Jira Service Management
JSM is integrated with Insight, a powerful and configurable asset management solution. (This is available on Jira Service Management Premium and Enterprise plans.) Within Insight, an item or 'asset' can really be anything – from laptops, peripheral accessories, software, or even employees themselves.
These assets can then be connected in a network and tracked across time to monitor the entire lifecycle of an item. You will be notified of key events or issues, such as compliance and audit deadlines, hardware problems, employee access issues or warranty expirations.
Jira Service Management with Insight can also support your onboarding process. If a new employee joins, for example, you can onboard them via your service desk and assign a laptop within Insight. This could be done directly from a submission form, or from the agent's view within the project.
Or what if an asset has broken? We'll use a monitor in this example. You can raise a service request in the portal and have your monitor's Insight asset deprecated and replaced with a new model. Once any repairs have taken place, simply re-activate the asset and it can be assigned to a new employee. JSM and Insight record this history so you can visualise the asset's entire journey through your organisation.
If asset data is a pain point, you can connect your Insight objects to a reporting tool such as eazyBI. This enables you to perform complex analysis on your assets. See common hardware failures and replace stock with more reliable alternatives; report total acquisition costs and infrastructure spending to senior stakeholders.
Across many of our projects, we've seen first-hand how busy ITSM teams can gain exceptional value and efficiency can be gained by streamlining a business's asset management practises.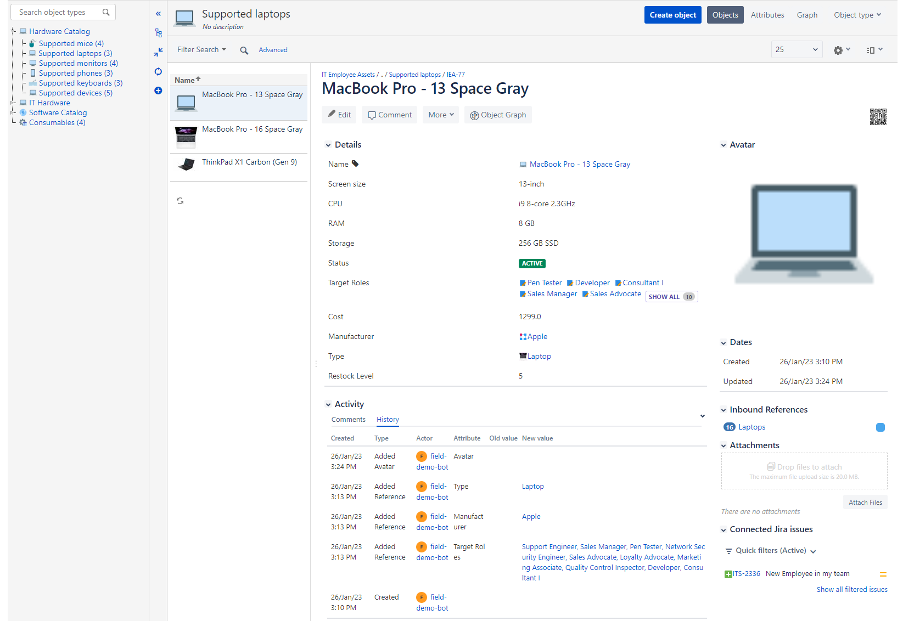 JSM and Incident Management
 As you well know, it's crucial that the products you develop or the infrastructure supporting your teams is continuously available – and that any downtime, breakdowns or failures are swiftly addressed.
In light of this, we'd recommend another highly relevant product bundled within Jira Service Management: Opsgenie. Combined with JSM's built-in services functionalities, Opsgenie provides a framework for incident management, notification, and resolution.
Opsgenie allows you to configure on-call support schedules, automate stakeholder notifications when incidents occur, connect monitoring tools to fire off critical actions, and integrate all these added features within Jira Service Management projects. This means that everything is managed from your one, central ITSM tool.
If you're software development focused, you could consider extend this even further by integrating another of Atlassian's tools, Bitbucket. This links code directly to service infrastructure, connecting new feature deployments with incidents that result from them.
This provides a plethora of reporting options, enabling you to analyse and address the causes of incidents, reduce the amount of service downtime, and rely less on your on-call agents to fight fires continuously. Instead, their time can be freed up to focus on generating more customer value.
Ready to level up your ITSM game? 🚀