This time last week, we were thrilled to host our virtual summer event: Optimizing ITSM with Atlassian on Tuesday 30th – and without sounding too biased, it really was a brilliant afternoon of keynotes, panels, breakout sessions and more!
The day was filled with insightful and thought-provoking topics within the world of ITSM, piloted by members of the AC team as well as a selection of highly anticipated guest speakers and panellists. Optimizing ITSM with Atlassian was designed to allow our attendees to drop in for one or two sessions or stay for the whole afternoon, so don't worry if you missed any of the action as we'll be re-capping all the highlights right here!
Due to the current global health crisis, we realised some time ago that an in-person event would not be possible, which is where the idea stemmed from to host the event virtually. With speakers from the Netherlands, to the USA and back to the South of England – as well as attendees from several different time-zones – we'd like to thank everyone who contributed towards making Optimizing ITSM with Atlassian such a successful, stimulating and collaborative event.
Virtual Introductions
One of the plus sides of a virtual event is that there's no commute and no queueing! Our attendees joined us in the early afternoon and, with a click of a button, had the opportunity to explore our AWS Sumerian interactive VR venue, chat to our avatars and even watch the Welcome Speech from within the VR. Our guests also took the time to explore our stands, download digital whitepapers and leaflets and network with other attendees, and that was all before the proceedings had begun!

The event got underway at 2:15pm on the dot with AC's Founder and Director Jeff Cunliffe cutting the virtual ribbon, giving us a warm welcome and providing some sneak peeks into what we'd be expecting throughout the day!
---
Leveraging ITSM for the Remote Workplace
Our first session hit the main stage at 2:20pm, presented by AC consultant Siddharth Kohli and focused on the very relevant topic of leveraging ITSM for the remote workplace.
"As businesses adjust due to the ongoing global crisis and changes to their business continuity plans, ITSM tools can help implement changes without major disruptions, thus allowing you to cope with change."

Siddharth Kohli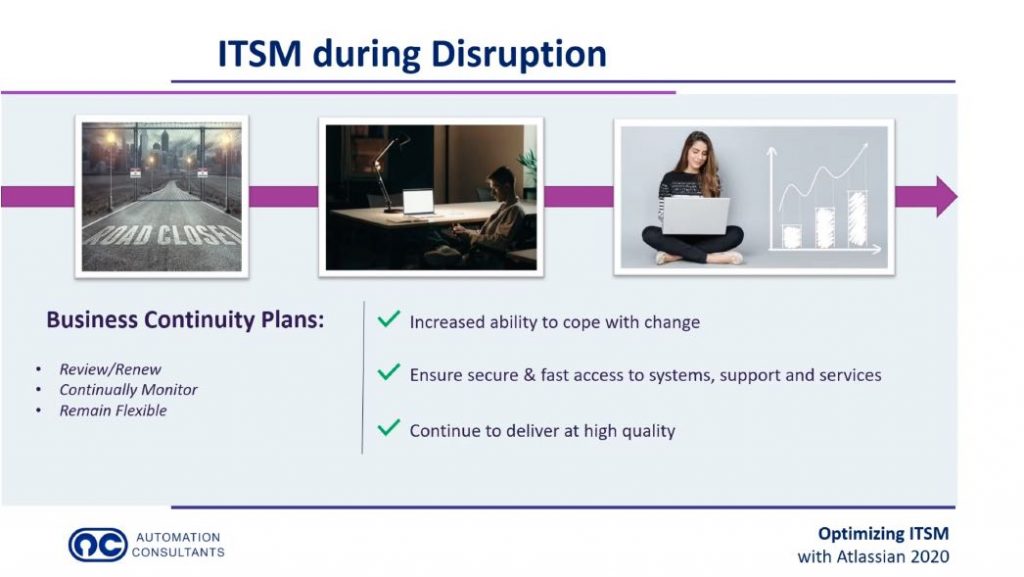 Over the course of half an hour Siddharth explored the challenges organisations are facing due to the current situation and presented how ITSM can help you respond to said challenges and help maintain Business Continuity. He delved into various challenges ranging from capacity, collaboration, security, maintaining knowledge and delivering continuity in the remote era, emphasising throughout the importance of a strategically designed infrastructure.
Siddharth also made it clear that there are endless benefits of efficient use of ITSM (read our dedicated blog on the benefits of ITSM). As the infrastructure required for many business processes is already part of the ITSM framework, it means that it can be utilised to expand service capacity, manage assets and licenses, improve traceability, standardise processes to streamline task management and much more.
As his session drew to a close, Siddharth concluded with a series of real-life case studies, presenting how service management tools can help in responding to the above challenges throughout an organisation and their internal departments.
The first session was summarised with a suggestion of focusing on the impact that this global crisis will have on ITSM, such as a shift in managerial services and a huge focus on new forms of communication – factors that businesses will need to acknowledge in order to stay on top.
---
Automating Incident Management with Atlassian
The next topic of the day was Automating Incident Management with Atlassian, given by our very own Head of Support Services, James Littlefair. His session initially outlined that within the new era of DevOps we find ourselves living in, software is being released quicker than ever before. Whilst this can bring huge benefits, change inevitably brings risk and risk can cause incidents, meaning it is essential to know how to control your incident management and how automation can benefit incident management in your workforce.
In certain situations, incidents can be hard to avoid, and can be the cause of temporary interruptions and even disruptions to services which require an emergency response. Ineffective incident management can lead to irritation from customers and disruption in teams.
The real key to incident management is to keep it simple.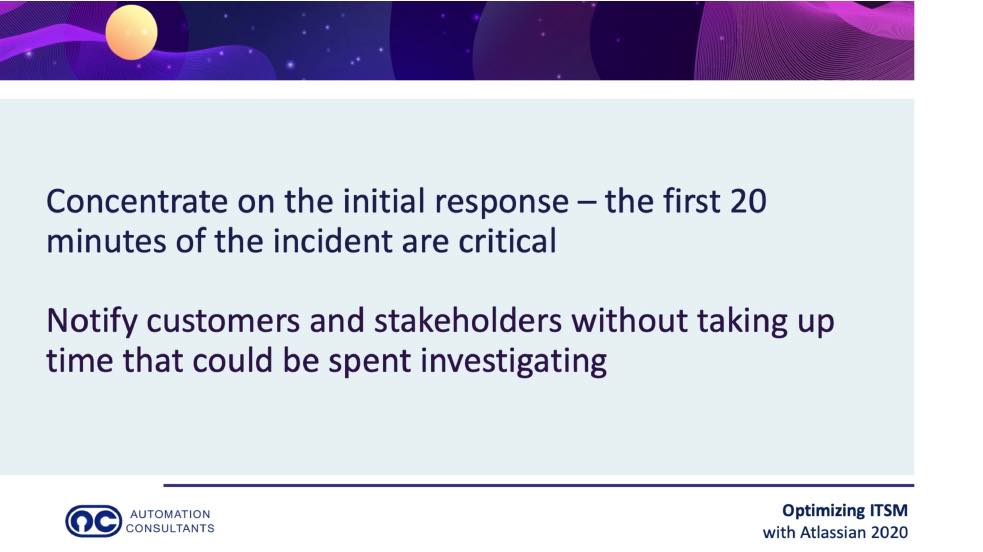 James expanded on Siddharth's point that automated communication and collaboration is essential for successful incident management. Though face-to-face collaboration may be preferred, it is often not possible in some circumstances, let alone in the current climate. Effective video conferencing and instant messaging tools are key; instant messaging gives timestamping to communications during an incident, making it easy to know who said what and when they said it.
This session was centred around a live demonstration on how to use a combination of Opsgenie, Jira Service Desk (Cloud) and Statuspage to co-ordinate the response for a dysfunctional web application. This provided the audience with highlights of each application;
Opsgenie can be used to notify customers, raise incidents from alerts and send updates,
whilst Jira can be utilised to link service desk tickets to incidents.
James summarised by clarifying that combining Jira Service Desk, Opsgenie and Statuspage effectively can form an industry-leading Incident Management toolset.
Now, after 2 (fantastic) talks we know everyone will be ready for a coffee break – so pop the kettle and we'll meet you back here in 10!
---
Evolving ITSM for High-Velocity Teams – an Atlassian approach to Service Management
We were thrilled to welcome Karima El Moujahid, Atlassian Solutions Engineer, to the main stage next, who gave a superb Keynote on adapting ITSM for vast teams. Whilst we have covered ITSM in the new era of remote work and incident management techniques through ITSM, we haven't yet conquered ITSM's journey and what this means for the teams involved.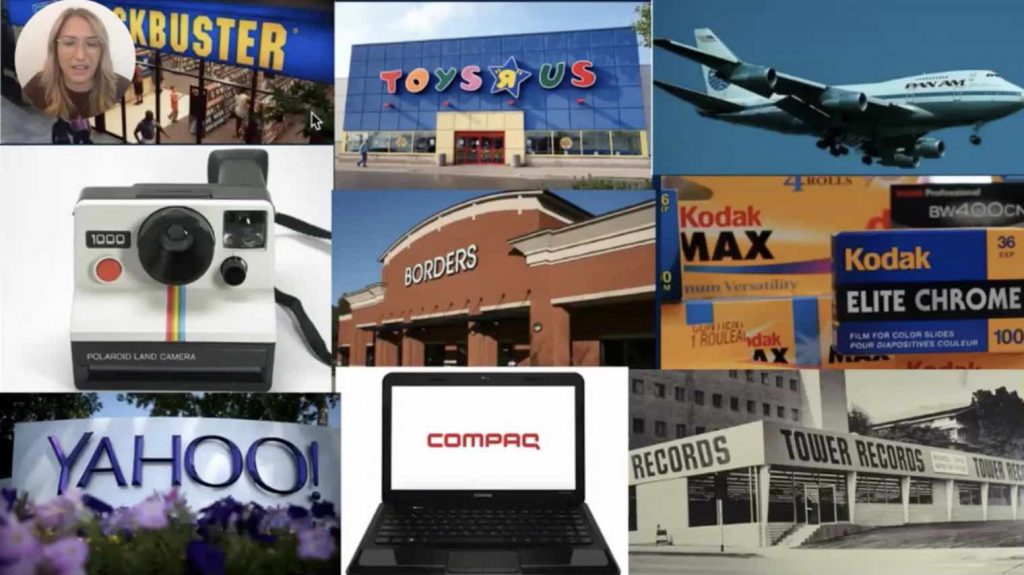 In order for businesses to excel when traditional ways of working change, Karima explained that it is vital to improve how employees work together as a whole, and not just in individual teams. She used an example (as seen below) of companies who vanished from the Forbes Fortune 500 list whilst others thrived. One of the primary failings of these businesses was that they did not adapt to the swift changes in technology as successfully as their competitors did – digital transformation is essential for any business as IT capabilities accelerate.
Karima explained that the technology landscape is rapidly changing, and that it's vital to keep up to date with the latest platforms in order to support better ecosystems. As the industry shifts from a project-based mindset to a product-based mindset, teams have begun to encounter a dispersed way of working. To keep pace with the rate of change which we're currently experiencing, Karima suggested that we need to better connect the agility of the Dev team and the reliability of the IT team; she recommended Atlassian and Axelos' digital guide The Future of ITSM is Agile for teams to learn more about practises for high velocity teams, whose aim is to bring more agility and collaboration into ITSM.
"Learn and adapt as you grow, then you can introduce more agile methods into this modern approach with ITSM."

Karima El Moujahid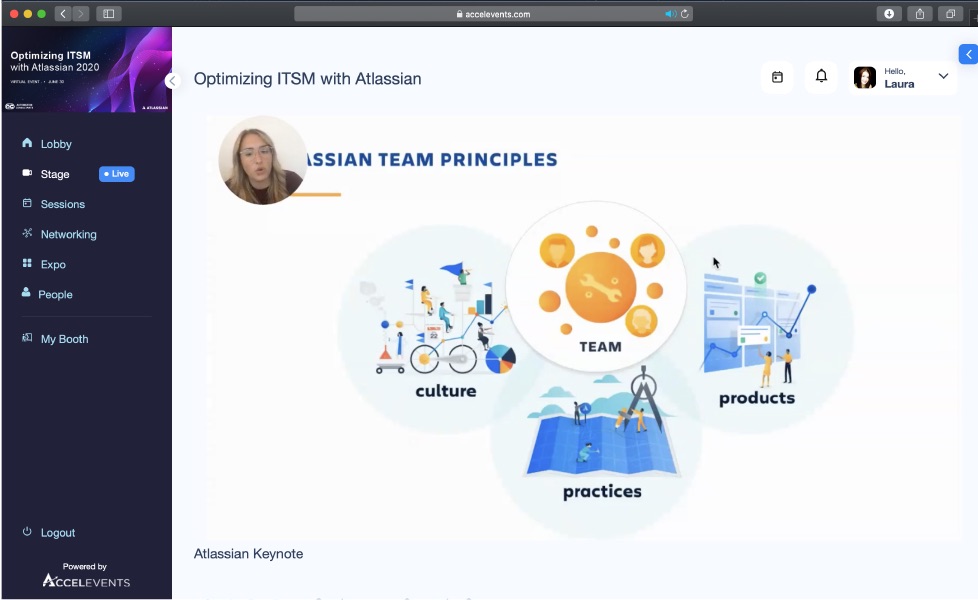 In order to understand team culture, they created the Atlassian Team Playbook which is used by over 4000 Atlassian employees worldwide, containing self-guided workshops and game plans to uncover team blind spots and to improve practices. Karima emphasised how Atlassian tools such as Confluence, Jira and Atlassian Marketplace Apps can help teams to collaborate better and with more efficiency. Karima also recommended The Complete Guide to Atlassian for ITSM 2020 throughout her session, which is available for download here.
The insightful talk ended with an interactive Q&A session, giving attendees a chance to pick Karima's brain on her insights into ITSM, how Atlassian tools can integrate with one another and how they can be automated to benefit their systems.
After all that learning, it was time for another well-deserved opportunity for guests to stretch their legs, and more importantly brainstorm questions in readiness for our finale – the Industry Panel Discussion!
---
Best in the Business Panel Discussion
We all took to our seats one last time as the industry panel kicked off at 5pm. We were lucky enough to have a diverse group of speakers from Atlassian, HSBC, Collinson and Gateway Digital UK on our panel, sharing their own perspectives and experiences of ITSM.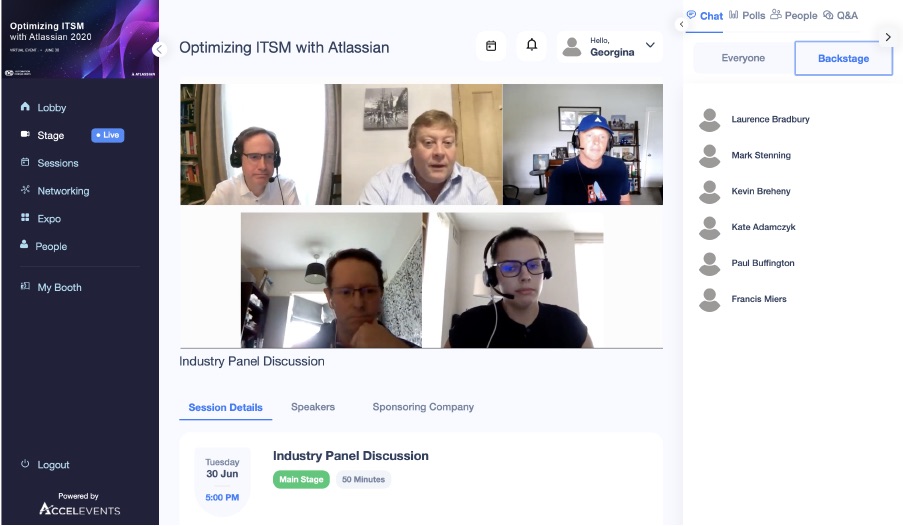 The Q&A was hosted by AC Director Francis Miers, who challenged our special guests with questions such as:
How would you go about implementing ITIL in an organisation that is sceptical of change?
It has been reported that IT service management is increasingly being used to govern assets and projects outside the field of traditional IT, e.g. in sales, finance and HR. To what extent is this the case in your organisation?
What trends are you seeing in the tools being used to support ITSM, e.g. helpdesks, change management etc.?
How have you adapted your ITSM practices to handle the advent of SaaS, cloud infrastructure and ByoD?
What effect has Covid-19 had on ITSM?
And more…
If you're kicking yourself for missing our panellists and of course us never fear, we've made the session on demand so you can watch it back in all its glory! And if you have any questions of your own to ask our panel then send them our way and answers will come flying back at: social@teamac.io
---
Last but certainly not least, our Networking Bonanza!
Virtual networking might not have free drinks and nibbles, but it does have a comfy chair (hopefully!) and an exclusive opportunity to discuss the day's events with other attendees, speakers and panellists.
Our Networking Bonanza shared a similar quality to speed dating or at the very least an interesting game of roulette! The platform randomly shuffled and paired participants within the networking session of our event hub, giving you 4 minutes on the clock to chat with another attendee before you're on to the next one. It was a lovely way to interact with colleagues, meet new people in the industry and quiz our speakers and panellists on their responses in the live sessions! It was a brilliant alternative to good old-fashioned networking and embraced the virtual theme of our event.
---
Before you go…
We really hope you all enjoyed Optimizing ITSM with Atlassian as much as we did, both in person and in our short (ish) recap! Recordings of all of last week's sessions are available to watch using the buttons in the article, so no fear – this isn't the only re-cap you'll get!
We've also got more virtual events in the pipeline, so make sure you're on our mailing list – we wouldn't want you to miss any updates or big announcements. Have a lovely week and we can't wait to see you, whether it's virtually or in-person, at the next event!