Last Wednesday Automation Consultants were among the 12,000+ attendees at the Excel, eager for the start of the 2019 AWS Summit London!
The day was kicked off by AWS Compute Services VP, Matt Garman, who welcomed us all with his keynote speech, in which he paid particular focus to the need to make machine learning more approachable. We were also audience to some of AWS's biggest clients including Sainsburys and the Ministry of Justice who touched base on the before and after effects of Amazon Web Services.
Phil Jordan and Clodagh Moriarty from Sainsburys noted their use of 86 different AWS services in order to improve customer service and productivity throughout all business tiers but most prominently online shopping. While the MOJ enlisted AWS to enhance the overall effectiveness and fairness of the services it provides to UK citizens. Want to know more? Listen to the full keynote session here.
The Summit's main goal was to help bring together technologists to connect, collaborate and learn about AWS and it did just that. The agenda featured something for everyone from customer stories to level 400 deep-dive sessions all with the intent to expand and share knowledge as well as showcase the benefits of working with AWS.
With more than 50 Breakout Sessions to choose from throughout the day, we thought we'd share some of our favourites:
CI/CD on AWS – exploring how to accelerate the delivery of new, high quality services through building and managing a release pipeline. A noticeable area in the industry and was further exhibited by Dunelm. Find out how we can help you with your DevOps today.
Modern Application Architecture – Ian Massingham, Director and Technical Evangelism of AWS, discussed their experiences in building AWS services and working with customers on their cloud-native apps, with a special presentation from Ann Ledwith, Director: Delivery Optimisation for Sage.
How to build a serverless Alexa Skill in 30 minutes – Andrea Muttoni, Technical Evangelist, designed a live walkthrough using AWS Lambda and the latest Alexa Skills Kit to create a voice experience on Alexa. This session left an impressionable mark on us particularly considering it was done in the space of 30 minutes.
AWS Get IT Competition Final – a social initiative designed to encourage more girls to consider a career in technology. AWS Get IT invited Year 8 pupils to participate in an inter-school app building competition to solve a real issue faced by their school or community, with the winning idea built and maintained by AWS.
While the Summit's agenda was packed full of Breakout Sessions there was still plenty to do if you found yourself with a spare moment. From an escape room to colouring skateboards for underprivileged children in London to talking to all the Summit exhibitors, and not forgetting tracking down the AWS Cloud Ninja, there was never a dull moment.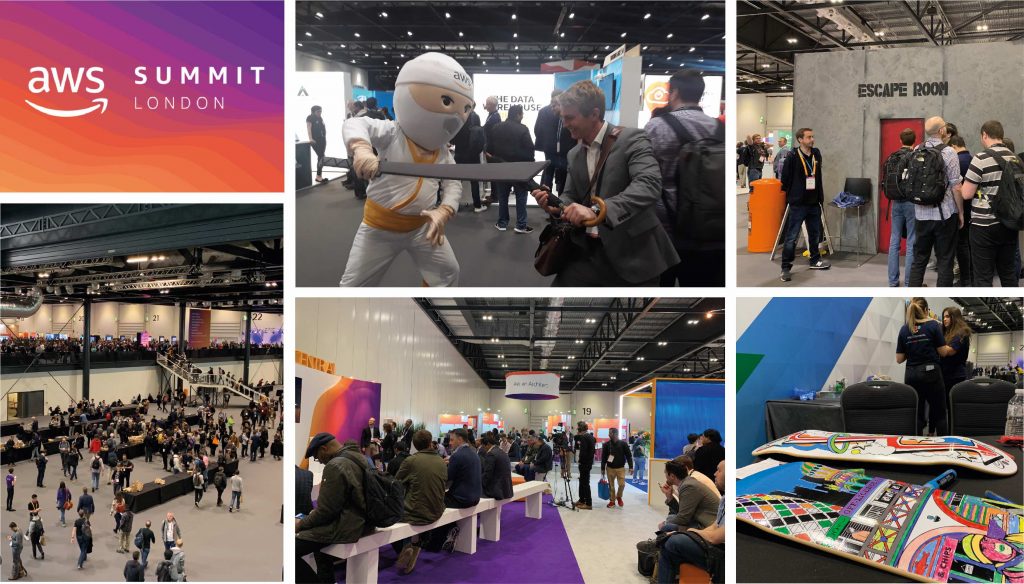 It was great to have the opportunity to go as a fully-fledged Select Consulting Partner and network with likeminded companies, customers and individuals. If you missed the AWS Summit London 2019 or want to re:Visit your favourite parts of the day you can find the agenda here, or visit the AWS Resource Hub to catch up with the keynote and presentations here.
Or better yet, get in touch today to discuss your AWS requirements and discover how it could transform your business. You can also find us on the AWS Directory.