During the first day of Team 22 on 6 April, we learned of some exciting new Atlassian product launches that could help your teams operate in autonomy whilst staying aligned.
In the opening keynote "Culture Eats Strategy for Breakfast", Scott Farquhar, co-CEO of Atlassian, highlighted the changes of how we work in a post-Covid era, where it's now more common for teams to work from anywhere across the globe.
For example, 25% of Atlassian's workforce live over 2 hours away from an office, and this increases to 47% for new hires.
However, this future way of working introduces unique challenges.
Every company has an individual culture and unique way of getting things done, and arguably the best cultures support our natural human desire for autonomy, as well as encourage independent thought, creativity and learning.
Different teams work in different ways, and use different tools to get this done – and now with the added complexity of a dispersed workforce.
So – how can organisations achieve a balance between giving teams the freedom to innovate and work as effectively as only they know how, while keeping enough in common with other teams in the organisation for them to work with each other efficiently?
How can organisations combine the autonomy of teams and alignment within the wider organisation?
Did you meet us at Atlassian Team 22?
Click here for your free consultation dedicated to Team 22 attendees
Introducing Atlassian's new product: Atlas
Atlas is a teamwork directory that facilitates sharing in the context of work across teams, bringing together people, goals and communications.
This "one-stop-shop" effectively connects people with the goals of the organisation. With Atlas, you are able to see what teams are working on, who's working on what, and how the work is progressing.
Tying this concept together is project reporting in the form of simple regular tweet-sized updates every week.
Individuals are then able to follow the work that is relevant to them, connecting work to outcomes, whilst eliminating wasteful emails or status updates.
Introducing Atlassian's new product: Compass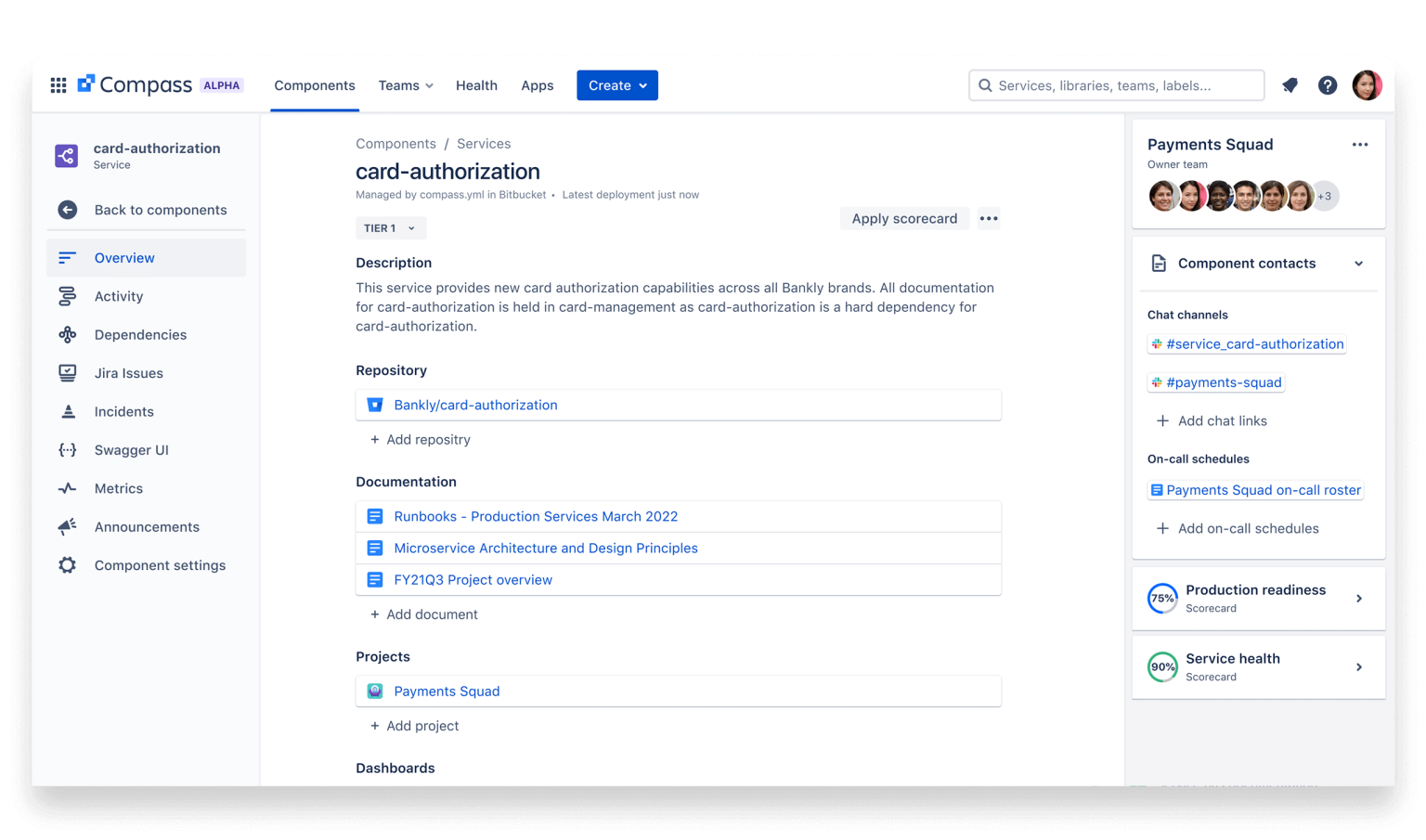 Compass is "mission control for your distributed software architecture".
This product includes three tools that enable developers to collaborate in a cloud era: Component Catalogue, DevOps Health Tool, and Extensibility Engine.
Component Catalogue
This is a hub for development teams to collaborate on the assembly of software. With everything tracked in one place, you can easily find documents and owners of components, and see ongoing health.
This enables teams to simplify and contextualise workflows into an activity feed on a component-basis. 
DevOps Health Tool
Compass can help accelerate the learning curve in development and operations through fully customisable score cards that codify best practices.
For example, if metrics fall below a specified threshold, teams can be alerted automatically. Components can also be cross-checked, to quickly see if there are any unapproved packages.
This way, your organisation can establish best practices without creating any bottlenecks for the wider team.
Extensibility Engine
Here, you can customise UI with extension points in the main navigation, team dashboard, and top navigation.
You can also make your own developer experience portal, as well as build new capabilities using Forge.
Introducing Atlassian's new product: Data Lake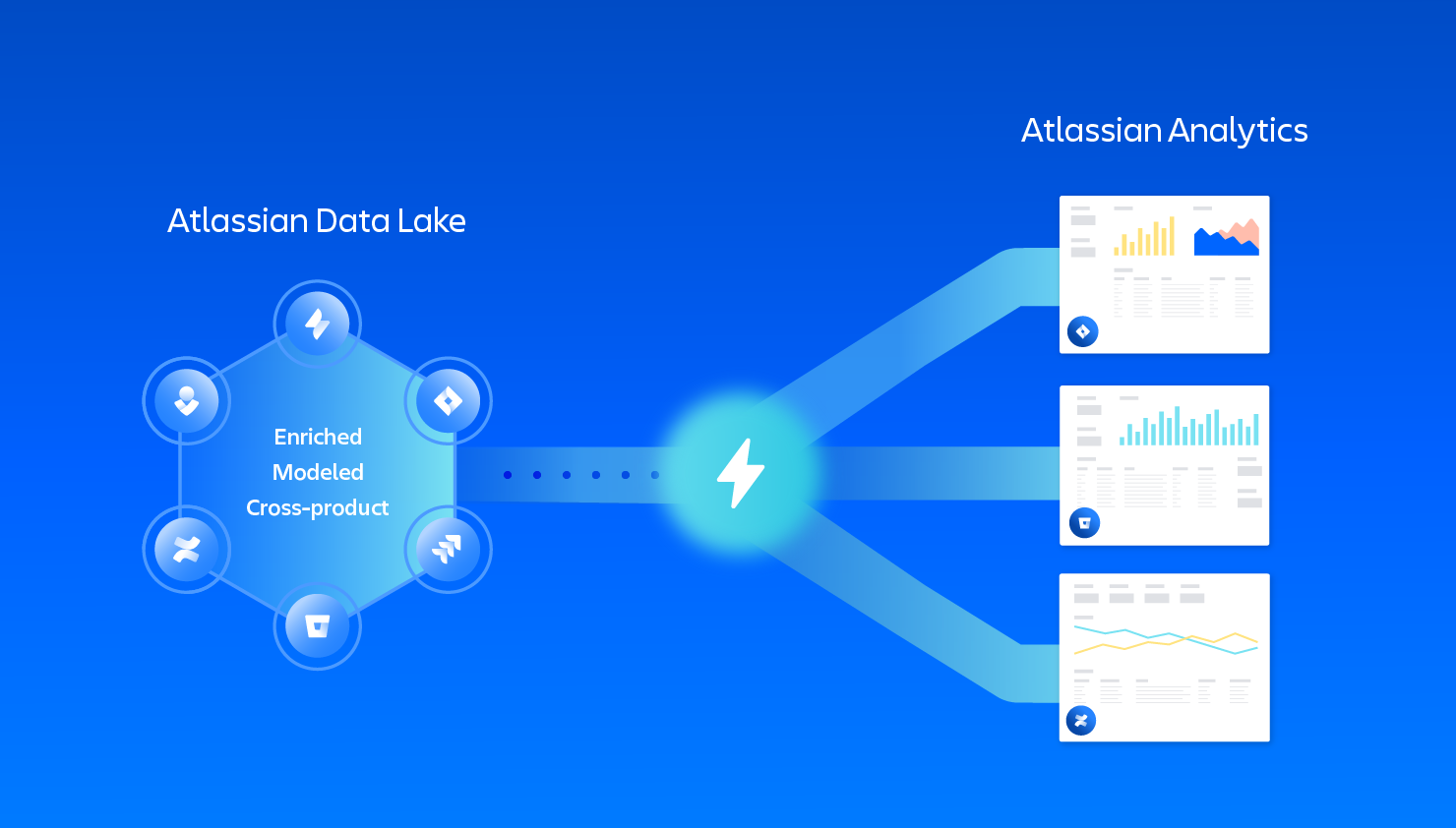 Atlassian Data Lake is a brand new Atlassian Analytics hub.
This creates a central place for teams to create custom reports and visualisations within interactive dashboards.
There is also the ability to combine data from Atlassian products with other products to marry data and unlock new, useful insights.
Get in touch with our Atlassian experts today