Why pursue Agile at Scale?
For large organisations trying to achieve agile at scale in software development and IT projects, there are many challenges. Agile at Scale brings the benefits of team-level agile practices to enterprise-level software development and IT projects. The ultimate goal is 'enterprise agility', where these benefits extend beyond software development and IT into the wider enterprise. What does that look like? At a minimum, all the software development and IT teams within the organisation will have adopted agile. Their way of working will be similar enough across the organisation for them to be able to work together towards common goals. Dependencies between teams are communicated and can be handled smoothly; and there is enough maturity in agile ways of working for predictions about delivery timescales to be reasonably accurate, allowing for budgeting and release planning. Further, as these habits spread, the enterprise itself will have taken on agile characteristics and grown more able to react quickly to unexpected events; change course in time to meet shifts in customer demand or emergent competitive threats; and embrace novel technologies and revolutionary solutions.
Sounds great, will it be easy?
In a word, no. Getting to enterprise agility is difficult, but the benefits are worth the effort. The organisation can deliver constant value at higher quality and lower cost while reacting faster to changes in the market and staying one step ahead of the competition. Greater predictability and adherence to budgets will also keep your stakeholders happy and help protect your organisation's sizable investments in software.
At a high level, the core challenge in achieving enterprise agility is getting a large number of people to adopt a common way of working, changing their often deeply ingrained habits in the process. The common way of working need not require total uniformity across the board, but the adoption of certain key working practices across teams is key, and even this is not easy. No large organisation is without its silos and its fiefdoms. Its elite teams may like the differences they have from others in the organisation, may feel it is part of what makes them special. Other teams may feel their function requires a different approach from that adopted elsewhere in the organisation. Breaking down these barriers is not easy. To do it, team members must believe that the effort is worthwhile and that the methods being adopted are fit for the purpose. Further, they must respect the members of the other teams and the process itself. Such buy-in cannot be imposed in a short time from the top, but senior management commitment is essential.
So how do we get to Agile at Scale and if possible enterprise agility?
Most organisations which have had success in embracing enterprise agility have adopted an agile scaling framework such as Scaled Agile Framework (SAFe), Scrum at Scale (S@S), Large Scale Scrum (LeSS), Disciplined Agile (DA), Nexus or Spotify. 
These frameworks serve to co-ordinate the work of many agile teams, providing formal structures for them to communicate with each other, to manage dependencies, to spread the workload appropriately and so on. While each of these frameworks has advantages and disadvantages, the differences between the frameworks are less important than the collective will to adopt one and see the implementation through.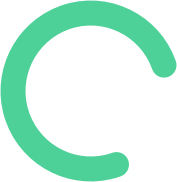 Discover more about enterprise agility
Download our free Jira Align overview cheat-sheet to find out more about how Jira Align connects your business strategy to technical execution.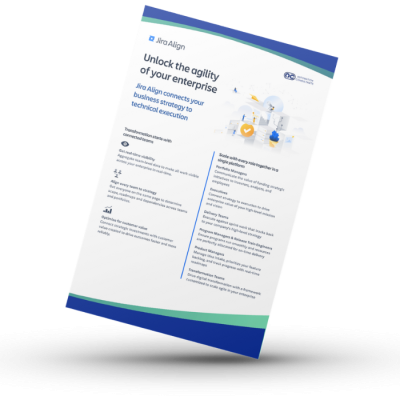 Where should an organisation start with an agile transformation?
Agile has been in existence since 2003. Most organisations will have at least some teams which already practise agile methods in their daily work. In fact, most development and IT teams in most organisations have adopted agile methods in some form, whether it is Scrum or Kanban, one of many variations of each of them that exist, or some other agile methodology. This is a great start, but there's a long way to go.
Before an agile scaling framework can be adopted (or even chosen), it is important to understand how those teams are working right now. Where is there common ground, and where are the greatest disparities? What is working really well, and what are the major pain points? If you're going to change the daily lives of hundreds of developers, you need to understand the impact you're going to be having.
You will also need to get a feel of your higher-level objectives for the scaling framework; what problems in the wider organisation are you looking to solve? Talk to key stakeholders, finance teams, human resources, even your customers! You need to form an understanding of your current state of play across the board and identify the problems to solve to help build your case for change. Build up a list of your requirements and the appetite for change at all levels of the organisation, understand how much buy-in you're easily going to be able to achieve and the resources you might have at your disposal, and see if you can't start getting people on board as you're going!
Once you know where you're starting from and understand where you're trying to go, it's time to choose a framework. For many organisations, the framework they choose is less important than the decision to implement agile at scale and the resolution to make the changes necessary to get there. This is in keeping with the agile maxim of valuing individuals and interactions over processes and tools. The various scaling frameworks do have material differences however, and in the next article in this series, we will be examining the leading scaling frameworks and comparing their main strengths and weaknesses.  
For any large organisation, if agile is worth implementing at team level, agile at scale is worth implementing at organisation level to ensure that it is operating as effectively as possible and guaranteeing an advantage over competitors stuck in the old world. The transition is likely to be long and hard, but you don't have to take it on alone. Automation Consultants are experts in agility and would love to join you on your journey. If you're not sure where to start, why not get in touch and we'd be happy to lend a hand!
Considering implementing Agile at Scale, including SAFe, practices within your organisation?
As an Atlassian Enterprise Platinum Solution Partner, we provide a wide range of services from Atlassian software implementation, best practice advice and support, to bespoke training programmes tailored to your business.
Or if you have any questions about scaling agile, just drop us a note below and one of our expert consultants will get back to you shortly.