Many of us will be familiar with the concept of the 'People, Process, Tools' framework. Dating back to the 60s, it can loosely be described as ensuring all three components (your people, processes and tools or technology) are carefully balanced. When each of these are equally resourced and considered, you've laid the foundation for a successful project.
When it comes to implementing and supporting Agile at Scale frameworks, however, you could argue that technology – in this case Enterprise Agile Planning (EAP) tools – has the lowest priority.
A little context: Agile at Scale implementations
Successful Scaled Agile implementations depend on two core things. Firstly, your organisation needs to have existing Agile teams working with a good Agile culture. That's the people. Secondly, and for these teams to co-ordinate their work, they need to follow (or be ready to adopt) an Agile Scaling Framework such as SAFe, LeSS or DAD. That's the process.
Now without these pre-requisites, it would fruitless to try and use even the most powerful EAP software tool alone to support Agile at Scale. You need the culture and framework in place first, or at least in conjunction with your choice of tool.
In this context, it's fair to say that tools do sit at the bottom of the Agile at Scale to-do list. But believe us, we're huge advocates for Enterprise Agile Planning tools. Once a set of Agile teams has successfully settled on an Agile Scaling Framework, combining it with the right EAP tooling can provide enormous value to an organisation.  
There are several EAP tools out there, so shall we start exploring at them?
Enterprise Agile Planning (EAP) tools are specifically designed to support Agile at Scale processes.
They can track activity and draw data from contributors across the many Agile teams in even the largest organisations. This enables the tool to provide rapid reporting to senior management, automatically model what-if scenarios, produce financial forecasts and more.
Ultimately, EAP tools can offer huge return on investment in costs saved and opportunities captured, while minimising operational overheads and making everyone's life that little bit easier. 
There is no shortage of such tools available, but today we'll focus on those delivered by the six vendors identified by Gartner as Market Leaders its Magic Quadrant for Enterprise Agile Planning Tools:
EAP tools and Agile at Scale Frameworks
Most of the Enterprise Agile Planning tools we're exploring today are highly configurable, and can therefore support most scaling frameworks with the right setup, or some degree of configuration.
Some, like Jira Align, are designed to specifically support an Agile at Scale Framework. In fact, we understand Jira Align to be the only EAP tool purpose-built to support SAFe, from Essential SAFe all the way up to Full SAFe. Some of the other tools we'll touch on today can also readily support SAFe, whilst others are more suited to different frameworks.
Many of these tools actually evolved from origins supporting traditional waterfall project management, so can handle both EAP and the more classic Project and Portfolio Management (PPM). On the Agile side, some are explicitly designed to support SAFe while others might be better suited to other frameworks.
Let's have a look at them in a bit more detail…
Are you about to implement an Agile at Scale Framework in our organisation, or wondering whether you're in a healthy position to do so? Having a dedicated team of Consultants by your side can help to review your current processes and approach, provide guidance ahead of an implementation and, ultimately, manage the entire process for you if valuable. Why not talk to us today to get a feel for the support and guidance you could benefit from (not to mention the time and stress you might save…).
Which Enterprise Agile Planning tool is right for you?
Jira Align is a Cloud-based Enterprise Agile Planning solution, designed to manage large scale software and IT projects. Formerly known as AgileCraft, the product was acquired by Atlassian in 2019, and is now part of the Atlassian ecosystem.
Jira Align enables users to visualise, manage and execute work at every level of scale. We're talking from a single Agile team through programs and portfolios, all the way up to enterprise level. Jira Align supports SAFe out of the box, but can also be configured to work with most other frameworks, if required.
Now in order to use Jira Align successfully, your Agile teams must use Jira for their day-to-day development or IT work. The tool interfaces with Jira to pull out data about tasks and the progress being made. Using that data, it can provide reports of the big picture to upper levels of management, which then enables them to model reassigning resources to ensure high-level deadlines are met, or to adjust assignments and plans right down to the spring level at the click of a button. 
This seamless integration between Jira Align and Jira is invaluable.
So, for organisations where Jira is already firmly embedded (or where there is no consistent work management tooling in place and where Jira might be a good fit), Jira Align can be a highly effective EAP tool to support your Agile at Scale practices.
Portfolios (formerly known as Enterprise One), is delivered by Planview, and is available in the Cloud or on-premises. It can easily be configured to support SAFe, and also configured (although perhaps less easily) to facilliatate others. Portfolios is used for high-level activity such as strategic planning and roadmapping, scenario planning and financial forecasting, and is well-suited to both Portfolio Project Management (PPM) andAgile. 
In our previous segment, we touched on the integration between Jira Align and Jira. Planview's AgilePlace (formerly LeanKit) occupies a similar space to Jira in this respect. Agile teams can use AgilePlace to track individual coding and IT tasks, whilst a powerful integration with Portfolios enables full vertical integration. This echos the relationship between Jira Align and Jira. It's worth noting that AgilePlace is exclusively Cloud-based, and is orientated towards the Kanban method of project management over Scrum. It therefore works well with the Enterprise Kanban scaling framework. 
Portfolios also integrates with Jira! So if your Development team were already using Jira for work management, but your wider organisation was keen to implement Porfolios as its Enterprise Agile Planning tool, you could still benefit from both tools.
Agility used to be known as VersionOne, and is a Cloud-based solution. It is primarily focused on EAP, while also enabling PPM. In terms of Agile at Scale Frameworks, the tool supports SAFe and can be configured to support most other scaling frameworks.
Agility provides reporting and management at the portfolio, program and team levels. Compared to Atlassian's Jira Align and Planview's Portfolios, Agility is better suited to smaller organisations (but can also work with larger ones if required). It integrates with a range of team-level tools including Jira and Microsoft Azure Devops, sitting over the top to provide strategic planning and roadmapping, alongside a range of visualisations and reports. 
Rally Software and Clarity (both on-premise and Cloud) are two complementary products, delivered by Broadcom. Rally is focused on team-level Agile project management and EAP, whilst Clarity is more designed to support PPM. Together, the tools can be configured to support SAFe and most other Agile at Scale Frameworks.
First released in 2003, Rally is comparable in many ways with Jira, but also provides higher-level planning tools, such as Objectives and Key Results (OKRs), dependency management, and capacity management.
Clarity, meanwhile, which was originally released as Niku, integrates with Rally. The tool draws on Rally's team-level data to produce reports. It also provides roadmapping and portfolio management, resource management, capacity management and financial management.
Find out more about Jira Align
Download our free Jira Align overview cheat-sheet to find out more about how Jira Align connects your business strategy to technical execution.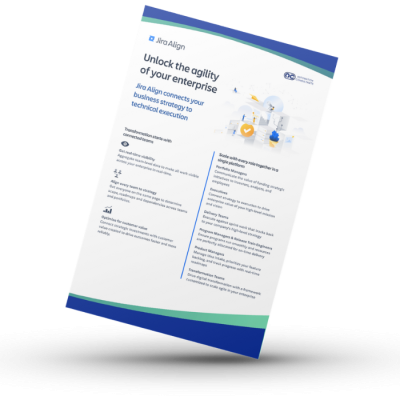 Targetprocess (acquired by Apptio in 2021) can be used as a Cloud or on-premise hosted EAP tool.
It supports SAFe and a range of other scaling frameworks including LeSS, DAD and Scrum@Scale. Targetprocess can be integrated with various team-level Agile project management tools, including Jira (much like Portfolios) and Azure Devops, as well as the whiteboarding tool Miro.
In terms of capabilities, Targetprocess offers strategic planning, capacity planning, strategic portfolio management, and agile program management. Apptio's other products (AppitoOne and Cloudability) are focused on financial management and integrate with Targetprocess – so if your organisation is already using these, you have the option to keep your EAP tool in the same ecosystem.
Strategic Portfolio Management
Strategic Portfolio Management (SPM) is a cloud-based EAP tool offering roadmapping, PPM and idea management. It's delivered by ServiceNow. (That reminds us – we recently wrote about ServiceNow's ITSM platform. It's a real deep dive, comparing Jira Service Management vs ServiceNow, and could be worth a read if you or your teammates plan to review your ITSM solution.)
Back to the topic in hand! SMP strongly supports SAFe, but it's worth noting that it has minimal compatibility with other scaling frameworks. Its capabilities include scenario planning, strategic planning, resource management, PPM and analytics. For team-level agile project management, SPM integrates with ServiceNow Agile Development. This, in turn, integrates with Jira and Microsoft Azure DevOps.   
How to choose your Enterprise Agile Planning tool
When seeking an EAP tool, we'd recommend considering the following factors:
Your chosen Agile Scaling Framework: As a general rule, you can be fairly confident that most tools support most frameworks. But each one has particular strengths and weaknesses and may favour some frameworks over others, so do make sure to confirm compatibility with vendors (or seek guidance from your Consultancy team if you work with one).

Which team-level Agile project management tools you're already using: Your new EAP tool needs to connect to the project management tool in use (let's say Jira), and to read information from it for reporting. A seamless integration with existing tooling (for example, the one between Jira and Jira Align) can help minimise disruption and enable you to start drawing data and benefitting from Agile at Scale a little more quickly (and painlessly).

A preference for Cloud or on-premises deployment: As you may have noticed whilst reading this piece, some of the EAP tools mentioned are Cloud-only, whilst other support both Cloud and on-premises. It's valuable to know which hosting option you're going to take ahead of reviewing potential new EAP solutions.
Of course, it may be that you have no choice in the matter, if your sector or organisation requires tools to be hosted on-premises. Or you may be a firm advocate for Cloud-hosting. You're in good company if so; we know Atlassian, for example, believe that the future lies in the Cloud (whilst still providing support for Data Center). Here at AC we certainly would extol the virtues of Cloud hosting – in particular its security, scalability and flexibility.
Those are three significant factors to consider, and likely require significant conversations to ensure you're ready to approach your Agile at Scale implementation and associated EAP tooling.
We'd also add the following to your checklist ahead of selecting a new Enterprise Agile Planning tool:
Integrations with other key tools and platforms 

Cost

Ease of use

Ease of maintenance

Your industry
As we touched upon right at the beginning of this piece, your selection of a tool to support Agile at Scale should naturally be the last stage of an Agile transformation (after all, we need to align our people and processes first!)
But this doesn't mean it should be an afterthought.
As with any transformation process, it's crucial to ensure that you have buy-in for your EAP tool. Stakeholders should have a clear understanding of how it will support both your chosen Agile at Scale Framework and deliver value to your organisation. In fact, once an EAP solution is in place and fully adopted, this is often the point at which the organisation begins to see the greatest return on investment. 
Nonetheless, choosing the appropriate Enterprise Agile Planning tool is undeniably a daunting prospect, with so many factors to consider. If you're not sure where to start, why not reach out today and have a chat with one of our Agile Tooling Specialists? We'd love to help you get the most out of your Agile transformation! 
Ready to level up your Agile game? 🚀
As an Atlassian Platinum Solution Partner, we couldn't write about EAP tools without one final mention of Jira Align. The platform is developed specifically Agile at Scale methodologies in mind and, with extensive features to enable the alignment of Portfolio, Large Solution and Agile team management, it's one of the only tools of its kind. Contact us today to talk through with our dedicated team.