Which is the best ITSM software for your team?
Are you assessing new service management solutions, or perhaps reviewing your existing provider? If so, this post may have come at a good time for you.
We're comparing two significant names in the ITSM space today: Jira Service Management vs ServiceNow. We'll evaluate how each one performs in the below key areas:
Let's start with some background
ServiceNow, originally named GlideSoft, was founded in 2003. Since then it's grown to be a global name, regularly appearing as a Gartner Magic Quadrant for ITSM Tools Leader, and with around 85% of Fortune 500 organisations using its platform.
Atlassian, a fellow Magic Quadrant ITSM Leader, was also established in the early 2000s. It launched Jira Software in 2002 and, in the two decades since, has grown to over 250,000 customers worldwide. Jira Service Management arrived in 2022, to deliver a fully integrated service experience across Dev, Ops and IT.
Now we have a little context, let's start exploring those key service areas in more detail.
ITSM key features: How do they compare?
Both Jira Service Management and ServiceNow provide essential service desk (or 'portal') capabilities, as you'd expect from leading ITSM solutions.
End users are encouraged to self-serve, with smart searching, dynamic forms and knowledge bases. And, of course, you can monitor your SLAs and use automated notifications and escalations where required.
What we're really interested in is how JSM and ServiceNow go beyond this standard service desk functionality.
Automatic workflows: ServiceNow has a user-friendly approach to workflows, using a drag-and-drop interface. Jira Service Management also provides a range of powerful automations. Associated workflows can automatically send requests through to relevant teams, assign an SLA level, or trigger an updated asset status.
Tech stack: Effective service management relies on seamless collaboration between teams. Jira Service Management integrates with Jira Software, which is one of its strongest USPs. If your Development team is already using Jira Software (and we know that many do), this integration enables you to link JSM tickets to Jira Software issues in order to prioritise requests. Developers can then view comments and provide feedback when issues require escalation in Jira Service Management – meaning work is more cohesive, efficient and secure.
Chatbot-embedded portals: Both solutions harness artificial intelligence to provide customers and employees with 24/7 support and advice. ServiceNow enables you to link your ServiceNow chatbot to your portal. It uses keyword search and natural language understanding to give both end users and service providers time to focus on their most valuable work. Similarly, Jira Service Management has also introduced a 'virtual agent', again to free up team members and provide instant, targeted support for end users.
Atlassian's virtual agent was just one element of its Atlassian Intelligence offering, unveiled at this year's Team'23. We recently explored Atlassian Intelligence – and what it could deliver for you – in more depth over here.
Who wins? Both are pitched pretty equally here. In terms of Jira Service Management, it's exciting to see how Atlassian's use of AI is going to enhance their ITSM solutions. They've already released some compelling statistics around time-savings as a result of their virtual agent.
ServiceNow, meanwhile, have developed a user-friendly drag and drop interface for their workflows and automations, which is something we particularly like. But the integration between JSM and Jira Software is just invaluable. This visibility, connection and collaboration between teams means that JSM has taken the lead in this round.
Jira Service Management 1 – 0 ServiceNow
Incident response and resolution: When your monitoring system picks up an alert, Jira Service Management will automatically notify your on-call team. If there are multiple issues, these can be linked together. You can customise on-call schedules, routing rules, and escalation policies to handle alerts differently based on their source and urgency.
With ServiceNow, the system uses machine learning and data models to automatically categorise and assign incidents. You can provide brief user input in order route issues to the right resolution team, and use 'impact' and 'urgency' to manage both high and low‑priority incidents. Much like JSM, you can direct critical incidents automatically to specialist teams so they're handled quickly and effectively.
Incident escalation: When you escalate major incidents in Jira Service Management, it triggers the relevant Dev and Ops teams to instantly begin collaborating. Again, the JSM-Jira Software integration here between IT, Development and Ops is, based on our experience, essential.
Meanwhile, ServiceNow's 'proven practice' workflows to identify, track, and resolve high‑impact incidents, as defined by service level agreements (SLAs).
Omni-channel requests and notifications: ServiceNow really makes use of multiple channels by letting users submit incidents through their preferred method of support. You can capture incidents through a self‑service portal, virtual agent chatbot, email, phone, or mobile.
In terms of status updates and ongoing communications, with Jira Service Management you can provide notifications to end-users across email or SMS.  JSM can also be connected seamlessly to Statuspage, Atlassian's incident communication tool, so that an active incident will trigger a Statuspage update.
Incident analytics: JSM enables you to track and analyse all incident response activities. You can export post-mortem reports and timelines to Confluence so you can collaborate (yes, there's that word again!) across teams to manage follow-up actions and, crucially, prevent similar future incidents. 
ServiceNow provides real‑time transparency into operations with flexible, role‑based dashboards. You can use both built‑in metrics and end-user surveys in order to assess service levels.  
Who wins? Jira Service Management's approach to collaboration and integration between teams really elevates it against other vendors. However, ServiceNow has a particularly strong focus on the end-user and how you can communicate with them. Points to both.
Jira Service Management 1 – 1 ServiceNow
Running total: Jira Service Management 2 – 1 ServiceNow
Ready to see the tools in action? With our experience in providing client-specific support for JSM and Jira Software, and insights from integrating ServiceNow with Jira, we're more than just an Atlassian Platinum Solution Partner. We offer ITIL compliant service desk advice and can guide you on setting up your ITIL compliant desk with best practices. Explore your unique use cases with us, compare different solutions, and discover how JSM can best meet your needs. Keen on diving deeper? Book a free, informal consultation call with one of our team today.
It looks as though ServiceNow offers two levels of asset management: 'Core', which provides tracking capabilities for day-to-day asset management needs and 'Hardware Asset Management', which extends the Core functionality. Asset management is available in ServiceNow ITSM and ITSM Pro.
Jira Asset Management is included in JSM Premium and Enterprise plans.
HR asset onboarding: Both tools support employee onboarding. With ServiceNow, you can track staff IT hardware and software allocations. In Jira Service Management you can complete tasks such as onboarding a new team member from your service desk and assigning new equipment.
We recently discussed asset management in more depth, and two other compelling use cases for JSM, in this post.
Asset lifecycle tracking: With JSM, you can connect assets in a network and monitor the entire lifecycle of an item. You will be notified of key events or issues, such as compliance and audit deadlines, hardware problems, employee access issues or warranty expirations. ServiceNow's Hardware Asset Management enables you to automate the entire asset lifecycle with prescriptive workflows, and provides processes out of the box.
Asset discovery: You can scan your network to detect infrastructure changes, identify shadow IT assets, and improve support with Jira Service Management Assets Discovery. This tool has been developed by Atlassian and is available as a free app from the Marketplace. ServiceNow also provides a Cloud Discovery tool to find applications and devices on your network. However, there is a cost associated with Service Now Discovery; it is available as a separate subscription from the rest of the Now Platform.
Who wins? Both tools offer robust asset management capabilities, albeit across different plans and levels. ServiceNow provides feature rich lifecycle tracking and management functionality, alongside the ability to automate the entire asset management process, which is highly valuable. However, Jira Service Management's asset discovery tool is more accessible (as is JSM's price point in general when compared to ServiceNow), as it is freely available as opposed to ServiceNow Discovery's paid subscription.
Jira Service Management 1 – 0 ServiceNow
Running total: Jira Service Management 4 – 2 ServiceNow
Both JSM and ServiceNow enable users to maintain a knowledge base to encourage self-help and the reduction of tickets.
Writing and editing: With ServiceNow, you'll experience a familiar writing process as the tool integrates with Microsoft Word Online. In a similar vein, the knowledge base in Jira Service Management is powered by Confluence. This means you benefit from Confluence's feature rich content editor and, again, it reinforces JSM's focus on collaboration and inter-team working.
Knowledge insights: You can track knowledge base use, publishing timelines, article ageing, user feedback and knowledge gaps within ServiceNow. This enables you to enhance content and publishing processes in the future. Jira Service Management also includes native analytics to identify how helpful knowledge base articles have been rated by end users, how many requests have been resolved as a result, and so on.
Knowledge-Centered Service verification: Sometimes clients will ask whether knowledge management capabilities can support Knowledge-Centered Service (KCS) principles. The KCS framework provides a five-step process to ensure teams follow a continuous loop of 'capturing, structuring and reusing knowledge'. The Consortium for Service Innovation provides a recognised certification to identify vendors and tools which can support KCS. ServiceNow is indeed KCS® v6 verified.1
Jira Service Management (or rather, in this instance, Confluence) is not yet v6 certified, but does still provide the functionality to support you to follow the KCS framework.
This can be achieved by using one of Atlassian's trusted app vendors from the Atlassian Marketplace, such as AppFox's 'Workflows for Confluence'. This provides the functionality needed to implement the KCS licensing model (Candidate, Contributor and Publisher) alongside the article confidence attributes (WIP, Not Validated and Validated).  
Who wins? ServiceNow's KCS v6 verification will be a significant tick in the box for some of you. In JSM's favour, Confluence provides a superior – and highly collaborative – creating and editing experience. However, you do have to add a Confluence plan to your service management solution. (It may be that the free Confluence plan is sufficient, but it's worth noting you may require paid versions.)
We'll give this round to ServiceNow, in light of their commitment to Knowledge-Centred Service.
Jira Service Management 0 – 1 ServiceNow
Running total: Jira Service Management 4 – 3 ServiceNow
ServiceNow distinguishes between 'Reporting' and 'Performance Analytics'. As ServiceNow describes it, the former answers the question: Where are we today?, whereas the latter provides an insight into what is happening over time. In terms of reporting, you can choose from a list of standard reports – similar to Jira Service Management's range of default reports.
These default reports within JSM cannot be edited, but they can provide an overview of team performance. These range from 'Workload' and 'Satisfaction' to 'Requests Resolved/Deflected'. For more bespoke metrics, you can create your own custom reports in Jira Service Management.
In ServiceNow, you can also create and customise reports easily using a guided flow to configure, edit and share. Visually, it appears as though ServiceNow has more native functionality, enabling you to create a wide range of reports from multi-level pivot tables and heat maps, to line graphs and semi-donut reports (yes, we had to look that up too…).
Interestingly, it looks as though JSM is keen to expand upon or improve its reporting capabilities, as Atlassian recently reached out to customers and is seeking intel from them.
You can already enhance reporting in JSM by using apps like 'Custom Charts for Jira' or 'EazyBI' which significantly extend JSM's reporting capability. These do come at an additional cost – although as JSM is priced reasonably (particularly in comparison to vendors such as ServiceNow), it may still prove cost-effective.
Who wins? Whilst both tools offer robust basic reporting tools, ServiceNow has the edge with its impressive (and, at times, baffling!) native range of data visualisations.
JSM 0 – 1 ServiceNow
Running total: Jira Service Management 4 – 4 ServiceNow
Discover more about Jira Service Management
Download our free Jira Service Management overview cheat-sheet to find out more about how you can transform your company with high-velocity service management.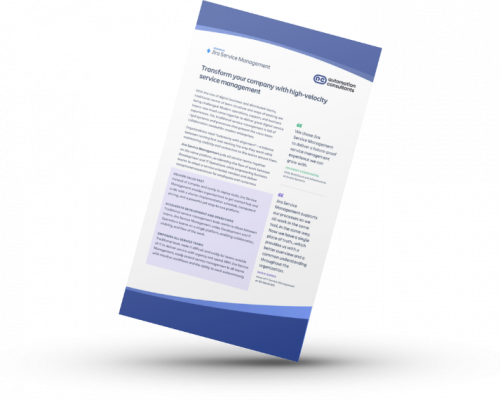 Both platforms benefit from being part of highly established, well-respected global organisations, with an engaged and often passionate user base.
ServiceNow has a thriving partner programme and marketplace. It provides a native 'no-code' integration hub using ready-to-run connectors known as 'integration hub spokes'. Your IT team can also create custom spokes. You can view available spokes within the ServiceNow Store, which operates in a similar way to the Atlassian Marketplace.
Users of ServiceNow can also benefit from an active community forum, which houses over 500,000 members and over 2.3m (yes, million!) discussion topics.
Jira Service Management meanwhile is part of the Atlassian ecosystem. This leads us to one of the platform's key strengths – its ability to integrate development, services, IT and more into one central way of working.
If there is a use case or function that JSM cannot natively fulfil, it's almost certain that someone has built an app to solve it. The Atlassian Marketplace is home to thousands of apps (over 5,000 at the last count).
Members of the Atlassian community also benefit from users an active pool of likeminded advocates (and, naturally, a handful of critics!), who are regularly contributing knowledge, pushing for enhancements and sharing best practice. It's notable is that the Atlassian team actively engage with this community, seeking input and providing frequent updates.
In terms of ongoing support, Atlassian's range of Solutions Partners (like us, hello!) can provide an array of services. From monitoring and managing upgrades, to longer term consultancy projects, a dedicated and experienced partner can help you to maximise the benefits to your business from your ITSM tool.
Who wins? For us, JSM takes the trophy in this round due to its place in the wider Atlassian ecosystem. Its ability to integrate with a powerful and widely used tech-stack, coupled with Atlassian's focus on collaboration, openness and ease of use, is highly valuable.
JSM 1 – 0 ServiceNow
Running total: Jira Service Management 5 – 4 ServiceNow
Cloud security, compliance and accreditations
Jira Service Management first. Atlassian provides a comprehensive range of security, data protection and compliance resources in its 'Trust Center' which we'd encourage you to explore for a deeper understanding of its approach.
For now, we'll touch on a few key points. Among other frameworks, Atlassian is a corporate member of the Cloud Security Alliance (CSA), and is listed as a CSA Trusted Cloud Provider. Security protocols align with the ISO/IEC 27001 and SOC 2 certification.
Atlassian's approach to data protection and compliance meet the requirements of laws and regulations including the GDPR, APRA 234, California Consumer Privacy Act and more.
There are over 100 team members in Atlassian's Security Team, who are spread globally. The organisation also runs three key programmes: Security Champions, Security Detection and Bug Bounty – the latter of which has been recognised as one of 'the best in the industry'.
Atlassian practises a layered approach to security for its networks, and adheres to the 'Zero Trust' framework.
With regards to hosting, Atlassian Cloud is hosted on AWS, which allows its solutions to benefit from AWS' resilience, high availability and reliability.
And in terms of specific ITSM tool assessments? JSM is PinkVERIFY-certified for seven ITIL 4 practices.
ServiceNow similarly provides a significant range of security and compliance resources online, reinforcing its position as a proactive and diligent vendor, much like Atlassian.
It, too, is ISO/IEC 27001 certified, alongside SOC 1 and SOC 2. ServiceNow has been awarded the UK Cyber Essentials Plus certification, and meets standards such as BSI Cloud Computing Compliance Controls Catalogue (C5), amongst numerous others.
In addition, ServiceNow is one of only a few SaaS providers to meet the rigorous requirements of Department of Defense IL5 for the National Security Cloud.
As with Atlassian, ServiceNow works towards a Zero Trust architecture and applies multiple layers of physical and logical security.
And, finally, ServiceNow has received a Pink Verify Certificate for 19 ITIL practices. 
Who wins? Both vendors take a robust approach to information security and data protection (as all solution providers should). What's particularly striking to us is Atlassian's clear passion for security and compliance, with its multiple teams and security programmes. In terms of ITSM specific certifications, ServiceNow leads with its 19 ITIL processes.
Jira Service Management 1 – 1 ServiceNow
Running total: Jira Service Management 6 – 5 ServiceNow 
Jira Service Management vs ServiceNow: Who has come out on top?
Well, if you've made it this far we sincerely hope you've gained a balanced and fair comparison of each ITSM platform.
Both ServiceNow and Jira Service Management are powerful ITSM platforms. ServiceNow is a highly feature-rich tool, with a well-established brand reputation among Fortune 500 companies and robust functionality. However, the cost of ServiceNow can be prohibitive, and for some use cases the functionality may be too extensive or complex. Jira Service Management, in comparison, is a less expensive tool and faster to implement. It may have a lighter scope of functionality than ServiceNow, but its key strengths include its ease of use and, most crucially, its role in the Atlassian ecosystem. With JSM, you benefit from a fully integrated tech stack and deeply embedded teams across Dev, Ops, IT and more.
This latter point is why Jira Service Management is the winner in this post.
The key differentiators for us are:
Facilitating links between Development, Ops and IT teams – unified work on a single platform

Lower price point and access to free apps*

Part of an active Atlassian community and responsive vendor
(*Note, some of the features we've discussed today are only available on Premium or Enterprise plans).
We'll leave the last word to one of our Senior Consultants, who uses JSM on an almost daily basis:
'I think to me the biggest selling point of Jira as an ITSM platform is that it brings all your work together. If your service desk agents can quickly and easily pass items over to developers for resolution, you can really tighten up your workflows.'
Ready to level up your ITSM game? 🚀
If you're considering a move to Jira Service Management or exploring JSM for the first time, having a partner with experience in client-specific support for JSM and Jira Software can be invaluable. As an Atlassian Platinum Solution Partner specialising in Agile, Dev-Ops, and Cloud consultancy, Automation Consultants is here to help. Beyond initial JSM demos, we offer ITIL knowledge to assist in setting up your compliant service desk, while also touching upon our training and managed services. With us, you have an expert (and safe) pair of hands for your journey.
1 Knowledge Management is Knowledge-Centered Service (KCS®) v6 verified. KCS® is a service mark of the Consortium for Service Innovation™.