Last month, Automation Consultants attended the AWS Partner Summit at the Brewery, the third and largest of its kind in London to date!
The day began with Amanda Sleight, EMEA Partner Lead from AWS, delivering a keynote with some exciting news for the partner community. Since the start of 2018, more than 35,000 new partners have joined the AWS Partner Network (APN) and partners have experienced a 3.5 times increase in opportunity size globally, including partner-led migrations to the AWS cloud environment which grew fourfold. AWS also showed 46% growth that quarter, showing an ever-increasing demand for services hosted on the platform. For instance, 57.7% of Windows workloads run on AWS, compared to 30.9% on Azure and 11.4% on other platforms.
This was followed by customer testimonials from SGN and Cloudwick, highlighting why they chose AWS over other service providers. SGN is a regulated utilities provider which manages a gas distribution network reaching 5.9 million homes in Britain. They were planning to build a roadmap for big data analytics and handle disparate data sources to enable self-serving capability for business customers and gather more insightful business intelligence to maintain a competitive edge. After conducting thorough market research, SGN chose AWS not only for its ability to deliver their immediate needs, but also for its product completeness and complementary services which allow evolution of the solution stack to cover unforeseen future needs. A similar story of AWS's advantages over their competitors was heard from Cloudwick, who have focused on performing data analytics, machine learning and DevOps in the public sector for the last 10 years. The breadth and flexibility of the AWS platform has really helped Cloudwick to tailor their services for customers' needs.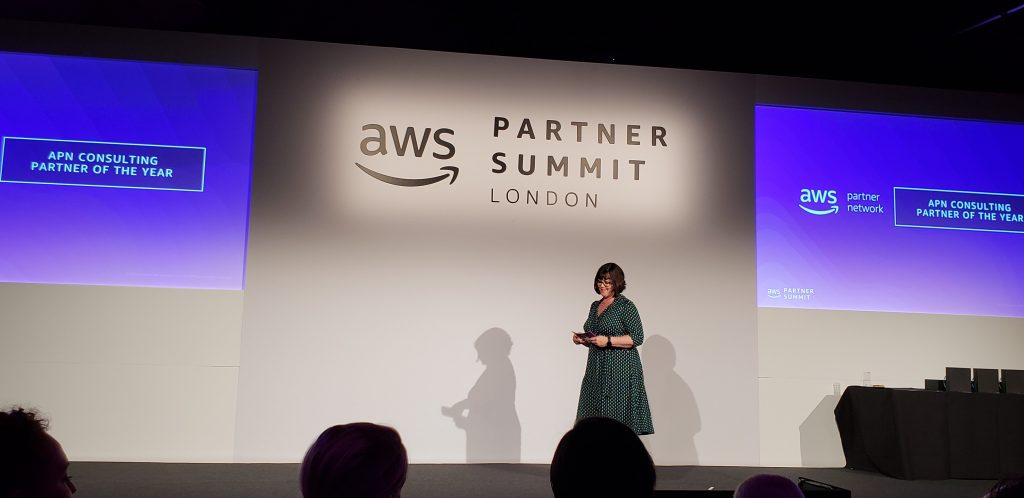 Next, we had a number of talks on deploying enterprise workloads on AWS, how to thrive in the digital economy and the changing face of cloud economics. Below, we share the highlights of these talks:
AWS has been continually expanding its services to support virtually any cloud workload, such as compute, storage, networking, database, analytics, application service, deployment, management, developer, mobile, internet of things (IoT), artificial intelligence (AI), security, hybrid and enterprise applications. The pace of innovation in the AWS cloud platform has been increasing faster than ever, with over 500 new capabilities and services launched in the last year – reaching 1957 different types by the end of 2018.
The digital world is moving from the Second Platform based on client-server computer systems to the Third Platform, which is based on online cloud-based computer systems. Companies in the UK saw a 36% increase in technology budgets in 2019, particularly for digital transformation projects. The future of businesses in the digital world is no longer about IT enabling businesses processes and services, but instead creating an ecosystem on platforms to make new connections and revenue streams.
Businesses are entrenched into cost-out thinking based on the total cost of ownership with single fixed-value guarantees, which neglect the risk appetite of organisations. This leads to a low proportion of digital transformations being successful and sustainable. Businesses should instead consider the trade-offs between cost and risk and manage the migration time, budget and expectations to succeed.
In the afternoon, there were a series of breakout sessions focused on a wide selection of cloud adoption topics, including the marketing and selling of AWS services, choosing the right service for data storage and manipulation, providing cloud services for the public sector, building successful products as an independent software vendor, cloud security, machine learning and artificial intelligence, and many more!
If you would like to learn more about how AWS could be leveraged to transform your business or discuss your AWS requirements with us, feel free to contact us or find us on the AWS Directory.