Which is the right ITSM software for you?
If you're currently reviewing service management tools – perhaps considering a new product, or even looking to implement an ITSM platform for the first time – we may be able to help.
You see, today we're turning our attention to two key players in the ITSM space: Jira Service Management vs Cherwell Service Management.
We're going to assess each platform's capabilities across the below key areas and compare how they perform:
Jira Service Management (also referred to as JSM) is part of the Atlassian suite of tools. Jira, Atlassian's first and core product (which we also refer to as Jira Software) was launched in 2002. It wasn't until 2013 that Atlassian released Jira Service Desk, the forerunner to JSM. In 2022 Jira Service Management then arrived, providing a broader scope of functionality to enable teams across Development, Ops and IT to deliver a fully integrated service experience.
So, Jira Service Management is actually a fairly new ITSM tool, albeit built on over two decades' worth of Atlassian technology.
In contrast, Cherwell Service Management is a more mature solution. First released in 2007, Cherwell was acquired by Ivanti in 2021. Ivanti it is an established vendor on Gartner Magic Quadrant for ITSM tools. Following the acquisition, Cherwell Service Management and its fellow products are now part of the Ivanti suite of end-to-end service and asset management solutions.
Now we have a little history under our belts, let's start exploring those key service areas in more detail.
Jira Service Management vs Cherwell: How do they compare?
Let's start with Jira Service Management.
Service desk: JSM enables you to create service desks for multiple business areas, from IT to HR. These can be customised to reflect your organisation or team's branding.
Self-service: To further encourage self-service, JSM provides 'Smart Search' functionality, where your customers or employees can search your knowledge base. If they can't find the answer they're looking for, they can then submit a request form. JSM uses dynamic forms to improve a user experience and make requests more efficient, adjusting to only display relevant fields
Automatic workflows: Where JSM really excels is behind the scenes. Associated workflows can automatically send requests through to the relevant team, assign an SLA level depending on the category of case, or trigger an updated asset status. Atlassian refers to this as their 'powerful automation engine'.
Cross-team collaboration: Crucially, Jira Service Management integrates with Jira Software so that developers, service agents and any other relevant stakeholders can view, track and manage work together. You can link JSM tickets to issues in Jira Software in order to prioritise requests for development. Developers can then view comments and provide feedback when issues require escalation in Jira Service Management.
Discover more about Jira Service Management
Download our free Jira Service Management overview cheat-sheet to find out more about how you can transform your company with high-velocity service management.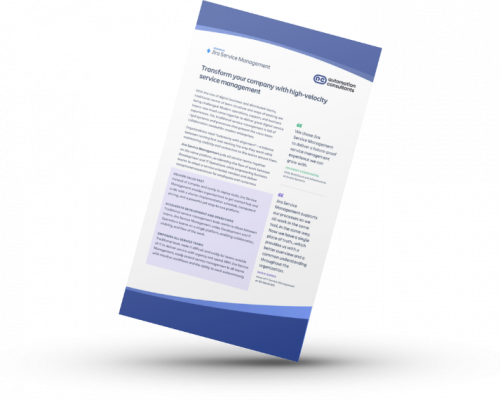 Now on to Cherwell.
Service desk: Much like JSM, Cherwell also enables you to set up interactive and branded service portals. An out-of-the-box (OOTB) design is provided when Cherwell is first shipped and there's a great degree of configurability in terms of look and feel if you wanted to extend your branding further.
Request templates: Cherwell provides a library of service request templates, which can be customised to gather the different information each service area requires. This enables teams to define and standardise requests, so that they can better manage and process them.
Who wins? Cherwell leads on service desk theme configurability, as JSM's integrated branding options are a little more limited. For a more bespoke look and feel, you would need to download a complementary app (Atlassian recommends Refiner here). However, JSM may have the edge when it comes to actual handling of requests, with its truly vast range of form templates (325+ at the last count according to Atlassian) and powerful automations. Most valuable is the integration between Jira Service Management and Jira Software, which provides essential visibility, connection and collaboration between teams. With this in mind, JSM has taken the lead in this round.
Jira Service Management 1 – 0 Cherwell Service Management
We'll start with Jira Service Management again.
Incident response and resolution processes: When your monitoring system picks up an alert, JSM automatically notifies your on-call team. If there are multiple issues, these can be linked together. The incident history page is clear and intuitive, so teams can see at a glance which steps have been taken. You can customise on-call schedules, routing rules, and escalation policies to handle alerts differently based on their source and urgency.
Incident escalation: When you escalate major incidents, it prompts the relevant Dev and Ops teams to instantly begin collaborating. Again, the link here between JSM and Jira Software is invaluable.
Status updates and communication: JSM can be connected seamlessly to Statuspage, Atlassian's incident communication tool, so that an active incident will trigger a Statuspage update. Jira Service Management also enables a team to provide notifications across multiple channels, such as email or SMS.
Post-incident processes: Once the incident is resolved, a review can be automatically created so that teams can undertake a post-mortem.
Incident analytics: JSM enables you to ack and analyse all incident response activities. You can export post-mortem reports, along with incident timelines, to Confluence so you can continue to collaborate with Development, Operations, and other teams to manage follow-up actions and, crucially, prevent similar future incidents.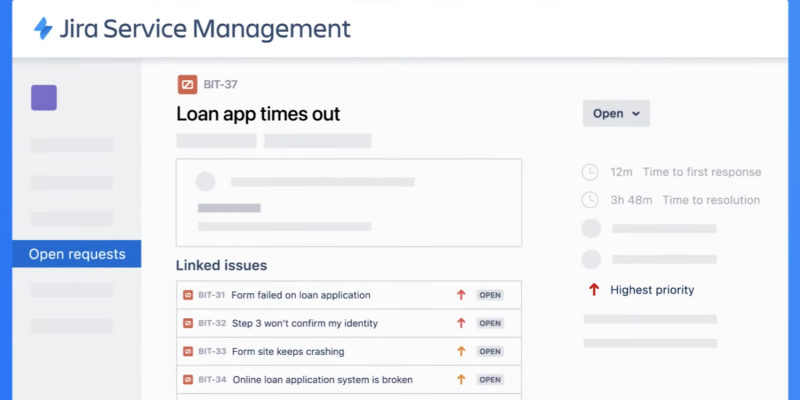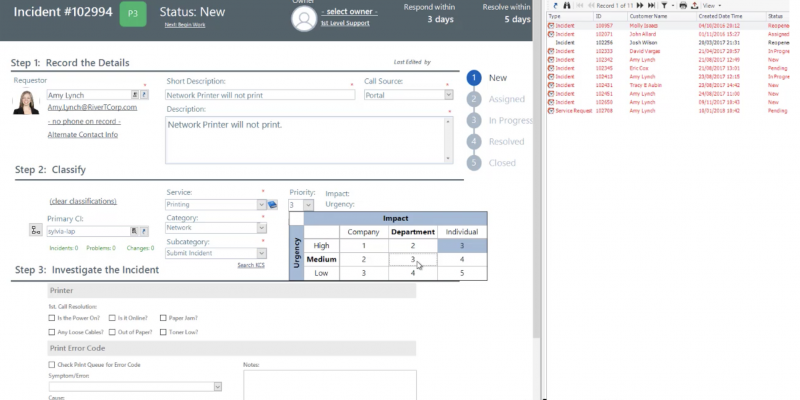 On to Cherwell.
Incident response and resolution process: Cherwell provides automated workflows to streamline the incident resolution process. One of Cherwell's key selling points is its 'no-code' approach. This is illustrated by its 'one-step actions' (such as creating an incident or sending an email notification), which enable you to create highly complex workflows without coding or scripting.
Incident escalation: You can configure escalation rules and notifications. This ensures that critical incidents are automatically escalated to the relevant teams for investigation and resolution.
Incident analytics: CSM provides numerous OOTB incident reports, including 'Incidents by Owner', 'Incidents by Priority' and 'Overdue Incidents'.
Who wins? Both are pitted fairly equally here. JSM's strongest selling point in our eyes is that it brings multiple teams together to respond to and resolve incidents. This collaboration and visibility for all stakeholders is crucial when handling incidents. Cherwell's strength, meanwhile, appears to be its low-code approach to deep configurability, enabling you to configure an entirely bespoke solution if you needed to. Points to both!
Jira Service Management 1 – 1 Cherwell Service Management
Running total: Jira Service Management 2 – 1 Cherwell Service Management
Are you starting to like the sound of Jira Service Management? Or perhaps you're using the platform already but don't feel you're benefitting fully from it yet? It might be time to talk to us. We're an Atlassian Platinum Solution Partner, so we understand JSM inside out (and upside down). From migration and implementation, to best practice and ongoing support, why not talk to us today?
Jira Asset Management is included in Premium and Enterprise plans. Within JSM, an item or 'asset' can really be anything – from laptops, peripheral accessories, software, or even employees themselves.
Asset lifecycle tracking: Assets can be connected in a network and tracked across time to monitor the entire lifecycle of an item. You will be notified of key events or issues, such as compliance and audit deadlines, hardware problems, employee access issues or warranty expirations.
Asset discovery: You can scan your network to detect infrastructure changes, identify shadow IT assets, and improve support.
Asset reviews: JSM enables you to view common hardware failures and replace stock with more reliable alternatives. You can also report acquisition costs and infrastructure spending to senior stakeholders, and identify ways to increase efficiency.
We recently discussed asset management in more depth, and two other compelling use cases for JSM in this post.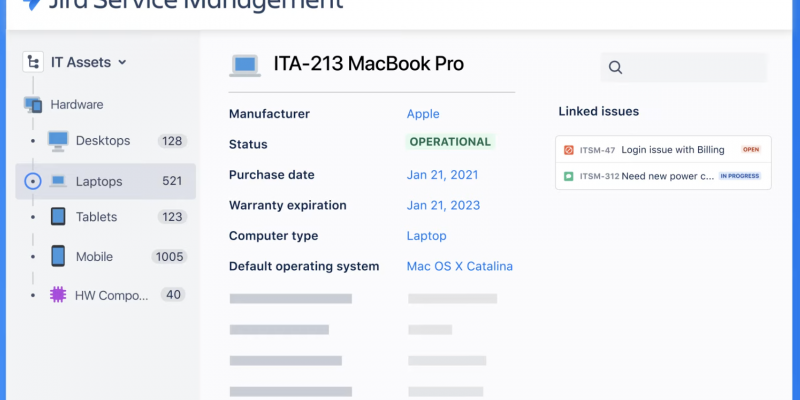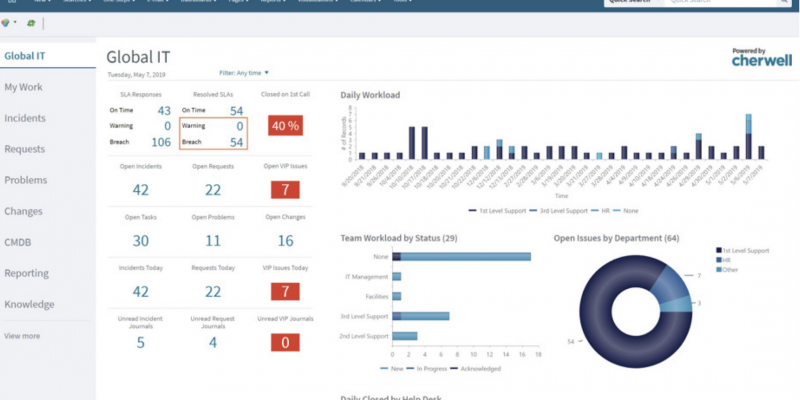 CAM (Cherwell Asset Management) is a purpose-built tool which integrates with Cherwell Service Management.
Asset identification: Cherwell Asset Management provides automated asset discovery and inventory tools manage all assets within an organisation's network. You can identify assets from multiple sources, from Windows and MacOS, to virtual environments, network devices and Oracle databases.
Licence management: The platform also includes licence compliance management. This provides proactive, automatic monitoring so you can understand your inventory, usage, budget and deficits – all before an audit.
IT purchasing system: Cherwell Asset Management offers a comprehensive IT purchasing system designed to reconcile purchasing data with inventoried assets and includes everything you need to access, track and report from a single interface.
Who wins? Both tools provide a broad scope of asset management capabilities, albeit in different ways. Where JSM scores points is its usability and visibility across all assets and roles – and, again, the connection it fosters between different teams and departments. Meanwhile, Cherwell's licence management functionality appears highly valuable, and to our knowledge JSM does not have similar native functionality (although one of our senior consultants believes it would be possible to achieve something similar using Jira Assets and some automation). So, that's a tick in the box for Cherwell. Let's call this one a tie.
Jira Service Management 1 – 1 Cherwell Service Management
Running total: Jira Service Management 3 – 2 Cherwell Service Management
Both JSM and Cherwell Service Management enable users to contribute to and maintain a knowledge base to encourage self-help and the reduction of tickets.
Knowledge base: In Jira Service Management, the knowledge base is powered by Confluence, so you can benefit from the feature rich content editor but all within Jira Service Management. Each team can create and contribute to their own knowledge base articles.
Search: The search functionality enables customers and employees to search for help and knowledge articles to deflect support tickets.
Knowledge suggestions: Meanwhile whilst agents are responding to a request, JSM will automatically suggest relevant articles for them to share and resolve requests more quickly.
Analytics: JSM includes built-in analytics to identify how helpful knowledge base articles are, how many requests were resolved and so on.
Knowledge sources: Again, in Cherwell you can create, or add to existing, knowledge articles. One valuable area upon which Cherwell seems focused is knowledge source management – ensuring that consistency and accuracy is maintained.
Search: Cherwell Service Management also provides a search bar to encourage self-service for customers and employees.
Knowledge controls: Another key focus are the security controls available – who can write, publish, approve and access knowledge articles.
Analytics: Employees or customers can add feedback to knowledge articles and a like/dislike which, similar to JSM, can then be used as metrics and reported on to demonstrate the effectiveness of the knowledge base in deflecting or resolving issues.
Who wins? In terms of native functionality, Cherwell seems to have a more robust set of knowledge management tools, around knowledge sources, security and access. However, much of this management will be available for JSM users as it is part of Confluence's offering. And this is where we feel JSM may have the edge, as Confluence provides such feature-rich editing and and content management.
Jira Service Management 1 – 0 Cherwell Service Management
Running total: Jira Service Management 4 – 2 Cherwell Service Management
Default reports: Jira Service Management provides default reports which cannot be edited but which provide an overview of team performance. These range from 'Workload' and 'Satisfaction' to 'Requests Resolved/Deflected'.
Custom reports: There are a number to choose from, including 'Created vs. resolved' and 'SLA success rate'. You can also create your own. 
It looks as though JSM is keen to expand upon or improve its reporting capabilities, as Atlassian recently reached out to customers and is seeking intel from them.
'ITSM metrics and reporting remain a top ask from many customers. As covered in our last update, Atlassian Data Lake and Atlassian Analytics are now available in Open Beta for Jira Service Management Cloud Enterprise customers and offer simple and flexible ways to visualize data across Atlassian products and other data sources.'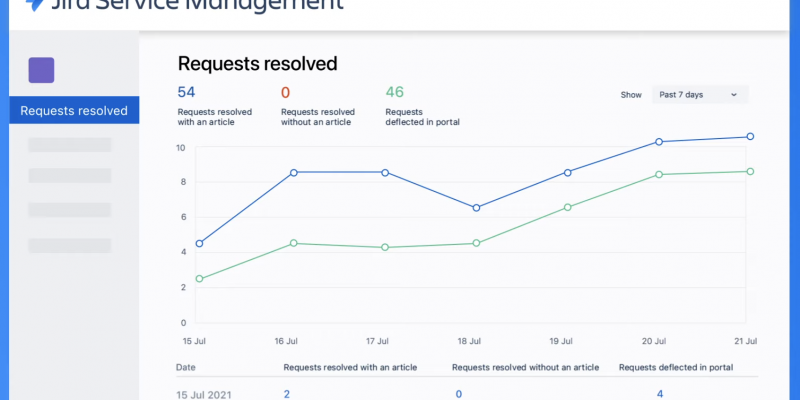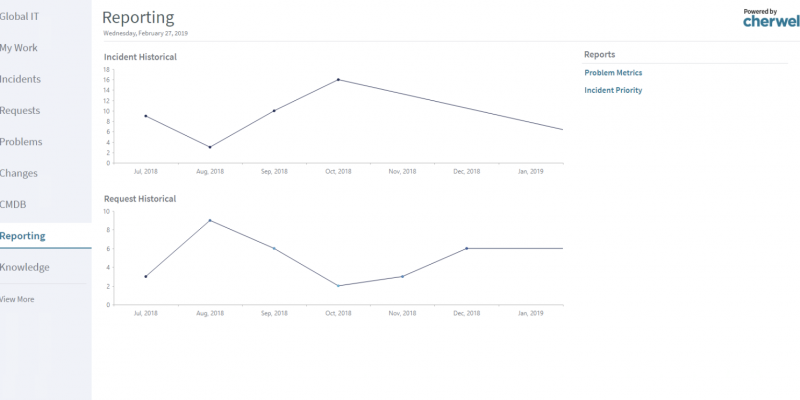 Default reports: Cherwell Service Management also provides a number of 'out-of-the-box' reports. However, as we might have come to expect from CSM, the platform also enables you to create custom reports using a 'Report Wizard' tool.
Custom reports: Once reports are built using the 'Wizard', it appears as though you are then given additional options around how to present your reports by using the 'Report Designer' tool. The 'Designer' enables users to configure the appearance, layout and format of reports.
Who wins? Cherwell appears to offer its users almost endless depth of reporting capabilities – if you can configure it, you can report on it. This makes it the winner in our eyes for this round – but with a caveat! Its report building tools sound complex and may require a high level of system knowledge and experience.
That being said, Jira Service Management shouldn't be counted out. Through the use of marketplace apps like Custom Charts for Jira and EazyBI Reports and Charts for Jira, JSM's reporting capabilities can be significantly extended. These apps provide advanced customisable analytics, bridging the gap with Cherwell's extensive reporting offerings. So, while Cherwell may take the lead in out-of-the-box functionality, JSM can stand toe-to-toe when these powerful add-ons are factored into the equation.
Jira Service Management 0 – 1 Cherwell Service Management
Running total: Jira Service Management 4 – 3 Cherwell Service Management
Those of you who are already familiar with other Atlassian products are in for no surprises when it comes to Jira Software Management. The UI is simple, clean and polished – an all round strong experience.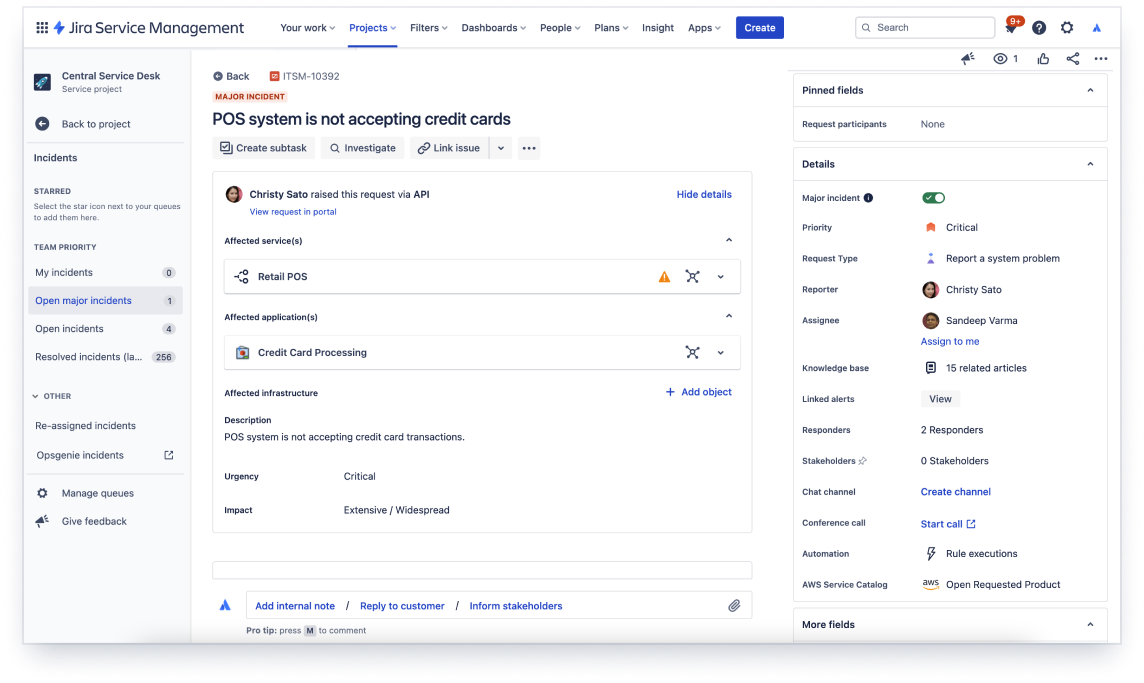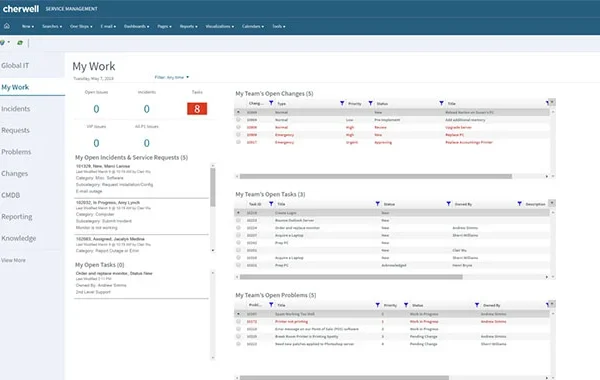 Cherwell's UI is perhaps indicative of its heritage as a more mature provider. From what we've seen, some screens are more user-friendly than others, but as a whole it doesn't have the same intuitive and clean design as some of its counterparts.
Jira Service Management 1 – 0 Cherwell Service Management
Running total: Jira Service Management 5 – 3 Cherwell Service Management
Cloud security, compliance and accreditations
Jira Service Management first. Atlassian provides a superb range of security, data protection and compliance resources in its 'Trust Center' which we'd urge you to review for a more in-depth understanding of its approach.
For now, we'll provide the headlines. Among other frameworks, Atlassian is a corporate member of the Cloud Security Alliance (CSA), and is listed as a CSA Trusted Cloud Provider. Security protocols align with the ISO/IEC 27001 and SOC 2 certification.
Atlassian's approach to data protection and compliance meet the requirements of laws and regulations including the GDPR, APRA 234, California Consumer Privacy Act and more.
There are over 100 team members in Atlassian's Security Team, who are spread globally. The organisation also runs three key programmes: Security Champions, Security Detection and Bug Bounty – the latter of which has been recognised as one of 'the best in the industry'.
Atlassian practices a layered approach to security for its networks, and adheres to the 'Zero Trust' framework.
With regards to hosting, Atlassian Cloud is hosted on AWS, which allows its solutions to benefit from AWS' resilience, high availability and reliability.
In terms of specific ITSM tool assessments, JSM is PinkVERIFY-certified for seven ITIL 4 practices.
And, finally, the Atlassian Marketplace Trust programme ensures that you can be confident in the security and compliance of partner apps.
Cherwell Service Management, and its parent company Ivanti, also provide a number of information security and data protection resources. Ivanti uses the Whistic Vendor Security Network to proactively share its corporate policies, certifications, white papers and questionnaires.
For Cherwell, this includes Pen Test summaries, ISO 27001 and SOC 2 certifications and its HIPAA security report.
Ivanti's security solutions play a key role in its product range, from Zero Trust access and patch management to data protection and mobile threat defence. This demonstrates Ivanti's clear history and experience in the information security and compliance sector.
Cherwell Service Management is PinkVERIFY-certified for 11 ITIL processes
Ivanti's Marketplace operates a 'One Partner' Programme, which requires app vendors and partners to undergo an assessment before they are awarded Ivanti One Partner status.
Who wins? Both vendors take a robust approach to information security and data protection (as all solution providers should!). What's particularly striking to us is Atlassian's clear passion for security and compliance, with its multiple teams and security programmes. In terms of ITSM specific certifications, Cherwell leads with its 11 processes.
Jira Service Management 1 – 1 Cherwell Service Management
Running total: Jira Service Management 6 – 4 Cherwell Service Management
Jira Service Management is part of the Atlassian ecosystem. This leads us to one of the platform's key strengths – its ability to integrate Development, Services, IT and more into one cohesive and collaborative lifecycle. As we mentioned earlier, the integration between JSM and Jira Software means that all teams have access to the same tickets – and you can therefore maintain a seamless experience across customers, employees, agents, and developers.
Being part of the Atlassian community also provides users with an active pool of likeminded advocates (and, of course, some critics!), who are continually contributing knowledge, pushing for enhancements and sharing best practice. What's notable is that the Atlassian team actively engage with this community, seeking their input and providing frequent updates.
If there is a use case or function that an Atlassian product cannot natively fulfil, it's almost certain that someone has built an app to solve it. The Atlassian Marketplace is home to thousands of apps (over 5,000 at the last count). Simply searching for JSM apps within the Marketplace brings up over 700 listings for extensions which can enhance your experience of the product.
(Whilst we're on this topic, are any of you already Jira Software or Confluence users? If so, it may be worth meeting our Development arm, AppFox, who create award-winning apps for both tools, alongside monday.com and Trello. You can also find them on the Atlassian Marketplace.)
In terms of ongoing support, Atlassian's range of Solutions Partners (like us, hello!) can provide an array of services. From monitoring and managing upgrades, to longer term consultancy projects, a dedicated and experienced partner can help you to get the very best out of your ITSM tool.
Cherwell, as we mentioned at the top of this post, was acquired by Ivanti a couple of years ago. This potentially means it will have a broader scope of partners and integrations in future, as it has now joined a wider ecosystem. On the other hand, this could lead to a reduced focus on the Cherwell suite of products in favour of other tools within the Ivanti portfolio.
Ivanti too has a marketplace full of apps to extend and support its products. There were just shy of 150 listed for Cherwell (although these may not all be for Cherwell Service Management), so fewer than the Atlassian range.
We understand that there are a core group of passionate Cherwell Service Management users who are real advocates for its flexibility and configurability. This appears to be a significantly smaller pool of users than the Atlassian community (although who said small couldn't be mighty!).
Who wins? For us, JSM takes the trophy in this round due to its place to the integration between Jira Software Management and JSM, and its place in the wider Atlassian ecosystem. Anything that brings teams together in one place to collaborate and work is unquestionably valuable.
JSM 1 – 0 Cherwell
Running total: Jira Service Management 7 – 4 Cherwell Service Management
Jira Service Management vs Cherwell Service Management: Who has come out on top?
Well, if you've made it this far we sincerely hope you've gained a balanced and fair comparison of each ITSM platform.
Jira Service Management emerges the winner in this post. The final scores were 7 – 4 in JSM's favour, when compared across key solution areas.
Ultimately though, the key differentiators for us are:
JSM facilitates links between Development, Ops and IT teams – unified processes, communication and collaboration on a single platform

The tool provides a stronger user experience and interface

Jira Service Management is part of an active Atlassian community and benefits from a responsive vendor
In addition, JSM is Cloud-ready, fast to implement and you can even start with a free plan. (Note, some of the features we've discussed today are only available on Premium or Enterprise plans).
Cherwell Service Management has won fans for its configurability and flexibility. However, in this instance it's the integration of work throughout multiple teams that means JSM takes the crown.
We'll leave the last word to one of our Senior Consultants, who uses JSM on an almost daily basis:
'I think to me the biggest selling point of Jira as an ITSM platform is that it brings all your work together. If your service desk agents can quickly and easily pass items over to developers for resolution, you can really tighten up your workflows' – Senior Consultant, Automation Consultants
Ready to level up your ITSM game? 🚀
If you're considering a move to Jira Service Management from another ITSM tool, or are exploring JSM for the first time, it's invaluable to have a dedicated and experienced partner by your side. Automation Consultants is an Atlassian Platinum Solution Partner, specialising in Agile, Dev-Ops and Cloud consultancy, training and Managed Services.