What is Atlassian Intelligence?
'With AI, we're experiencing a seismic transformation that is going to change the way we all work, forever' – Mike Cannon-Brookes, Co-Founder and Co-CEO of Atlassian
If your teams are anything like ours, AI is an almost-daily topic of conversation. Like us, we imagine you're continually keeping abreast of new innovations and what these could mean for the future of work.
We expect you're also eagerly anticipating Atlassian Intelligence. Currently open only to early adopters, we don't yet know when the tool will be more widely available. What we do know, however, is that it's set to significantly optimise the way teams work.
There's much to unpick, so today we'll focus on:
In a Team '23 brimming with significant developments, the unveiling of Atlassian Intelligence was a highlight. We've been wondering for a while how Atlassian would make further use of AI, particularly around large language models. We were not disappointed!
So what is Atlassian Intelligence? The tool is positioned as a 'virtual teammate' and will be embedded within all Atlassian products. The functionality introduced to us so far has really made us sit up and take notice.
We'll cover the full scope of the tool below but, at a glance, Atlassian Intelligence will provide:
Instant virtual service desk assistants

Summary capabilities from large volumes of text

New rich text generation

The ability to adapt the tone of new content

A live knowledge base

The ability to convert natural language queries into JQL (Jira Query Language)
As we mentioned, the tool is currently only available via an early access programme, with no date given for general availability. Atlassian have described their approach as 'thoughtful' and that they will be gradually inviting organisations onto the programme over the coming months to test, provide feedback and co-create.
At present Atlassian Intelligence is a Cloud-only product.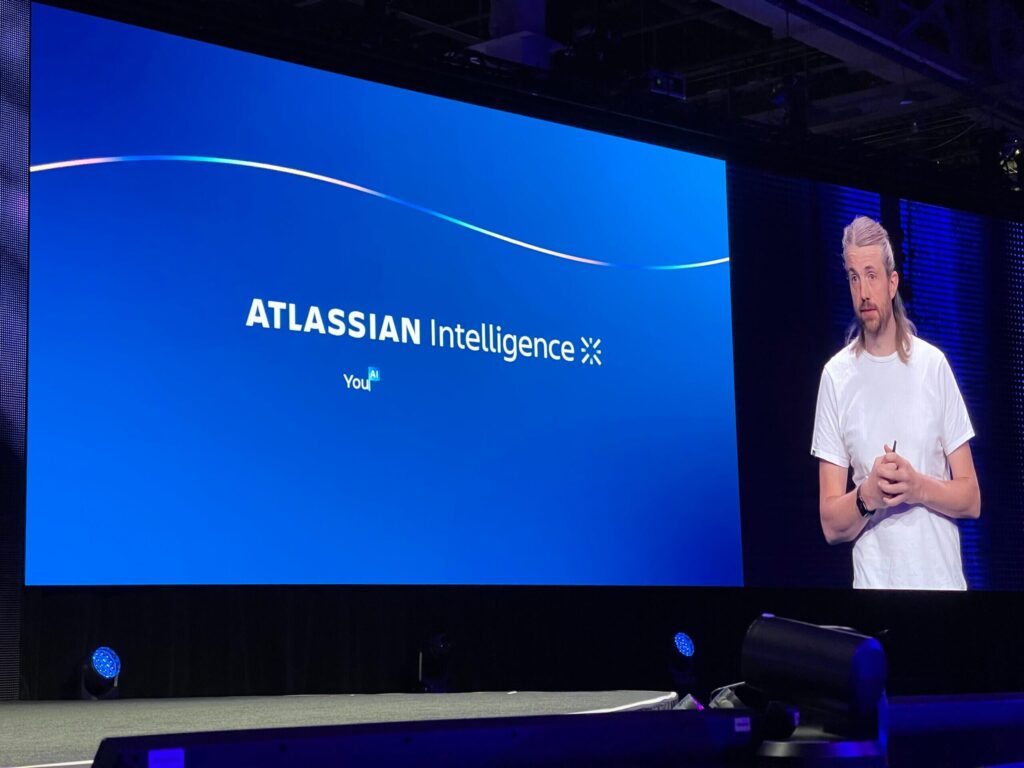 Atlassian Intelligence: What will it do?
We'll list the full capabilities (as we understand them so far) below, but from our perspective there are three key areas within which we think teams will see value.
Speed: Think immediate answers and solutions for employee requests, or generating responses for busy service desk teams.

Saving time: Atlassian Intelligence can take on time-consuming tasks, such as summarising meeting minutes or generating project briefs.

Access to information: We've see the tool instantly converting natural language queries into JQL and running complex scripts to provide data that non-technical users would struggle to access. And, as you'll read later, Atlassian Intelligence will provide a live knowledge base within its products.
Ultimately, Atlassian Intelligence will enable teams to be more efficient, empowered, knowledgeable and productive.
So, let's break down the features that Atlassian have already announced within Atlassian Intelligence. It's an impressive list.
We'll start with features related to service-based work:
JSM virtual agents available 24/7 to instantly support employee queries, via Teams or Slack.

During his keynote, Mike Cannon-Brookes shared that Atlassian have named their own agent 'Charlie'.

Powered by a combination of Atlassian AI and large language models, Charlie can understand employees' requests, engage in natural language conversation and ask questions.

Charlie solved more than half of all IT, HR and Help requests in its first month of use, freeing up 20 days of work for Atlassian's Service teams.

Summarising existing content, such as case history and conversation in Jira Service Management (JSM).

If a new service agents joins a case, they can click a 'Summary' button. Atlassian Intelligence will outline the case history, resources shared and other relevant context.

This brings the new agent up to speed quickly and is more efficient than requiring them to read through an entire case history.

Generating new content, such as a reply to a case in JSM.

An agent can write a brief sentence, e.g. 'I am sending you a new laptop' and Atlassian Intelligence can adapt it to a different tone (empathetic, for example).

Crucially, the agent can then review the reply and edit it before submitting. Mike Cannon-Brookes was clear the user is 'always in control', and that an agent (in this case) can still be thoughtful without sacrificing speed or accuracy.
Side note here: Throughout his keynote, Mike Cannon-Brookes acknowledged that Atlassian Intelligence won't 'get it right' a hundred percent of the time, and that humans are still at the heart of work.
It is reassuring to see that Atlassian are firm that the role of the human is still central and that Atlassian Intelligence is positioned very much as an assistant: our 'virtual teammate' to support with work and do the 'heavy lifting' – freeing up us humans to be even more creative, strategic and innovative.
This standpoint aligns with Atlassian's Responsible Tech Principles, which we've linked here if you'd like a read.
The next few examples show how Atlassian Intelligence features can be applied to project-focused work:
Generating instant rich content, such as a project brief within Jira Software

There's a real emphasis on rich content here. Atlassian Intelligence has access to the full breadth of the editor, so can include hyperlinks, emojis and tables within the content it creates.

Summarising long-form documents

Atlassian Intelligence will be able to pull-out key facts or actions from large volumes of text.

As an example, you could ask Atlassian Intelligence to write up the minutes from a meeting transcript, or to assign actions to colleagues.

Another example given in the Team '23 keynote was for Atlassian Intelligence to draft a series of suggestions for tweets (along with two different types of tone – professional and casual), taken from a longer project brief.
To be released further into the future:
'Learn on the Fly'

feature

When you see a term you don't recognise within a Confluence document (such as an acronym or internal term), Atlassian Intelligence will instantly explain it to you.
From what we've seen, it looks as though you can simply hover over the term or subject, click 'Explain' and Atlassian Intelligence will provide a definition and context – drawn from your existing company documents, terminology and teams.
In his keynote, Mike Cannon-Brookes described this as akin to having a dictionary or knowledge base to hand at all times.
This will be available across all Atlassian products, from Confluence and Jira to Trello – so all teams can benefit from this.
'Ask AI Anything' feature

We understand that this is going to be launched in Confluence first, with users able to type a question in the search bar. Atlassian Intelligence will then deliver the answer based on existing Confluence content: it reads these pages so you don't have to.
We've been given examples such as asking the question 'How much can I spend on my home office?' (Atlassian Intelligence provides an answer drawn from the relevant company policy – tailored to the user's location) or 'When is the mobile app going to be released?' (answer taken from a project plan).
'Ask AI Anything' will also be available in Atlassian Analytics

The feature can be used with third party tools too, such as Workday or SalesForce.
And, perhaps most excitingly – Mike Cannon-Brookes described this feature as his 'favourite superpower' – you will be able to use the 'Ask AI Anything' function in Jira.

Natural language queries (or as Atlassian describes it: 'Query like a human') are converted into Jira Query Language (JQL).
This will open up a world of information and to non-technical users who may not understand code, and will be available in all Jira products.
Atlassian Intelligence can also understand native language
Crucially, all of the above functionality within Atlassian Intelligence will be based on the context of your organisation. And that brings us on to how Atlassian have created this new virtual teammate.
How is Atlassian Intelligence built?
From what we understand so far, Atlassian Intelligence is based on a combination of artificial intelligence developed internally and that from OpenAI. Atlassian products have already been using artificial intelligence for years, and you will almost certainly have experienced it – perhaps without realising – from personalised search results to suggestions for which co-workers to tag in a project.
These existing AI capabilities, combined with large language models (upon which Chat GPT is built) underpin Atlassian Intelligence. There's a third element too: Atlassian Intelligence is also built on a teamwork graph, which uniquely reflects your own project or service work.
Now this teamwork graph is particularly interesting. Atlassian Intelligence uses large language models to identify how teams at an organisation work together. It then constructs a custom teamwork graph showing the types of work being done and the relationship between them. Atlassian goes on to explain: 'With the open approach of the Atlassian platform, the teamwork graph is also enriched with additional context and data from the third-party apps teams use.'
So, Atlassian Intelligence is built using existing Atlassian machine learning models, with large language models AND your organisation's knowledge and data. That's a powerful combination.
The tool will work with all Atlassian Cloud products.
How is Atlassian Intelligence different from other AI tools?
By now, you can likely already see where Atlassian Intelligence will add value to your organisation. We certainly can, and it's really exciting to view the progress of this technology. But what really makes it unique?
The rich text generation. Atlassian Intelligence goes beyond auto-suggestions or creating plain text. Instead, the tool delivers rich text with emojis, smart links and all features of editor.

Its use of context – assigning actions, locating related projects and content, providing definitions and explanations. Much of this is powered by your organisation's unique teamwork graph, as previously mentioned.

It's built specifically and automatically for your organisation – it doesn't have to be set up or configured to meet your teams' needs.

Atlassian Intelligence is fully embedded in the Atlassian ecosystem and will be available on all Cloud products – not just Confluence.
Your new virtual team-mate already knows how your team works – and it will continue to learn and improve its functionality as you use it.
Atlassian have explained that there will be a mix of free and paid capabilities:
'All capabilities will be free for early access customers who are granted access from the waitlist until the product general availability is announced.
The virtual agent for Jira Service Management will be included for no extra cost in Premium and Enterprise plans (subject to usage limits).'
This is good news for a lot of Jira customers as this covers a significant portion of the user base.
Like many, we will be keeping our eyes peeled for more news from Atlassian around this new innovation – and we will be sure to share it with you when we get some.
It's crucial that Atlassian partners like us are committed to continued learning around the scope of Artificial Intelligence, and that we explore new developments positively and with enthusiasm. This approach ensures we're well-placed to support our clients through periods of change and embracing new innovations, frameworks and processes.
So, let's go into this new chapter together.
If you're looking for forward-facing support and consultancy, do get in touch with us. We're an Agile and DevOps consultancy – and Atlassian Platinum Solution Partner – specialising in supporting organisations at every stage of the software development lifecycle.
Ready to level up your AI game? 🚀
If you would like to learn more about Atlassian Intelligence, get in touch with one of our experts today.