What's new in Trello 2022?
Atlassian has launched a set of improvements to Trello in 2022 which we believe have transformed an already useful tool into something even more powerful. We're excited to share our take on the Trello 2022 updates with you.
At the centre of the new features is a huge improvement to customisation, helping to give teams the visibility and connection they need to get work done effectively.
Check out our blog below to find out the essentials about these exciting new updates.
How are Trello cards changing in 2022?
Here, we outline 5 new and powerful Trello features to help unlock collaboration within your teams in 2022.
1. Increase customisation with Trello custom fields
Previously on Trello cards, users would be able to complete simple tasks, such as writing a quick description. Now in 2022, it's great to see that Atlassian has given users a lot more control over what the front of the card looks like with custom fields.
Custom fields are a way that users can tweak the User Interface (UI) of the card back to bring in custom data. Custom fields are created via the GUI. Users can set the input type to "checkbox", "date", "dropdown", "number", or "text". You can even have labels that are visual indicators, such as different colours for effort or priority levels.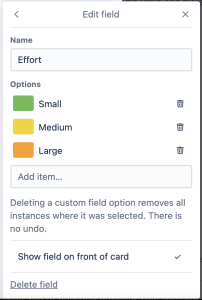 With unique fields and custom data, your Trello can be more specific to your workflow.
Atlassian have recently made this feature more broadly available as a built-in feature in standard plans, giving Trello users more value for less.
2. Simplify actions with card buttons in the automation platform
What's even more powerful about custom fields is adding them to a Butler automation, which can allow for more efficient workflows.
Trello's built-in, no-code automation platform, Butler, enables users to create rules, buttons, and commands to automate almost any action within Trello.
Card buttons appear on the back of every card. By clicking the button, a series of defined actions can be performed in a single click.
For example, you could add a "done" card button, which could then automatically move the card to the "done" list, as well as mark the date as complete.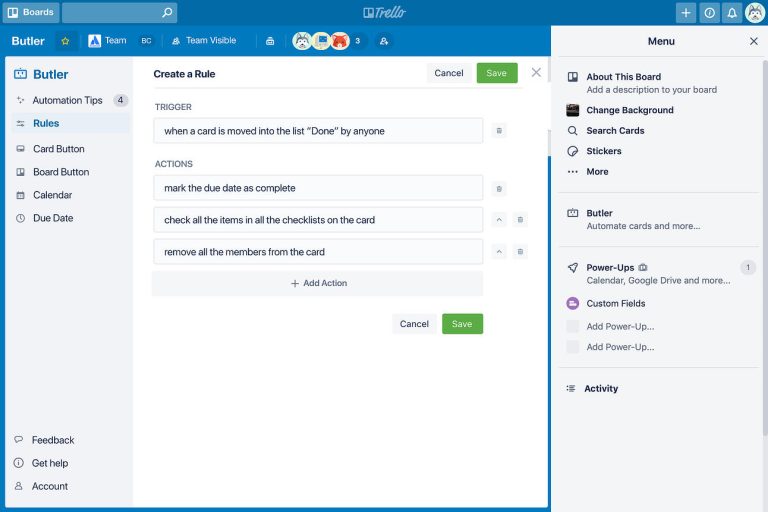 These automations could be a basic task, such as setting due dates on cards, assigning team members to cards, or moving cards. Alternatively,  you have the option to develop more complex workflows that perform several actions in a sequence.
With no-code automation, customising Trello to suit your needs and workflow is made simple, and it can all be completed with a few clicks.
3. Enhance editing with Atlassian editor
If you use other Atlassian products, this 2022 Trello update will feel familiar.
Atlassian is now rolling out a new editing toolbar inside of Trello, enabling users to have much more control over how their content looks in 2022.
The new toolbar allows users to format text and headers, insert emojis, create lists, mention team members, and more.
The editing and formatting options for card and board descriptions is a familiar editing experience to Jira and Confluence. For example, users can quickly insert different options by typing '/' on the keyboard.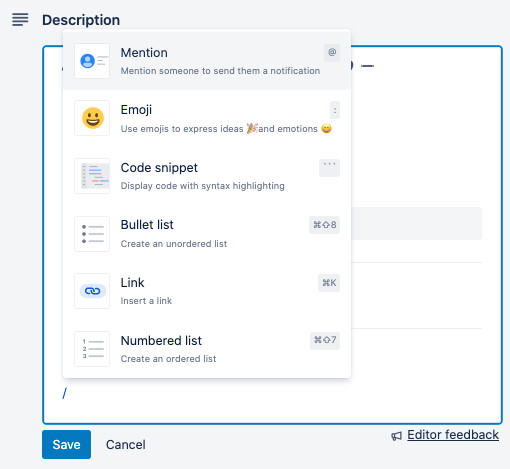 4. Keep track across your Workspace boards with Dashcards
One big 2022 Trello advancement we've loved to see is the introduction of Dashcards – a whole new type of card in Trello.
Dashcards provide customised views of the cards on a board, giving insights that may be hard to see from the default view, as well as the ability to deeply customise how the insights are presented. For example, users can create filters for custom sets of data, such as "starting this month" or "overdue cards on this board".
Whether you're a team of 2 or 200, we love this new feature that gives users a personalised view across projects.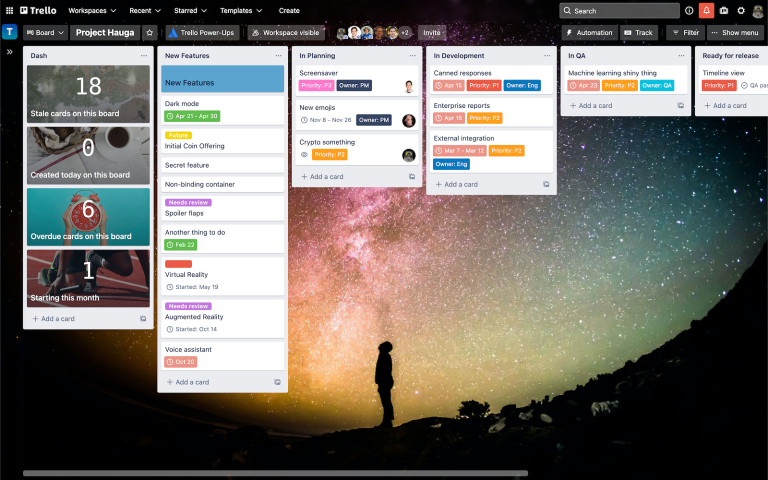 Dashcards amount to a new, visual way to track work at a high level, where information can be seen easily with just a glance. Dashcards will show the number of cards that match the chosen filter(s) and can be clicked to explore further information.
What's great about this is that these new cards are fully customisable to your needs. Whether that's building a company overview board, staying on top of bug requests, or tracking workloads across boards, there are so many possibilities.
As well as this, Dashcards behave like normal Trello cards, so your team members can still collaborate, comment, and assign due dates too.
Prefer real-time tracking that is updated as work changes? Dashcards mean that changes within Trello can be monitored in real time, such as automatically changing metrics when cards are moved to different lists. This provides an easy way to see how smaller moving parts can fit into a big picture or company goal.
What about sifting through all this data? Well, by clicking into the Dashcard, users can view a Dashcard table. Here, you can dig deeper into the data by selecting columns to hide, sort, pivot, or even visualise. We think this really elevates Trello in 2022, allowing users to do powerful things.
5. Easily integrate with third party apps with link cards
Finally, bringing all these new customisable features together, making Trello in 2022 more powerful than ever, are link cards.
Link cards are automatically created when a URL is added to a cards title. This then converts the whole card into a clickable link with a preview.
Link cards have some great uses inside Trello. For example, users could open a Google Docs page and edit documents right in Trello, without having to find the file, or leave the browser. This makes Trello even more collaborative than ever before.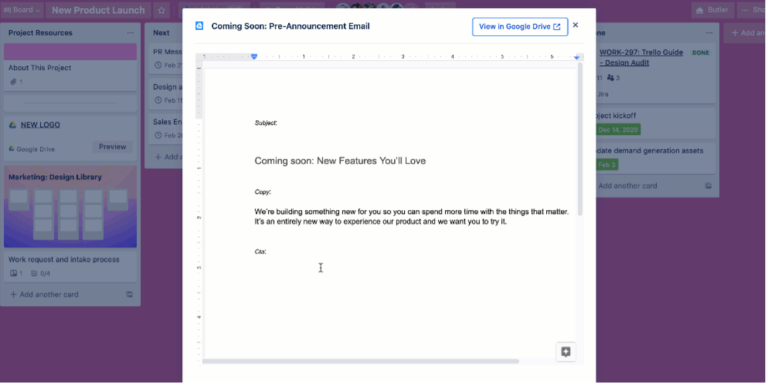 This not only works for Confluence, Jira, Bitbucket, and other Atlassian products, but third-party apps too.
In fact, you'll be happy to hear that in 2022 Atlassian have removed the limits on third party integrations, so different teams are free to use the tools they prefer.
Check out what's new in Trello in 2022
We think these new 2022 Trello updates are definitely worth checking out.
Whether you're looking to help a colleague get started with Trello, looking to integrate Trello with other products, or something else, we're here to help.
As an Atlassian Platinum Solution Partner, we have great experience across the whole suite of Atlassian products and can help you with your Trello licensing needs. 
We can also offer you tailored and honest advice and hands-on help every step of the way to make sure you're getting the most value out of Trello.
Need help with Trello licensing? Get in touch with us below:
Looking to turbo-charge your Trello? Book your free consultation today
Looking for automations, integrations – or something else? We can help. 
If you would like to find out more, book a free 30-minute consultation today and one of our specialised consultants will be happy to help.