Let's compare two powerful ITSM platforms
In the latest of our comparison series, we're exploring how Jira Service Management shapes up against BMC Helix ITSM.
They're both big-hitters in the ITSM field, and each delivers a wealth of functionality to help connect your teams and deliver first-class service to customers. But which will come out on top?
We'll assess each of the below key areas:
Introducing Jira Service Management vs BMC Helix ITSM
Jira Service Management (JSM) is part of the Atlassian ecosystem and was released in 2020. It began life as Jira Service Desk back in 2013, before evolving into the JSM we know today, complete with a richer breadth of ITSM capabilities. Already its impact has been recognised, with Atlassian appearing as a Leader in the 2022 Gartner® Magic Quadrant™ for IT Service Management Platforms. Jira Service Management is available as a Cloud or Data Center solution.
BMC Software is a fellow Magic Quadrant Leader. Now, BMC Software actually provides a few different ITSM solutions. BMC Helix ITSM is the tool on which we're focusing today, and is primarily targeted towards large and mid-sized organisations, whilst BMC Helix Remedyforce is pitched at smaller clients. There's also BMC Remedy, a legacy on-premise solution.
How's that for an efficient introduction? If you're ready, it's time for us to dive into our JSM vs BMC Helix ITSM guide.
Jira Service Management vs BMC Helix ITSM: Key features compared
It's worth noting here that the BMC Helix solution comprises several tools. Some of these appear to be included in its core ITSM solution, whilst others require additional licences. These tools could include BMC Helix Service Desk, BMC Helix Digital Workspace and BMC Helix Knowledge Management. Whilst we haven't broken down the pricing and licensing options for each of these specifically, please do be aware when reading this piece that each element may incur additional costs outside of the core ITSM piece.
ITIL best practice states that the goal of incident management should be to restore services as quickly as possible following an interruption or incident. So how can Jira Service Management and BMC Helix ITSM each ensure you achieve this?
Kicking off with BMC Helix ITSM, it's clear that all the essentials you'd expect from a reputable ITSM platform are present and correct. Once an incident request is raised and registered, you can assign the ticket, collaborate with other agents using BMC Helix ITSM's chat feature, and escalate the issue if need be.
Agent chat
Now this chat feature is neat, as it appears to be built on BMC Helix ITSM's native chat functionality, and opens up a dialogue window within the incident screen to avoid context switching. The chat transcript is also saved to the incident activity tab, so it can be referred back to in future.
In contrast, Jira Service Management does not have its own in-built chat functionality, instead integrating with Teams and Slack. If, however, you were eager to recreate a native chat experience, akin to BMC's offering, you could turn to the Atlassian Marketplace to find an appropriate app, such as this one.
Collaboration and integration
One of the most valuable aspects of JSM is that it actively fosters collaboration between teams to aid faster incident resolution. If your Development team already uses Jira Software (as many do), you can integrate it with Jira Service Management. This enables you to link JSM tickets to Jira Software issues in order to prioritise requests, and it means that Developers can then view comments and provide feedback when issues require escalation. And when you escalate major incidents in Jira Service Management, it automatically triggers the relevant Dev and Ops teams to instantly begin collaborating. This all combines for more cohesive, efficient and secure incident management.
Now, BMC Helix ITSM can also integrate with Jira Software. It's not unusual, in fact, for other ITSM tools to integrate with Jira as it's used by so many development teams. In our experience, however, and no matter how sophisticated an integration between Jira and another tool tries to be, nothing can quite measure up to the integration piece between JSM and JSW. As one of our Senior Consultants described it, 'JSM is Jira, so nothing is ever going to be as seamless.'
Who wins: Both tools, as you'd expect from Gartner Magic Quadrant ITSM Leaders, deliver a rich range of incident management tools to provide quality service for customers and end-users, and a positive experience for agents. But if we had to pick a winner, the unbeatable integration piece between Jira Service Management and Jira Software just gives it the edge.
Jira Service Management 1 – 0 BMC Helix ITSM
Request management and employee experience
Employee portal and self-service
For managing staff requests and encouraging self-service, the BMC Helix Digital Workplace platform looks like the solution you'd need. From what we can tell, this is an additional tool in the BMC Software product suite, and is not included within BMC Helix ITSM as standard.
From employee onboarding to reporting an issue with equipment, BMC Helix Digital Workplace makes it easy (and engaging) for your people to complete the tasks they need. Or, as BMC describes it, it acts as a 'one-stop shop provide business users access to services, knowledge and policies offered across IT, HR, Facilities, and more.' This contributes towards a positive Digital Employee Experience (DEX).
In contrast, internal service desks (and their associated features) are embedded within the key capabilities of Jira Service Management – as opposed to users having to purchase an additional tool. Portals can be branded to suit your organisation's employer branding, and to reflect different service areas, too.
Virtual agents
Of note here is Atlassian's investment in AI, especially the eagerly anticipated virtual agent which will provide immediate and relevant support for users based on natural language models and machine learning. Once in General Availability, Atlassian Intelligence will be free to all JSM users on a Premium or Enterprise plan.
Atlassian's virtual agent was just one element of its Atlassian Intelligence offering, unveiled at this year's Team'23. For a more in-depth look at Atlassian Intelligence – and what it could deliver for you – take a look at this post.
BMC also provides Virtual Agent capabilities, which can be used alongside the BMC Digital Workplace platform for employee queries. The BMC Virtual Agent can operate across multiple channels, from Slack and Teams to Skype.
Who wins? The functionality provided by BMC Helix Digital Workplace is impressive, and looks as though it would provide a highly positive user and employee experience. However, JSM also provides native robust request management tools – without users having to purchase additional licences or products (which we understand to be the case for the BMC Helix Digital Workplace and Virtual Agent solutions).
Jira Service Management 1 – 0 BMC Helix ITSM/Digital Workplace
Running total: Jira Service Management 2 – 0 BMC Helix ITSM
Once again, it appears as though BMC Software provides a separate platform within which to manage your knowledge base: BMC Helix Knowledge Management.
Of note is its real-time translation capabilities and AI-powered search. The tool also comes with a library of ready-to-use knowledge articles which can support users with standard applications from day one. This would free up your team's time to create more original and specific knowledge base content – perhaps even in front of the camera! BMC Helix Knowledge Management includes a video content tool, enabling you to capture your screen and record yourself to create engaging and informative video tutorials or trouble-shooting tips.
Jira Service Management's knowledge base is powered by Confluence, a tool recognised for its emphasis on cooperation and creation. (Collaboration continues to be one of JSM's key strengths – and lies at the core of Atlassian's entire ecosystem for that matter.) Confluence has a rich content editor and provides a familiar and simple user interface. JSM also includes native analytics to identify how useful a knowledge base article has been rated by end users, how many requests have been resolved as a result, and so on.
Knowledge-Centered Service Framework
BMC Helix Knowledge Management benefits from being KCS® v6 Verified.
This means that it follows the Knowledge-Centered Service (KCS) framework – a five-step process to ensure teams follow a continuous loop of 'capturing, structuring and reusing knowledge'. The Consortium for Service Innovation provides a recognised certification to identify vendors and tools which can support KCS.
Now Confluence, which powers JSM's knowledge base, is not yet v6 certified. It does, however, still support the functionality you would need to follow the KCS framework. You can achieve this by using one of Atlassian's trusted app vendors from the Atlassian Marketplace, such as AppFox's 'Workflows for Confluence'. This particular app extends Confluence's capabilities so that you can implement the KCS licensing model (Candidate, Contributor and Publisher) alongside the article confidence attributes (WIP, Not Validated and Validated).  
Who wins: In terms of UI, you can't beat Confluence for a clean and intuitive experience. So that's a point for Jira Service Management. But for those of you seeking compliance with KCS, BMC Helix Knowledge Base clearly has the edge. And we do like the built-in video content too. So let's give BMC the point in this round.
Jira Service Management 0 – 1 BMC Helix ITSM/Knowledge Base
Running total: Jira Service Management 2 – 1 BMC Helix ITSM
Wondering how JSM compares to some of the other leading names in the ITSM space? Why not explore Jira Service Management vs ServiceNow, where we guide you though another in-depth comparison of two powerful ITSM tools.
As we're increasingly discovering within the BMC ecosystem, there are a few products related to change management that you can use. For starters, there's BMC Helix ITSM: Asset Management, which integrates with BMC Helix ITSM.
Lifecycle management
BMC Helix ITSM: Asset Management provides complete lifecycle management of your IT assets, from procurement to end-of-life. You can track asset depreciation, monitor the location, usage and ownership of items, and manage your software licences to ensure compliance and readiness for audits.
Over on the Atlassian side, they also provide a dedicated tool to manage your assets, although it is included in JSM Premium and Enterprise plans – so you'd only need to purchase an additional licence if you were using the free version of JSM. With Jira Asset Management, you can track assets throughout their lifecycles and receive automatic notifications ahead of key events or issues, from compliance and audit deadlines to expired warranties.
Asset discovery
BMC also provides an asset discovery tool (aptly named BMC Helix Discovery). This product offers a 360 view across all hardware, software and service dependencies across an organisation. Again, it appears to be a separate tool from BMC Helix ITSM.
In contrast, these discovery capabilities are included within Jira Asset Management. You can scan your network to detect infrastructure changes, identify shadow IT assets, and gain insights in order to improve support.
With Jira Asset Management, you can also view common hardware failures and replace stock with more reliable alternatives. What's more, you can report acquisition costs and infrastructure spending to senior stakeholders, and identify ways to increase efficiency.
Who wins? Both BMC and Atlassian provide dedicated asset management tools, which offer robust asset tracking, identification and compliance functionality. However, whilst Jira Asset Management is included in Jira Service Management plans, it looks as though BMC Asset Management is, again, a separate piece, which may incur additional costs. On this basis, we'll award the point to JSM – but it's a close one!
Jira Service Management 1 – 0 BMC Helix ITSM/Asset Management
Running total: Jira Service Management 3 – 1 BMC Helix ITSM
We all know that knowledge is power – so you need lots of data (accurate data!) to effectively respond to challenges and make improvements to your service offering.
We'll kick off with BMC Helix ITSM, which boasts an impressive array of standard reports, with over 90 out-of-the box. Now whilst these are valuable for quick insights, you may need to dig deeper into your data with custom reports. BMC also provides this functionality.
One of the tools we find fairly exciting is the 'storyboard' feature, which would allow you to put together slideshows using your report data. This would make sharing insights more visual and engaging, which is always valuable.
Now Jira Service Management also provides default reports (although not quite as many as BMC Helix ITSM's 90!). These include 'Workload', 'Satisfaction' and 'Requests Resolved/Deflected'. You can also edit custom reports, such as 'Created vs. resolved' or 'SLA success rate', and you can create your own.
To extend JSM's reporting capabilities, you could use Atlassian Marketplace apps (more on these later)
such as 'Custom Charts for Jira' or 'EazyBI'. These do come at an additional cost, but as Jira Service Management is priced competitively (especially when compared to a solution like BMC Helix ITSM), it may still prove the more cost-effective option.
Who wins? Atlassian acknowledge that JSM's reporting and data could be improved – and certainly when you compare it to the scope of functionality available in BMC Helix ITSM, it doesn't come out favourably. With its (very) large range of standard reports and nifty slideshow feature, we'll award the points to BMC Helix ITSM in this round.
Jira Service Management 0 – 1 BMC Helix ITSM
Running total: Jira Service Management 3 – 2 BMC Helix ITSM
Reading all of this and wondering if it's time for you to make the switch to a new ITSM platform? If you're considering migrating to Jira Service Management – or if you're currently using the tool and don't think you're getting the best out of it – it can really help to have qualified consultants by your site. We live and breathe Atlassian, and we're a Platinum Solution Partner, so you can trust our skill, knowledge and experience. Why not talk to us today, so you can continue your ITSM journey with confidence.
Ecosystem
BMC Software has an intricate ecosystem with a real wealth of tools available – some of which we've touched on today (BMC Helix Knowledge Management, Asset Management, Digital Workplace and more).
Jira Service Management, meanwhile, is part of the Atlassian ecosystem. This leads us to one of the platform's key strengths – its ability to integrate Development, Services, IT and more into one cohesive and collaborative lifecycle. As mentioned previously, the integration between JSM and Jira Software means that all teams have access to the same tickets – and you can therefore maintain a seamless experience across customers, employees, agents, and developers.
Now you may remember that BMC Helix ITSM also provides an integration with Jira Software. It's great to see this, as an increasing number of vendors and clients recognise the importance of bridging the gap between IT, Ops and Development. Despite this however, the integration piece between BMC Helix ITSM and Jira Software cannot match the seamless flow of information between JSM and JSW – simply by dint of not being Jira itself! In addition, users would still potentially be context-switching between the two tools and paying for two licences.
Community
For JSM users, the Atlassian community provides access to an active pool of likeminded advocates (and, of course, some critics!), who are continually contributing knowledge, pushing for enhancements and sharing best practice. It's worth noting that the Atlassian team actively engage with this community, seeking their input and providing frequent updates.
BMC Software users can also benefit from a community of engaged users. Theirs is centred on 'Groups', so you would be able to browse to find user groups with similar challenges, contexts and interests as you.
Marketplace
If there is a use case or function that an Atlassian product cannot natively fulfil, it's almost certain that someone has built an app to solve it. The Atlassian Marketplace is home to thousands of apps (over 5,000 at the last count). Simply searching for JSM apps within the Marketplace brings up over 700 listings for extensions which can enhance your experience of the product.
(Whilst we're on this topic, are any of you already Jira Software or Confluence users? If so, it may be worth meeting our Development arm, AppFox, who create award-winning apps for both tools, alongside monday.com and Trello. You can also find them on the Atlassian Marketplace.)
Similar to Atlassian, BMC Software also provides a Marketplace of third party apps, which users can browse to find extensions and enhancements to the core tool.
In terms of ongoing support, Atlassian's range of Solutions Partners (like us, hello!) can provide an array of services. From monitoring and managing upgrades, to longer term consultancy projects, a dedicated and experienced partner can help you to get the very best out of your ITSM tool.
Who wins? You know what we're going to say, don't you. JSM's seamless integration with the wider Atlassian ecosystem, particularly Jira Software, is invaluable. Points to JSM.
Jira Service Management 1 – 0 BMC Helix ITSM
Running total: Jira Service Management 4 – 2 BMC Helix ITSM
Compliance
BMC Software have an impressive Trust Center, where you can view their accreditations, understand their approach to security, data protection and compliance, and locate information around service availability and reliability.
Of note is the lengthy list of protocols and regulations to which BMC Software adheres, including the GDPR, HIPAA, ISO 27001 and SOC 2 – amongst many others.
Atlassian also provide a strong range of security, data protection and compliance resources in their Trust Center, which we'd encourage you to take a look at for a greater understanding of their approach.
For now, we'll provide the headlines. Among other frameworks, Atlassian are a corporate member of the Cloud Security Alliance (CSA), and is listed as a CSA Trusted Cloud Provider. Security protocols align with the ISO/IEC 27001 and SOC 2 certification.
Atlassian's approach to data protection and compliance meet the requirements of laws and regulations including the GDPR, APRA 234, California Consumer Privacy Act and more.
Security
Information security and data protection has never been so important.
As stated in the Trust Center, there are over 100 team members in Atlassian's Security Team, who are spread globally. The organisation also runs three key programmes: Security Champions, Security Detection and Bug Bounty – the latter of which has been recognised as one of 'the best in the industry'.
Atlassian practice a layered approach to security for their networks, and adhere to the 'Zero Trust' framework.
In a similar vein to Atlassian, BMC Software provide an appropriate level of disclosure about their security processes (you'd never want a vendor to expose all their processes and tools). From an outline of their security framework levels, to some details on testing and coding approaches, BMC Software cover the key points effectively.
ITIL practices
In terms of specific ITSM tool assessments, JSM is PinkVERIFY-certified for seven ITIL 4 practices.
BMC Helix ITSM is PinkVERIFY-certified for five ITIL 4 practices.
Who wins? Both BMC Software and Atlassian instil confidence in their security and compliance credentials, as they should. It's a non-negotiable to have robust processes in place, and to adhere to industry and geographic regulations. JSM does have two more ITIL 4 practices certified than BMC Helix ITSM, but other than that they're pitted fairly equally.
Jira Service Management 1 – 1 BMC Helix ITSM
Running total: Jira Service Management 5 – 3 BMC Helix ITSM
As we mentioned at the top of this piece, some of BMC Helix ITSM's advanced features, extensions and products require additional licences and subscriptions. When analysing all vendors within the Magic Quadrant for ITSM, Gartner itself stated: 'With those additions, BMC Helix ITSM has one of the highest combined list licence costs of all the offerings from vendors evaluated in this Magic Quadrant.'
In contrast, Jira Service Management is generally regarded as a competitively priced tool – and certainly in our experience, it is priced lower than many rival ITSM solutions. It is one of few tools to provide a free plan for smaller organisations (up to three agents), whilst also being able to meet the needs of larger firms with its premium and enterprise plans.
Who wins? With fewer additional tools, a free plan, and generally low price points, JSM wins this round.
Jira Service Management 1 – 0 BMC Helix ITSM
Running total: Jira Service Management 6 – 3 BMC Helix ITSM
Discover more about Jira Service Management
Download our free Jira Service Management overview cheat-sheet to find out more about how you can transform your company with high-velocity service management.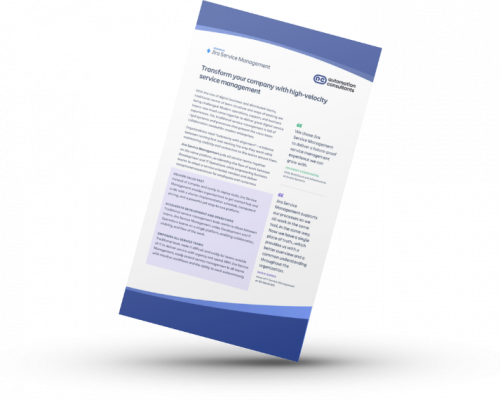 Jira Service Management vs BMC Helix ITSM who wins?
Thank you for being our companions on this piece today. We hope it's provided you with a fair and insightful comparison of two IT Service Management tools: Jira Service Management vs BMC Helix ITSM.
If you've been keeping tabs on the running total, you'll see that JSM has pipped BMC Helix ITSM to the post today. The stand-out elements that secured victory were:
JSM and Jira software integration

Its role in the Atlassian ecosystem

Lower pricing
This quote, from one of our Senior Consultants, sums up perfectly why JSM is such a strong ITSM tool – and why it's our winner today:
'The biggest selling point of Jira as an ITSM platform is that it brings all your work together. If your service desk agents can quickly and easily pass items over to developers for resolution, you can really tighten up your workflows.'
Ready to level up your ITSM game? 🚀
If you're considering a move to Jira Service Management from another ITSM tool, or are exploring JSM for the first time, it's invaluable to have a dedicated and experienced partner by your side. Automation Consultants is an Atlassian Platinum Solution Partner, specialising in Agile, Dev-Ops and Cloud consultancy, training and managed services. From an initial demo of JSM to working with you on a project, we're an expert (and safe) pair of hands.
1 KCS® is a service mark of the Consortium for Service Innovation™.